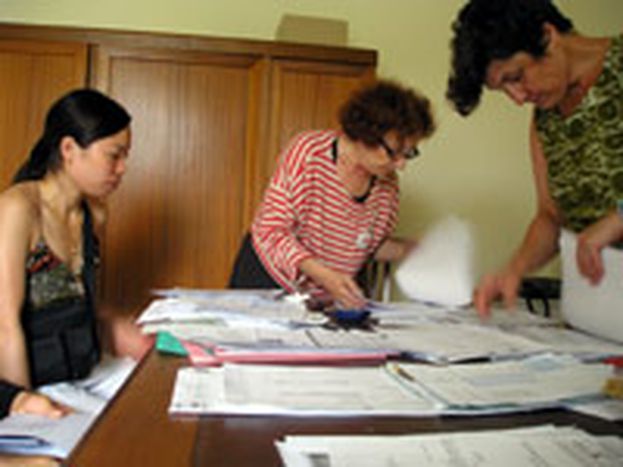 Translating threats: Chinese immigrants fight to stay in France
Published on
Nicolas Sarkozy vowed to step up deportations of illegal immigrants to 25,000. A network of teachers fights to defend pupils and their families
'If you present this dossier as it is, you'll be on the next plane to China,' says Christine, a rather stubborn feminist teacher, as she stares above her glasses at the couple. 'Do you understand? You don't know where you work, you don't speak French and you don't declare your revenues - they'll send you straight back to China.' The young girl slowly looks up, nods and smiles. She doesn't understand.
Face-off between French teachers and the Interior Minister
Christine darts across into next room and interrupts her colleagues. 'She has no idea of the danger she is running,' she bursts out furiously. For a few months now the activists of Réseau Education Sans Frontières (RESF), an NGO fighting for the rights of foreign pupils in France, have settled in the empty offices of the town council. Here in the 13th district of Paris, they help pupils from the Chinese community fight to stay in France. The teachers, masters of the art of dealing with paperwork, assist their families put together application dossiers that might save them from deportation.
The danger is patent for illegal immigrant families in France. The Interior Minister, Nicolas Sarkozy, vowed to step up the number of deportations to 25,000 this year. Families with children who do not comply with the residence criteria were given a reprieve until the end of the school year on July 4. Since then many families have been living with the fear of being arrested by the police. Faced with the possible expulsion of hundreds of children, RESF overlooks a network of committed teachers and activists who stage demonstrations and help families obtain residence permits.
Translating threats
Hsi Wang Mu and Chen arrived in France in 2003 from the province of Wenzhou, South of Shanghai. Both work in Belleville, Paris, making trousers and suits. Christine delves through their papers despondently. 'Ah, these are your passports,' she peers at the blotched photocopies, 'we'll need copies of every page to prove you never left French territory.' The young woman nods and then adds, 'we no longer have our passports – the baby -' she gestures with her hands. Catherine looks up and smiles abruptly, guessing the unsaid truth, 'ahh, the baby tore them up'. Jean-Jacques, another activist who proudly bears an overgrown mullet and round glasses, explains that 'many of these recent immigrants live under the authority of a Chinese leader in very small communities and rarely speak any French'.
'We need an interpreter,' sighs Christine dropping her glasses on the table. The room goes quiet, and in the unbearable summer heat, all one can hear is the slow chugging of a single fan in the corner of the office. Annita, a red-haired enthusiast, perks up. 'Wait, I'll get Hun,' she says encouragingly. She steps into the next room where another family is preparing their work permit application. The papers, official documents and photocopies pile up on the desk under the stern eyes of Annie, another activist. She returns with Hun, a twelve-year-old boy, who floats in a red T-shirt and baggy white trousers. He scratches his forearm as Annita holds him by the shoulders. Catherine looks up, 'explain to them that if they present this dossier to the authorities, they will be sent back to China.' With great calm and concentration, the twelve-year-old boy translates. The couple nod and exchange a few words.
The tedium of the paperwork, the boredom that the administrative tasks inspire, contrasts radically with the stakes at hand. The risk of deportation is very real despite the patience and ease displayed by the Chinese families. Already two youngsters, Fengxue Cai and Zhiyian Ni, two pupils of the lycée technique du Bois de Paris, have been arrested by the police and are now under 'house arrest'. They are waiting to be deported to Shanghai. According to Ricard Moyan, a member of RESF, 'immigrants who are deported to China are immediately sent to work camps' and it is very difficult to trace their whereabouts.
Hun wavers for a second and then drifts back to the next room. There, another teacher, Annie sifts through his aunt's papers. Their chance of obtaining a residence permit is much higher it seems. Marriage certificate, bank account details, valid passports, school certificates, tax papers… she is hopeful.
Paperwork progress
Across the table, Hun aunt's Da-Xia shows me the photos of her two children, Marjorie and Remi. Marjorie looks up, caught by surprise, her mouth slightly smudged. Remi stares at us with level eyes and all the seriousness of a little Buddha. Unlike Hun, these children were born in France. Da-Xia explains that she came to France for economic reasons, 'the money in China is not good, here there is work and all my cousins and family live here'. How did she get here? Her passport reveals part of her story. She escaped from China, disappeared in Lebanon and reappeared in Surinam. And then? 'And then we drove,' she explains. The teachers laugh but Da-Xia shakes her head emphatically, 'yes, we drove, it was very long and took us almost two months'. I look at Hun and wonder how he arrived in France. 'Did your sister take the same route?' I ask. 'No she came differently,' Da-Xia answers. 'How differently,' I enquire. 'Differently,' she repeats quietly and looks away.
Christiane pops her head round the corner, still working on Chen and Hsi Wang Mu's file, 'Hun how do you say 'pay check' in Chinese, she thinks I'm talking about her uniform'. Hands neatly pressed against his knees, Hun ponders for a moment and doesn't answer. At twelve year, the concept of 'pay check' is unclear. Asked if he wants to go back to China, Hun is quite clear: 'I used to but today I'd prefer to stay here in France with my friends'. Annie looks up, 'we've almost finished,' she says with a sigh of relief. Next door, Chen and Hsi Wang Mu are leaving, asked to come back next week with a French-speaking friend. Annie lists a few extra documents they'll need to complete her application file. She laughs - the end of the day is drawing near.
'There, it's done, come back next week then we'll present your file to the prefecture.' Hsi Wang Mu smiles and thanks her drawing a few extra documents from her bag, 'And what should I do with these?' Annie picks up the pages and flicks through them. Residence permit rejection slip, order to leave the country, family appeal against deportation, new order to leave the country. Annie's jaw drops, 'why didn't you tell me'. Annita scans the papers, damning for any family - Hsi Wang Mu probably didn't dare to show them. 'They have very little chance of obtaining a residence permit,' she concludes, 'but we'll still try. '
All names of immigrants and pupils have been changed except Fengxue Cai and Zhiyian Ni