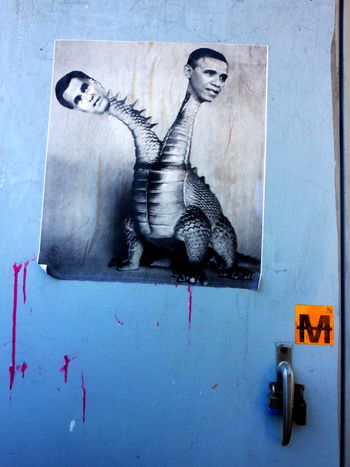 Top 5 videos: US presidential election 2012
Published on
Translation by:
Mr Zee
It can only mean one thing when Hollywood veteran Clint Eastwood vents his spleen at an empty chair in front of an audience of thousands, when Sesame Street's Big Bird puts his foot down and refuses to be used as a political football, and when first-time voting for Obama is likened to losing your virginity. Showtime!
It's the US elections and anything goes in the race for the White House on 6 November
I love Big Bird
Republican presidential candidate Mitt Romney had announced 'I love Big Bird' in his first TV duel with incumbent democrat president Barack Obama. 'But I'm not gonna keep on spending money on things [if I have] to borrow money from China to pay for …. [them]. Video debates are a feature of the 2012 US election campaign. In these wars of words, opponents pick up on what's been said. Romney had stated that he wanted to drop subsidies to the PBS television company. They broadcast many programmes including Sesame Street. The Obama camp was quick to respond. 'Big, Yellow, and a Menace to Our Economy!..... Mitt Romney knows it's not Wall Street you have to worry about, it's Sesame Street'. Anyway Big Bird won't be throwing his weight behind either of the candidates. Sesame Street made it known in an official statement, that they were keeping out of politics.
Eastwooding
The 2012 Empty Chair Affair caused quite a stir online. The surprise speaker at the August republican party convention was hollywood heavyweight, Clint Eastwood, star of many westerns. The 82-year-old's arrival on stage was announced with due pomp, when the theme tune to his classic The Good, the Bad and the Ugly played in the background in Tampa. 'When somebody does not do the job, we gotta let 'em go,' said the conservative oscar winner, directing his speech to an empty chair next to him (representing an absent president). In it he lambasted Obama, saying he had shown poor management of the economy and of the armed forces.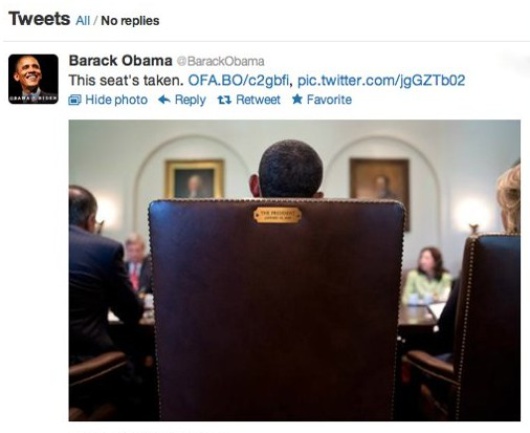 Eastwood's speech was slated by many on the internet and Eastwood became a trendsetter of the worst kind. The term 'Eastwooding' has been coined for when you have a chat with an empty chair. The Obama team's reaction became one of the most tweeted comments ever: 'This seat is taken'. The republicans fought back on labour day (3 September). Holding Obama responsible for the high US unemployment rate (7,8% in September 2012), they renamed it 'empty chair day' and posted photographs of empty chairs online to symbolise the lamentable state of the US job market.
Romney's '47 percent'
The low point in Romney's campaign was the secretly filmed video made at a dinner party for donors in May. He accused 47% of the American population of being scroungers, living off the state. In his eyes they were obviously Obama supporters. He said they saw themselves as victims sponging off the state with no intention of paying any income tax. But he hadn't spared a thought for the left-leaning news magazine Mother Jones. They insult was swiftly posted online. Romney had to say sorry. Eventually the mormon Romney made a public apology in September.
Women-friendly president
A clip called Your First Time came out on youtube at the end of October and made everyone sit up and notice. There are as many critics (saying Obama had stolen the idea from Putin) as supporters (isn't that nice!). 26-year-old script writer and actress Lena Dunham is everywhere at the moment due to the success of her TV series Girls (screened on HBO, a sort of combination of Sex in the City and the European indignado movement). The clip is a short account by her of a very special first time 'experience: your first time shouldn't be with just anybody, you want to do it with …. someone who really cares about and understands women.' It didn't take anyone long to figure out despite the ambiguity of it all, that this 'women friendly someone' is Barack Obama and that it is all about Dunham voting for the first time. The clip also refers to women's rights, same sex marriage, contraception and the war in Iraq. For his part, Obama opponent Romney failed to score any points at all on women's issues. When he was asked about gender equality in his cabinet, the Republican replied that he'd pulled out all the stops to get 'binders full of women' (which became a popular tumblr the next day).
Pop-presidents
Barackdubs show just how entertaining the US elections can be. A student from the university of Tennessee remixed the serving president's speeches with American pop songs by Lady Gaga, Justin Bieber and others. He began his project in the winter of 2011 and showed his remixes on youtube. They were a huge success, and so far over 30 million viewers have watched the Obama remix Call Me Maybe by Carly Rae Jepsen, winner of Canada's Pop Idol show. The Romney/Obama pop dual is now going into the final round with Katy Perry's Hot and Cold.
Images: main (cc)~db~/ flickr/ videos: Big Bird (cc) SidechainTV; Eastwooding (cc) ABCnews; 47% (cc) TheDailyConversation; Your first time (cc) BarackObamadotcom; Hot and Cold (cc)baracksdubs/ all via youtube
Translated from Sesamstraße, Stühle und Showdown: Die US-Wahlen 2012 in 5 Clips