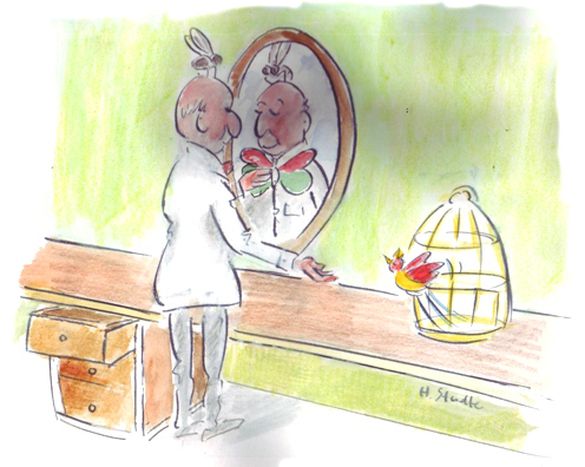 Tie me up, tie me down
Published on
When European men wear suits, a tie-shaped piece of cloth usually adorns their necks, and completes the outfit. Frenchman Pierre Lorillard invented the so-called 'tuxedo' in 1886, named after a restaurant in New York's Tuxedo Park. Now an international trend, the accessory has become a 'must' for every gentleman.
The small tie has been the object of much fantasy. While the Italian wears a 'butterfly' around his neck (papillon, farfallino), the Frenchman goes for an edgier style. He too wears a butterfly, but it is 'knotted' (nœud-papillon). In Spain, the butterfly becomes a 'female bird' (pajarita).
Further to the east of Europe, the fashion accessory becomes represented by the insect world. Germans (Fliege) and Poles wear a 'fly' with their tuxedo. In Poland, however, it is a miniature one (muszka). The oldest name of all is the short and sweet English term 'bow-tie'. All little animal connections are lost as they simply describe the style a tie is tied in: a bow. This term was copied from the French in the 17th century, who wore a pre-made short tie called a 'jabot'. The Catalans are the only ones who have kept it simple; they just wear a plain tie (llaç).
Translated from Festliches Gefieder