Thirty Years Of Međugorje Apparitions
Published on
By Cunga Lunga Pictures by Sophie Guesne in the 30th Anniversary of the apparitions in Međugorje
In the early 80s Međugorje was a sleepy village in western Herzegovina, one of the least developed regions in the Socialist Federal Republic of Yugoslavia. But, something miraculous happened on June 24, 1981. Two Croatian Catholic girls reported seeing an apparition of the Virgin Mary in the village.
Rumours about the apparition spread quickly in this deeply Catholic region and pilgrims soon began flooding the place.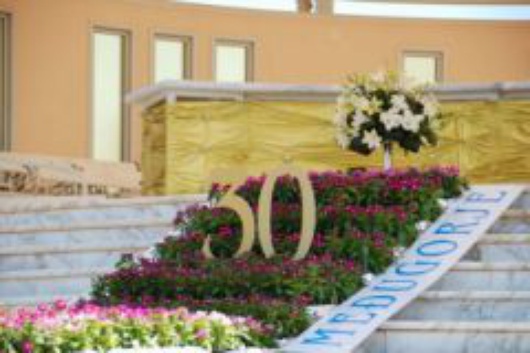 In the following years Međugorje grew from a small and god forgotten village to a bustling town with dozens of bead and breakfast, and a growing Catholic souvenir industry. The (economical) miracle was clearly visible. However, while the local community enjoyed the unconditional support from the Franciscan friars in Herzegovina, Ratko Perić, the Bishop of Mostar was less enthusiastic. He openly claimed that the apparition was a hoax and spoke against what he saw as the commercialization of religion. In 1995 the Bishop was kidnapped and brutally beaten by nationalist Croatian militiamen and held as hostage for a day. The Vatican has never recognised the phenomenon and advises its flock to avoid visiting the town.
Despite this, Međugorje is nowadays one of the most popular Marian apparition sites in the world and certainly the most visited place in Bosnia and Herzegovina. Pilgrims come from all four corners of the word and it's estimated that the town receives more than one million of visitors every year. Majority of them are pious Catholics, but many non-religious tourist visit Međugorje as well.
In 2009 a sex scandal involving Tomislav Vlašić, the spiritual father of the six visionaries, put the Međugorje apparitions in the news. The Vatican accused him of sexual relationship with a nun, mysticism, exaggerating stories about the Virgin Mary's apparition and general disobedience towards official Vatican orders.
However, the scandal and the undeniable commercialisation of the alleged apparition have done little harm to the popularity of this unusual town in Herzegovina. Millions of pilgrims will probably continue to visit Međugorje to find peace and consolation they need.