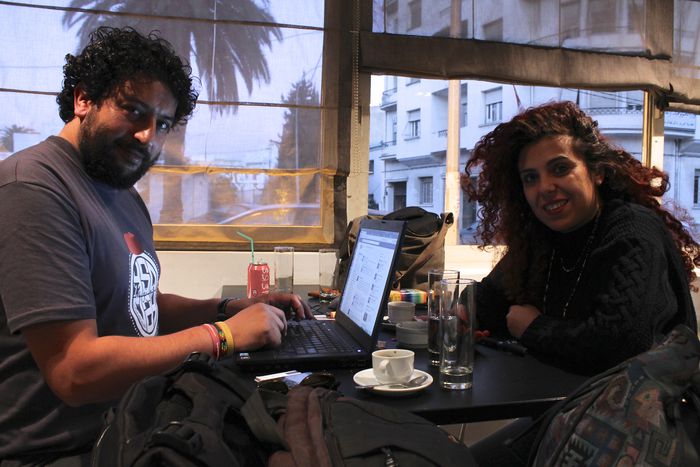 The Tunisian bloggers: Revolution 2.0?
Published on
In 2011, the world celebrated the Tunisian revolution 2.0. If the bloggers were the heroes, the internet was their weapon of choice. Three years later, in the midst of cyber threats and the return of the traditional political parties, social media has turned out to be a double-edged sword even for those who were at the forefront of the mobilization. Long live the bloggers?
I meet Lina Ben Mhenni at the Grand Café du The­atre in Tunis. She ar­rives catch­ing her breath. As she takes her seat, she sig­nals to her body guard to give us some pri­vacy. She has come straight from the uni­ver­sity where she teaches. I start to speak, but she looks in the other di­rec­tion, across the road, at the hun­dreds of peo­ple pass­ing by, the lines of taxis along the street.
Three years ago, in 2011, this was the set­ting of the Tunisian cy­ber-rev­o­lu­tion; a first in the his­tory of rev­o­lu­tions. Even as one of the most fa­mous blog­gers in the coun­try, Lina says it's all a myth. "Peo­ple were dying in the streets, not on­line", she says- seem­ingly tired of in­ces­santly ex­plain­ing the same thing over and over. The barbed wire that still runs along­side the street adds some weight to her words.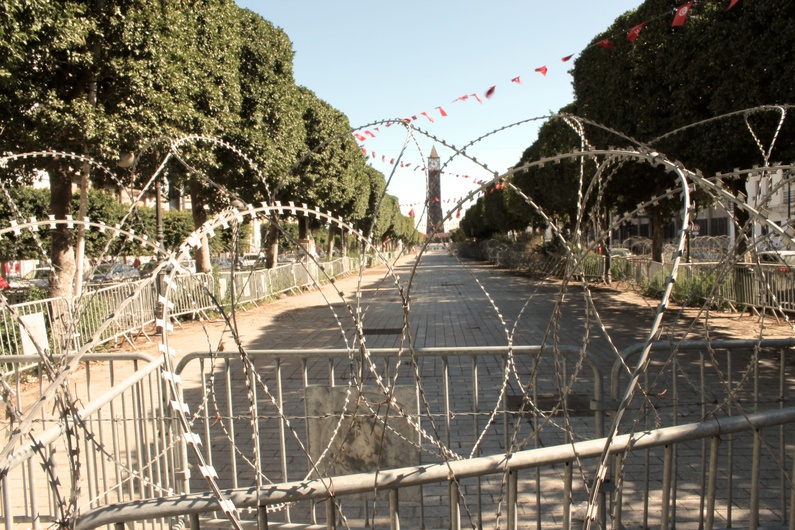 A Tunisian girl
Lina was a guest on French tele­vi­sion in 2011. Tariq Ra­madan, a well-known Ara­bic in­tel­lec­tual, ac­cused her and other blog­gers of not being real spokes­men for the peo­ple, and of being paid by Amer­i­can or­ga­ni­za­tions.
"Per­son­ally, I don't know any­body who has re­ceived money for start­ing a blog. Money for what? How much does it take to start a blog?", Lina says dryly, re­call­ing the TV show.
Her own story isn't far from a Taran­tino movie: in 2007 she started her first blog, a Tunisian girl on a lap­top "bought in a reg­u­lar Car­refour". Ini­tially she ad­mits it was "a blog for fu­tile ques­tions". But with the cen­sor­ship under Ben Alì and the nom­i­na­tion for the Nobel Peace Prize, sud­denly Lina be­came one of the most im­por­tant faces of the "rev­o­lu­tion".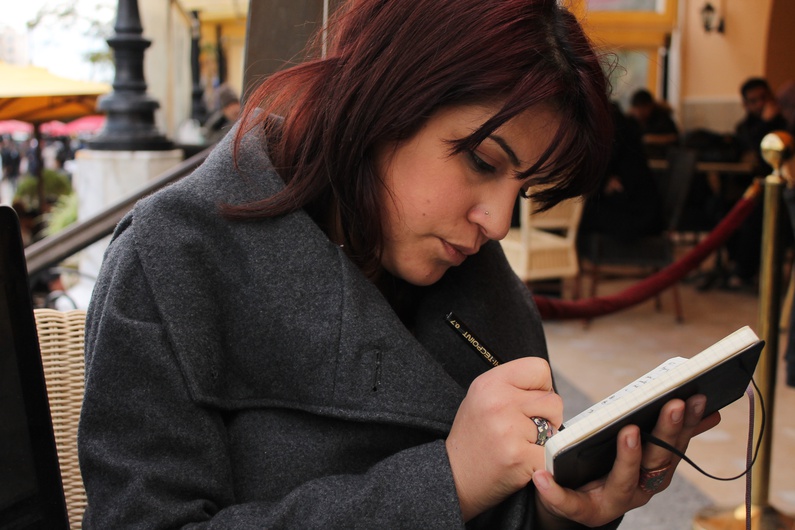 Today, with one dic­ta­tor gone and a new con­sti­tu­tion, Lina lives with con­stant po­lice pro­tec­tion. "Be­fore the rev­o­lu­tion I was in a kind of prison, but at least it was a big­ger one. Today I suf­fer from mas­sive defama­tion cam­paigns and death threats on face­book. I wouldn't sur­vive with­out po­lice pro­tec­tion", she ex­plains, gaz­ing at her body guard with a mix of sar­casm and res­ig­na­tion.
How did this hap­pen? Weren't the blog­gers at the fore­front of it all loved by the peo­ple of the Tunisian rev­o­lu­tion? Wasn't the in­ter­net the weapon of choice for the young gen­er­a­tion? "Blogs, so­cial media, the in­ter­net… dur­ing the rev­o­lu­tion they went from being im­por­tant tools to be­com­ing dou­ble-edged swords," Lina ad­mits, be­fore de­liv­er­ing her judge­ment: "three years ago I thought that every­body wanted to im­prove our coun­try, but I was an ide­al­ist." With a tem­per­a­ture of barely 15 de­grees, the rain is falling over Tunis. The weather, just like the pic­ture of the frag­mented cyber com­mu­nity that Lina is paint­ing, clashes with the ex­pec­ta­tions of the West.
The bat­tle­field
In re­la­tion to na­tional pop­u­la­tion, Tunisia has the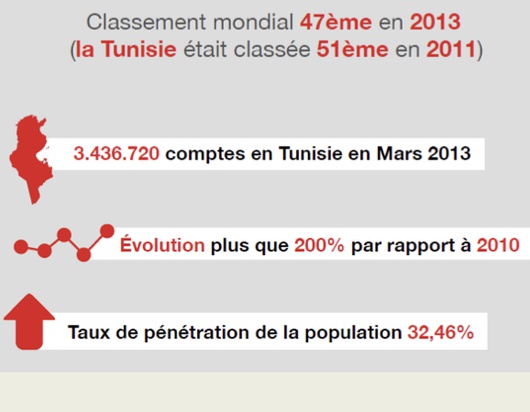 largest num­ber of Face­book pro­files of any coun­try in Africa and the Arab world. In 2011, 50% of Tunisian in­ter­net-users had a Face­book ac­count. Today, the amount of Zucker­berg-fol­low­ers has reached 3,4 mil­lion and the num­ber sug­gests that Tunisia has been thor­oughly per­me­ated by so­cial media. (see in­fo­graphic)
Per­haps this was one of the rea­sons that Abdel Karim, 37, founded the So­cial Media Club of Tunis in 2013. His ob­jec­tive? To make young peo­ple aware of how these plat­forms can be used for pol­i­tics (60% of Tunisian face­book users are be­tween 24 and 34 years old). Abdel comes from Za­ghouan (50 km south of the cap­i­tal), where pre-2011 in­volve­ment in pol­i­tics amounted to "ap­plaud­ing whichever of­fi­cial was on duty, on be­half of Ben Alì". Hav­ing lived in Tunis since 2002, he speaks Ara­bic and French, but also un­der­stands Ital­ian: the TV an­tenna at his home picks up RAI 1. I meet him to­gether with Henda, 30, who comes from the Ar­i­ana-quar­ter in the far north of the cap­i­tal. They both call them­selves blog­gers and ac­tivists and are hold­ing a lec­ture on web radio in the base­ment of the Tunisian In­ter­net Agency (ATI). Ten peo­ple are fol­low­ing the lec­ture. The sun is shin­ing through the win­dows fac­ing the court­yard.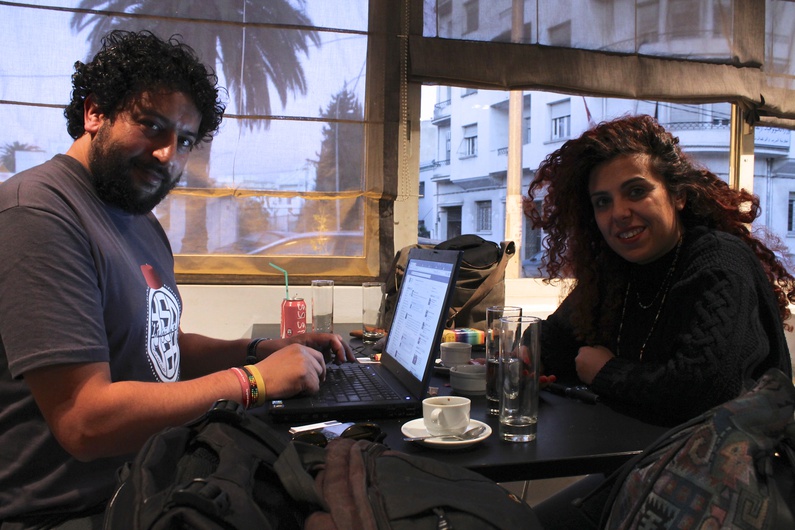 The shad­ows of the palm trees grow long on the other side of the win­dow. Ab­delka­rim takes out his sticker cov­ered lap­top and puts it on the table. The re­strau­rant is prac­ti­cally de­serted.
"The blog­gers? They are free rad­i­cals, every man for him­self", he says, "but the En­nahda  party is now re­cruit­ing young peo­ple to mon­i­tor so­cial media and to con­duct po­lit­i­cal cam­paign­ing on­line: it's be­come a bat­tle­field".
It seems that so­cial net­works, spear­headed by Face­book, rep­re­sent the new Wild West of pol­i­tics, where Is­lamists, com­mu­nists and an­ar­chists fight it out. I ask about the role of blog­gers dur­ing the rev­o­lu­tion and Henda tells me straight out that "the blog­gers had a lim­ited role in the course of the up­heaval"- she rarely uses the word rev­o­lu­tion. Ac­cord­ing to her "there was a gen­eral ten­dency in the media to try and down­play the role of other ac­tive so­cial move­ments in Tunisia; or­ga­nized groups that were not al­ways peace­ful and were not sat­is­fied with what was achieved."
So, what was the role of the blog­gers?
"Every rev­o­lu­tion needs a face" Henda con­fesses cyn­i­cally. As I ask Ab­delka­rim about the al­le­ga­tions made by Tariq Ra­madan, a car passes the win­dow with a po­lice es­cort and his gaze fol­lows it as he smiles am­bigu­ously. When he an­swers me, his smile is gone.
"Five fa­mous Tunisian blog­gers were trained by an Amer­i­can Think Tank"- he pauses be­fore con­tin­u­ing- "after all, who could have re­fused? To get rid of Ben Alì we had to make a deal with the devil!"
It's hard to dis­agree with him. Ten years ago, long be­fore "blog­ger" ac­quired a po­lit­i­cal con­no­ta­tion, "the regime trained peo­ple to su­per­vise the in­ter­net and par­tic­i­pate in fo­rums", Henda ex­plains. At that time, the in­ter­net was used al­most ex­clu­sively for pri­vate mat­ters. Then, every­thing changed, with the ar­rival of a "po­lit­i­cal web", the rev­o­lu­tion 2.0 and a new gov­ern­ment. And yet, talk­ing to these ac­tivists you won­der if things re­ally did change. In a way it is as though Ben Alì and the Tunisian rev­o­lu­tion are both "dead". And it seems that even the blog­gers aren't doing so well.
This article is part of the Euromed Reporter project, conducted in partnership with I WATCH and Search For Commong Ground and supported by the Foundation Anna Lindh.

Translated from I blogger di Tunisi: "Non chiamatela rivoluzione 2.0"