The team behind Green Europe on the Ground in Budapest.
Published on
cafebabel.com has a team almost in all the important European cities. From Seville to Belgrade, from Berlin to Istanbul, cafebabel.com successfully created  a network of journalists and local teams involved in this project that lasts for 10 years.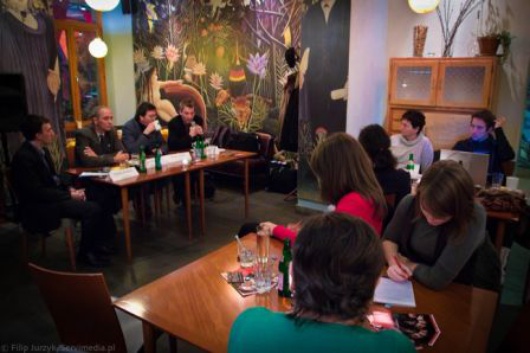 For the next 1 year, we will present monthly a team, its projects and its members. This month is cafebabel.com Budapest's time. Cafebabel.com Budapest, for the year 2010-2011, is involved in our two major projects: Green Europeon the Ground* and Orient ExpressReporter**.  On 25th November Cafebabel.com Budapest hosted a debate (Industry-Nature, 1-0, or The lessons of the Red Sludge tragedy) within the project Green Europe on the Ground and it was an opportunity to discover this great team.
Who are you, guys?
Andras: Currently I'm the president of our local team and association, Babel Hungary. My academic background is in international relations and EU, and that's why I got involved with cafebabel.com in 2005, while still being a student. The initial enthusiasm has kept me going since, although currently I don't work on EU-related topics at my full time job.
Eva: I am a member of the association and since I work as a trainee attorney in a law firm I help to the association in legal matters. I joined Cafebabel before my Erasmus studies in 2006 but I was really put on projects from 2007 on.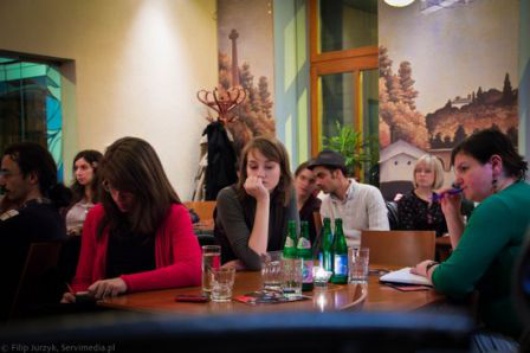 Judit: I am a founding member of the Hungarian association of which I worked as the president between 2008-2010. My academic background is international relations and EU affairs. Currently I am on maternity leave with a 7 months old baby.
What does cafebabel.com mean for you?
Andras: From the beginning, cafebabel.com appealed to me as a completely unique project: a truly independent, grassroots media for the eurogeneration. I believe that our generation, as the first net benefactors of European integration have a responsibility in continuing, deepening and developing this process. For me, participating in projects of cafebabel.com is the means to contribute to further integration.
Eva: For me cafebabel.com means the liberty of word of the eurogeneration and the way of showing the political, economical and cultural consciousness of our generation.
Judit: To me cafebabel is a media platform that collects reflections of the eurogeneration on changes in Europe and all around the World. At the same time during the past 10 years cafebabel grew much more than an ordinary online media: there is a community behind.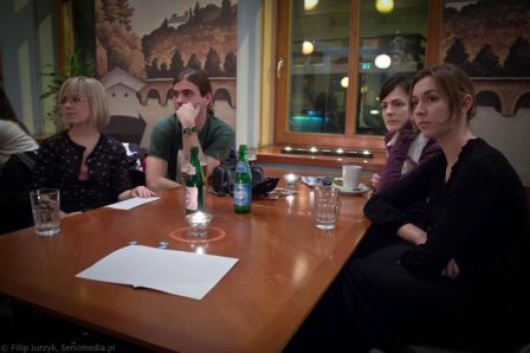 cafebabel.com Budapest has almost 5 years of existence, what marked you most during this period?
Andras: As a relatively small team of enthusiastic people, I think we have made great progress since 2005 concerning awareness about and visibility of cafebabel.com in Hungary. We have successfully organized several debates and other events, including presence at Hungary's biggest international music festival, Sziget, in 2009, 2007 and 2006.
Eva: In 2009 we organized an EOTG debate about the researches and innovations as key answers to the economical crisis, which debate was quite successful and raised a lot of questions in the audience. I also participated in the Sziget Festival project, and made several interviews about the situation of the Hungarian gipsy minorities.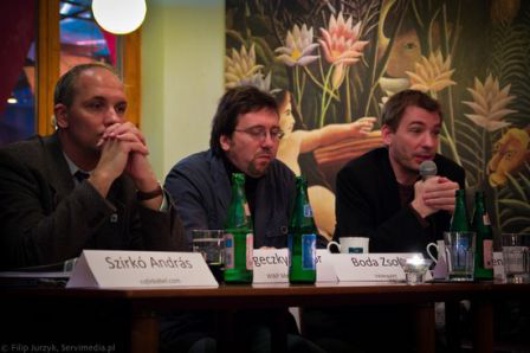 Judit:The most remarkable was the progress that our team made during the past 5 years. Despite the small size of the team we became more and more professional in organising debates, on the ground tours for babelians, journalism, PR stc.
How was the debate you organized, any conclusions?
Andras: It was basically an expert debate and we got a very good background of the possible causes of the red sludge tragedy, as well as the lessons to be learned. One of the most important topics that came up during the discussion was the apparently weak regulatory role of the state, which manifests itself not just in environmental matters. In light of this, the opportunities and responsibility of civil society are much higher, during catastrophes such as these, but also in avoiding these kinds of events.
Eva: We had a great discussion with three important experts and I agree with András that the most interesting theme was the lack of the capacity of the public administration authorities and the role and responsibility of the state, therefore, it was quite pity that our guest from the Ministry of Rural Development could not participate on the debate….
Judit: Unfortunately finally I could not be present at the debate. I am sure that owing to the precise preparation it was interesting and successful.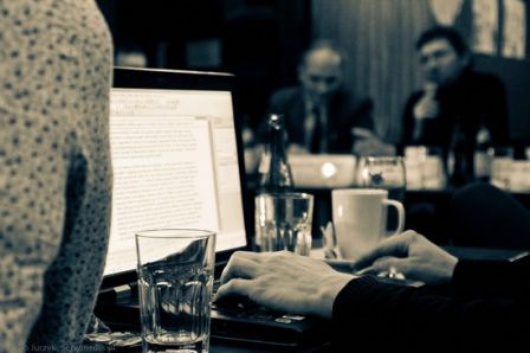 As an experienced cafebabel.com team do you have any tips and tricks for people who want to join cafebabel.com?
Andras: To tell the truth, cafebabel.com has gone through tremendous change and transformation in the past five years, especially in technical, but also in organisational matters, so it is quite different from the cafebabel.com we got to know at the beginning. I think today, with the introduction of individual profiles and editorial workflow, there're many more opportunities to engage with cafebabel.com. For establishing a local team, my advice would be to gather people of different backgrounds: journalists, EU professionals, lawyers, economists, etc. This kind of diversity helps when writing about various topics or organising contacts for on-the-ground reporters.
Eva: We need more and more people specially students. The trick is to distribute the work and let people involve in our society. Small tasks, big success.
Judit: Be as reactive and active as you can, because the much more you are involved the more you gain. Cafebabel means not simply a media platform but you can get lots of new friends from all around Europe. For students experiences gained while working in a team might help a lot to improve their professional skills and could be useful in their CV as well.
What plans does cafebabel.com Budapest have for the future?
Andras: We are planning to participate in the next big project, Orient Express Reporter. Otherwise, the biggest challenge for us this year is to recruit a new generation of babelians who can bring fresh ideas and energy to the Budapest local team.
Eva: We need newcomers who are ready to contribute our work and are able to move forward our team. I believe that our goal is to find the students, and make them Cafebabel.com as one of the way of publishing their social, cultural, and political ideas.
Judit: Besides recruiting new people, it is our mission to make known cafebabel.com for the wider audience in Hungary.
Meet the team from Budapest here!
* Green Europe on the Ground ( November 2010- September 2011) is composed of  a series of ten feature editions and debates with a critical perspective on close-to-the people green actions all over Europe, follow the reports on cafebabel.com. With the support of the Europe for Citizens Program of the European Union.
**Orient Express Reporter (October 2010 - September 2011): 2 Summer Universities, 8 reports in the SEE countries; 5 debates on the topics of EU enlargement; 1 photo exhibition in Paris. In partnership with Fondation Hippocrene and Allianz Kulturstiftung. This project has been funded with support from the European Commission Directorate-General for Enlargement.