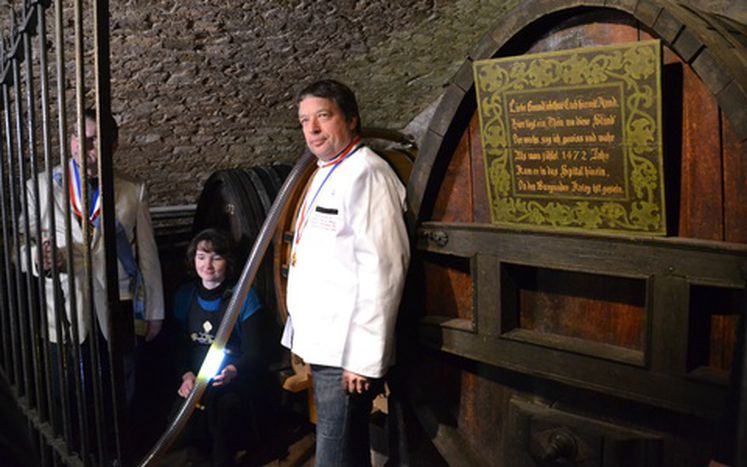 The oldest wine in the world gets a new barrel.
Published on
The acclaimed wine, a dry white from the Alsacian region which dates back to 1472 was put into a new cask for the third time in it's history.
The historic celler of Hospices civils, Strasbourg was abuzz that Wednesday, the 21st of January 2015: their dry white wine originating from Alsace and dating back to 1472 – the oldest wine in the world – was to be transfered into a new barrel.
"The old barrel was at the end of it's rope and had begun to leak," explained Thibaut Baldinger, supervising manager of the historic cellar in Hospices civils, Strasbourg, who discovered that as many as three liters were lost yearly due to evaporation. It was out of the question to lose such a historic wine. So, in April of 2014, the team moved the brew into an iron vat, while waiting for a replacement to be built. 
The barrel would be part of an age-old tradition and would also have a secular value. Xavier Gouraud and Jean-Marie Blanchard, both barrel-makers and noted craftsmen, began the task at hand. They eagerly took on the challenge of building a 450 meter barrel identical its the predecessor, recreating it's distinct egg-shaped design. The barrel was constructed using oak planks from the region of Allier, reknown for their resistance and durability. "This took us 200 hours to make," they admit. In only 4 months, they able to create the new container, measuring 1.17 metres long and 97 centimeters high.
Reserved for fine occasions 
"Be sure that the pump doesn't let any air enter in," stresses Thibaut Baldinger before beginning the operation. The liquid is decanted slowly, for thirty minutes, to avoid altering the consistancy.
If the wines discovered in amphoras from the Roman Antiquity date back much later, this 543-year-old vintage can boast that fact that it has retained it's original vanilla and woody notes, and an alcohol content of 9.4%.  "With a pH of 2.2, this wine is as acidic as vinegar," explains Pelagie Hertzog, oenologist at the cave des Hospices, to those who are eager to taste the famous concoction.
It goes without saying that this wine is reserved for extraordinary occasions. It has been served only three times over the course of its history. A first tasting occured in 1576 at the signing of the treaty between Strasbourg and Zurich. A second time for the laying of the first stone at a hospital in 1718. General Leclerce was the last to taste the win, in 1944 at the Liberation of Strasbourg. 
No other tasting is scheduled for the moment. Visitors wishing to try a sample have a long wait ahead of them. The new wooden barrel, installed between it's two predeceseurs, and guarded behind an iron gate last for at least 300 years. The vintage is far from being ready.
Translated from Le vin le plus vieux du monde fait tonneau neuf