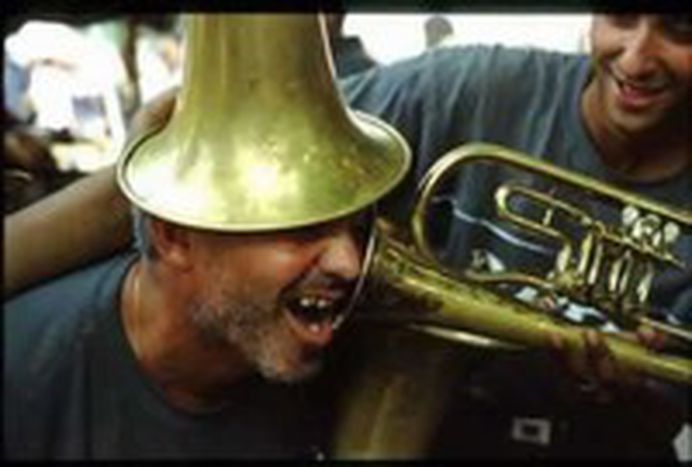 The 'Golden Trumpet' of Guca
Published on
Translation by:
gregory morris
Three hours from Belgrade, an unusual festival that brings together the brass bands of an entire country is held: the Assembly of Trumpet Players of Guca.
"I didn't know the trumpet could be played like that!" said Miles Davies of the Guca Festival in Serbia. From the 1-7 August, for the 44th consecutive year, this peaceful village of just 3,000 people will transform itself into the world capital…of Yugoslav fanfare!
Since 1961, the Assembly of Trumpet Players of Guca has organised the final (the qualifying stages take place in July in the four corners of the country) of a competition open to brass players from all over Serbia. The winning group receives the illustrious 'Golden Trumpet', synonymous with the numerous contracts that will follow. Although it may seem small-time, the festival brings together 300,000 "trumpet addicts" every year, an increasing number of whom come from abroad.
In a country where nationalism is popular, Guca resembles a large rural fair or a big mass for Serbian folklore. As Goran Raskovic, a 28 year-old Slovenian and co-founder of the Royal Veselica Club (which organises a "pilgrimage" to Guca every year), describes it: "There are people dancing on tables, tireless trumpet players, sexy girls, sleepless nights, roasted pigs, Rajika (the local tipple), and all the other Balkan specialities, not forgetting the hospitable villagers."
There are even great tunes
This is a place where the imagination of a whole population expresses itself through brass instruments, as demonstrated in the soundtracks to the Yugoslav director Kusturica's films. As Goran puts it: "When we were students in [the Slovenian capital] Ljubljana, we never had a party without trumpets".
As well as the official competition, reserved for national brass bands, countless numbers of groups – Serb, Gypsy, but also foreign – converge on the town to participate in the fringe festival. "Every shop, every bakers and every hairdressers turns itself into a bar or restaurant. People don't go to Guca for political reasons, but because they can find excellent food there, nice people, and a load of things that are important for this part of Europe" explains Goran. For Martin Müller, a 24 year-old student from Germany who has already been twice, "the atmosphere is difficult to describe. It's mad. I've never seen people party to that extent".
Eventually, the music won him over: "In Germany, most brass music is rubbish. When I arrived in Guca, the way the notes sounded was completely different. After a few hours (and a few beers), I got up to dance: the music is fast, out of the ordinary, with good rhythms, and sometimes even great tunes."
All that remains is to go there: to the very end of Europe, down and to the right.
The Assembly of Trumpet Players
Guca, Serbia
1 to 7 August 2005
www.guca.co.yu (best viewed with sound)
Translated from La « Trompette d'or » de Guca