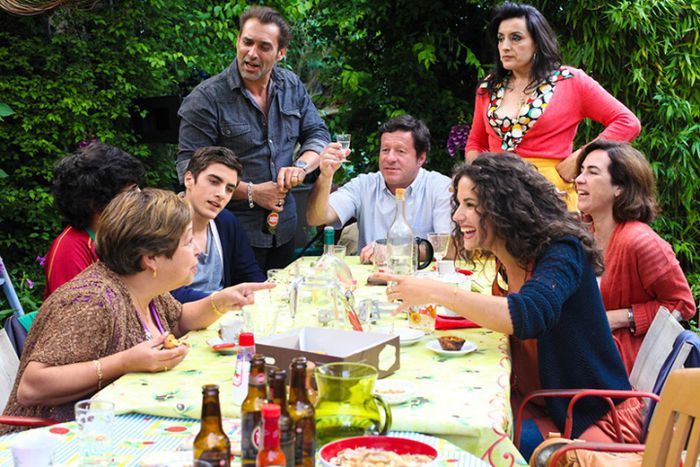 THE GILDED CAGE : disillusion with the "French dream"
Published on
Fiction or reality? The Gilded Cage has struck a chord in Portugal, France and even Germany
Life sometimes presents us with unexpected choices. Do you dare to leave and follow your dream, or will you stick with what you have? This is the choice faced by Maria and José, in the French-Portuguese film The Gilded Cage. They're a Portuguese couple, living in Paris, who find out that they have inherited a house - but can only have it if they return to live in Portugual. It's an event which begins a new life for them as they decide to leave everything behind, and make the most of good fortune knocking at their door.
Such is director Ruben Alves's story of an Portuguese family emigrated to France. It's a narrative largely inspired by his own personal experience, as he told Portuguese newspaper l'Espresso : "A minha mãe é porteira e o meu pai pe­dreiro, eu soz­inho sou já um cliché."
In his film, the main character is also a builder and his wife a concierge: the heart of an apartment building which she keeps running single-handedly. But after their initial excitement is over, the couple suffer in silence from being apart from their beloved homeland. In France, they feel exploited. Cultural misunderstandings do the rest. Their search for a better world turns into an uncertain future, as Jose and Maria live in the hope of a better tomorrow. The lie keeps their family trapped in homesickness.
Hence the name of the film, "The Gilded Cage": la cage dorée in the original French version, translated into Portuguese as a gaiola dourada and into German as Por­tu­gal, mon amour. It symbolises the need to challenge those who exploit these workers without allowing them to fulfil their dream of a better life.
The happy ending sweeps away the spider web that surrounds them. Jose and Maria come to forget the pain and sadness of leading a life without happiness - by escaping from the gilded cage.
The story seems to have struck a chord with the French-Portuguese community, making the film the success of the year in both France and Portugual. According to l'Ex­presso, the film was seen by over 40,000 people a day during its opening week.
The Portuguese community in France is made up of 1.5 million people, at least some of whom have recognised themselves in the film's characters. Like Luzia, for example, who has lived and worked in France for 25 years, but dreams of returning to Portugal after having retired and secured her family a better future. Until then, she lives far from her siblings. "When I left, I was only a little girl - I would have liked to grow up with my sisters, but I only see them once a year", she confides. "And when I return to Portugal I will be old already."
co-written with Denise Orrù
Translated from La cage dorée : le « rêve français » et la désillusion