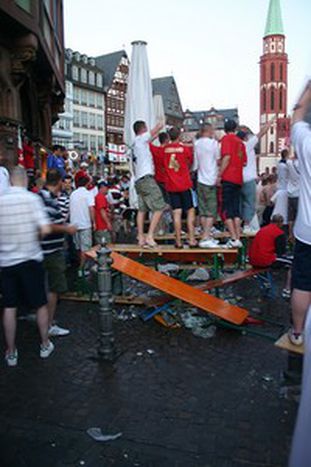 The English are coming – and they're welcome!
Published on
Despite England's continuing reputation as the home of hooliganism, behind the scenes changes have been made that mean the English are starting to behave…
The infamous pictures on TV screens and in newspapers from the past thirty years are all too familiar: England football fans fighting their way through yet another football tournament. A nadir was reached during the 1998 World Cup in France when thousands of England fans rampaged across the country. Two years later during the European Championships in Holland and Belgium, England fans once again seemed to confirm that England and violence go together just like fish goes with chips.
Turning the tide
This represents an accurate image of England fans abroad, doesn't it? Well, maybe not. Many hooligan experts now believe that a fundamental change can be discerned. The 'English disease' – as hooliganism is often referred to – may no longer be so English. Football-related arrests in England fell by 11 per cent in 2004-05 from the previous season according to figures from the UK government. The 2004-05 season saw the highest match day attendances since 1970 but a 10 per cent decrease in arrests from the 2002-03 season. In addition, before the tournament started German police seemed more concerned with potential trouble emanating from hooligans from Eastern Europe. Indeed, around 400 fans were arrested at the Germany-Poland match on 14 June. Does this mean that it is now possible that England's huge mass of travelling support now provides a paradigm change from which other national football associations and legislators could learn?
Stephen Thomas, assistant chief constable of Manchester police, is the Association of Chief Police Officers' representative on football security in England. Along with over 40 uniformed English police officers, Chief Constable Thomas is in Germany to assist the German police in policing England fans. As far as potential trouble by some of the estimated 100,000 England fans in Germany is concerned, Chief Constable Thomas is quite optimistic of avoiding the frightening images sometimes associated with England fans abroad. He says, "At the 2000 European Championships in Belgium and Holland, 958 English supporters were arrested. At Euro 2004 in Portugal there was only one arrest at a venue city and that was for a drugs offence. And in the last nine England games only five people have been arrested."
So why the enormous change? In short, due to the unprecedented hooligan problem within English football during the 1970s and 80s a dramatic change of direction was necessary to save the game. As Chief Constable Thomas goes on to explain, "15 years ago the stadiums in England had poor toilets and refreshments, and the fans were caged-in behind fences. This created an atmosphere that was particularly conducive to hooliganism and anti-social behaviour. "I subsequently learned," says Stephen, "That people behave differently if they are in a good stadium with good facilities. The whole atmosphere then changes." This dramatic change meant that instead of treating football fans as trespassers to be tolerated, football authorities began treating fans as valued paying customers with a right to attend football matches.
Keeping out the hooligans
So how does this relate to England fans travelling abroad? Surely a nice seat and a half-time burger didn't turn hooligans into respectable fans? But treating fans as valued customers was only one side of a two-pronged strategy: the other side is a government-backed measure called football-banning orders, which ensures that around 3,800 hooligans are at home in the UK rather than in Germany enjoying the World Cup. Chief Constable Thomas explains that if someone is banned, they are "banned from all club games in England and banned from leaving the country when England plays abroad. It means they have to surrender their passport and they can't even go on holiday." This policy couldn't have been the success it undoubtedly is without government support in the shape of concrete legislation. "We've had fantastic backing from the British government and you can see this in the legislation that has been passed over the past few years," says Stephen. Anyone breaching a banning order now faces a £5,000 fine and up to six months in jail. "People in Europe call hooliganism the English disease" - maybe now we've found the English cure!
Prior to the World Cup the German authorities held out a similar message to both England fans and the German public: the English are coming – and they're welcome! The tide seems to have turned. Indeed, Dougie Brimson, author of several books on hooliganism, thinks that the biggest problem for England fans could be that they will be targets for hooligans from other countries. He recently toldThe Guardian newspaper that "Other hooligans consider the English "the best", so there is the temptation to seek them out and try to match them." If that is the case, the next time you switch on your TV and you see the usual pictures of fans rampaging through another city centre, don't jump to the usual conclusions. Maybe it's just a case of England exporting a product to the EU that they don't have in such abundance anymore – hooliganism!