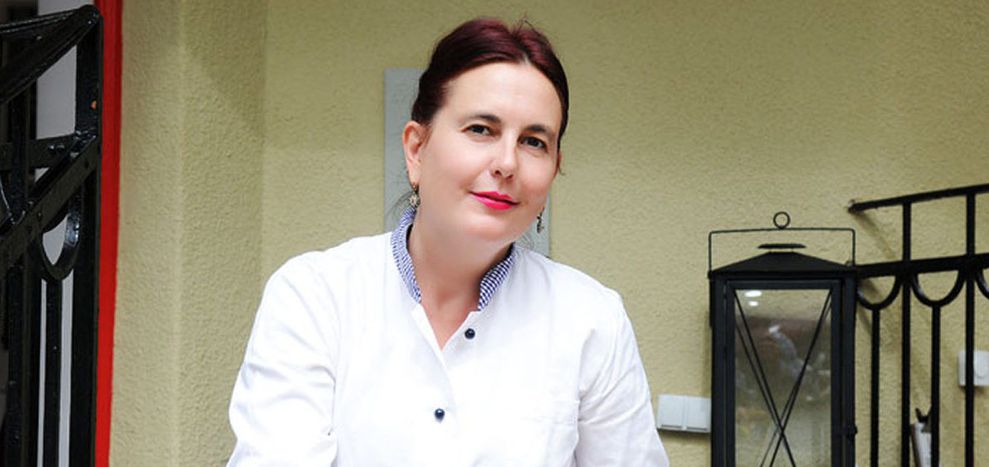 The cuisine of the new Europe-Interview with Lady Pepper
Published on
Translation by:
Adele Benlahouar
Doris Cerin Otočan, also known as Lady Pepper is the owner and the Chef of "La Cuxina", the famous restaurant in Pola, Istria. Doris's family's origins are Istrian-Venetian, and she was born in Istria's state capital in 1971
Doris Cerin Otočan, also known as Lady Pepper is the owner and the Chef of "La Cuxina", the famous restaurant in Pola, Istria. Doris's family's origins are Istrian-Venetian, and she was born in Istria's state capital in 1971. After a philosophy degree she attended the two-year master on cultural tourism at the University of economy. She teached and after attending Glas Istre school she worked as a journalist for the same journal and for Tv Nova in Pola where she ha salso worked as an editor. After work experiences in Rovigno and in Italy in Tuscany, she approached to food service, fisrtly working as a manger an then working as a chef, thanks to the Master Chef degree.
Lady Pepper has opened her own school (called Cinque sensi), where she teaches Istrian traditional and new cuisine, and courses are held in Croatia and abroad.
Doris has put together all her experiences which include cultural tourism, love for the culinary arts and Istrian traditional cuisine and all the studies of the economic field aiming to create what she defines as an interdisciplinary growth, "tourism, culture, agriculture, business" in the food service field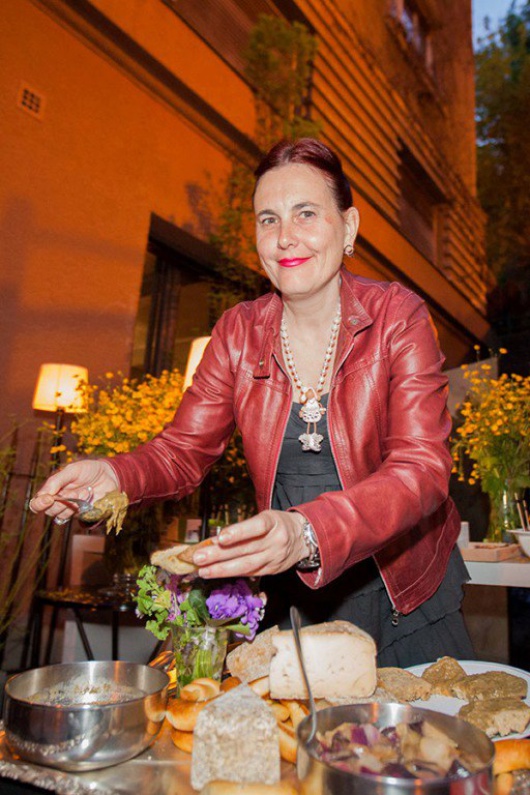 She loves using food in new ways, in galleries or in the museums as in the case of events such as "city picnic", or "country picnic" which took place in vineyards, olive groves with the help of painters, musicians and writers. A way to demonstrate that globalization can't make individuals uniform but on the contrary could make them all different with their peculiarities.
Where's from you nickname "Lady Pepper"?
It has born in Belgrade, when a young female chef gave me this nickname during the days of Istrian cuisine, where I was the chef and because I put pepper and chilli in all my dishes, from the starters to the dessert. And they say that my personality too is a bit "hot".
What are the typical Istrian dishes?
Starters: Istrian ham and sheep cheese. But many times we start the lunch with different kind of soups/vegetable soup with sauerkraut/barley/wild fennel/wheat/rise or with a broth of fish/hen/beef and with home-made pasta.
First courses: traditional Istrian hand-made pasta: fusi, pljukanci: then we make salty or sweet potato dumplings filled with marmelade. Pasta is seasoned with hen broth or beef (boškarin).
Risotto: squid ink rice or with wild asparagus. Then we serve meat dishes or white fish with vegetables and polenta.
Sweets: crostoli, fritole, pinze, sweet ravioli (Albona's krafi), palacinke and strdel with apples or walnuts (orehnjača).  The red wine is Teran and the white one is the Istrian Malvasia. The swee wine is the muscat. Aperitif or digestive: Istrian grappa, biska, medenica, pelinkovac. And we can't forget about the extra virgin olive oil (among the top ten in the wolrd), truffle and acacia honey. 
How much of the Italian tradition is still present in the typical Istrian dishes nowadays?
Istria is a border place with a great history. In its dishes you can find Austro-hungarian flavours, Italian but also Mediterranean.  In the litoral zone od the Istrian peninsula, Istro-Venetian recipes are used a lot.
What do your customers ask for, when you cook for them?
Everybody wants to coma back to flavours, the odours and the emotions of childohood through food. Nowadays tourists and customers evaluate with attention what they eat and they're real  hedonists, they know a lot of things on food and wine, so it's very difficult to surprise them. I think that simplicity and good taste are the best recipe to satisfy them, always resting on tradition with a pinch of innovation and vivacity.
What does it mean being an entrepreneur today here in Istria?
Entreprise is a passion today as it was yesterday and as i twill be tomorrow. There are those who have marked their path and those who pass and do not leave traces behind them. Surely without serious approach you can't have a satisfying outcome.
What kind of perspective can Europe give to your job?
Food service is linked to tourism for a large part of the year so being part of the EU give us more opportunities and new ways to develop in every sector that offers public services.
How has Istrian cuisine developed in the last 100 years?
Istria cuisine is a "layers history" of people, emotions, knowlegdes, traditions, habits and nature. It is a rich cuisine, thanks to the many ethnic groups that live here. Indeed we can say that Istrian cuisine too is ethnic, with recipes coming from cultures such as Austro-Hungarian, Italian, Yugoslav and Mediterranean.
You often go to Italy and Europe. What do you spread about you country?
I try to make people know about the five senses, through Istrian typical products, then people politeness, the smell of the sea, the sun warmth, tradition and wine culture of my land. 
Is Istrian olive oil a high-quality one? How do you compare to the Italian and the Spanish one?
It's a different oil, I live it with the heart and with the soul, it's part of my tradition, even if I like also the Italian and the Spanish one. I appreciate them all: the fruity, the spicy and the bitter but most of all the old Istrian typologies as the morasola, the zizzolera, the busa, the carbonizza and the Istrian bianchera.
A traditional Istrian meal?
Vegetable soup with wheat and barley/ home-made pasta, fusi with hen broth, the walnut povetica-strudel with grappa and wine (Malvasia or Teran).
How many types of Malvasia are there in Istria and which one do you prefer?
To me Malvasia is unique. I like young Malvasia wines but also those that are made "mature" in the barrique barrel when wine becomes full-body with a strong taste.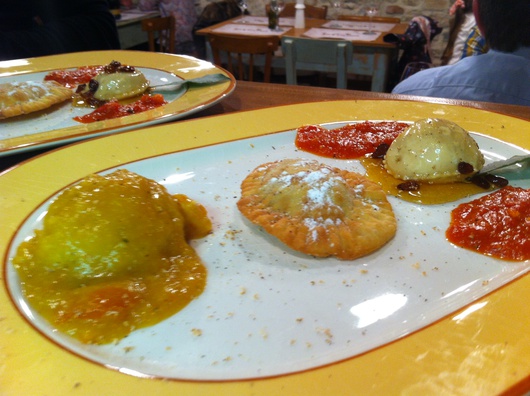 What speciality would you suggest to the tourists that come to Istria?
Boškarin meat (Istrian steer), truffle, our extra virgin olive oil, wine, cheeses and honeys.
How's born Cuxina, you restaurant in Pola?
It'a passion linked to the Istro-Venetian cuisine.
One of your recipes…
Sweet dumplings with home-made jam to match with the Muscat or with the Dignano "vin de rose".
Boil the potatoes with the skin: 1 kg for 6 persons. Then peel it and knead with 00 wheat, adding two eggs, salt and a pinch of sugar or a spoon of honey. Meanwhile take 1 kg of oranges and 1 lemon, wash the fruit and cut it in small chunkes. Cook it with 0,2 l of olive oil, 4 spoons of honey 2 spoons of sugarcane. Put in some flowers, the green crushed of rosemary, a chilli and boil everything.
Cook it with a low-heat for 30-40 minutes, until everything thickens. Then with the jam prepared fill the sweet dumplings and cook the mas pasta into a little salty water. When they come up, continue to cook them for 5-6 minutes and then put them into a baking tray with butter, grated bread, extra virgin olive oil, cinnamon, sugarcane and a bit of honey. Cook them just a bit on heat and the sweet is served.
Copyright ©by William Molducci
Translated from La cucina della nuova Europa - Intervista a Lady Pepper