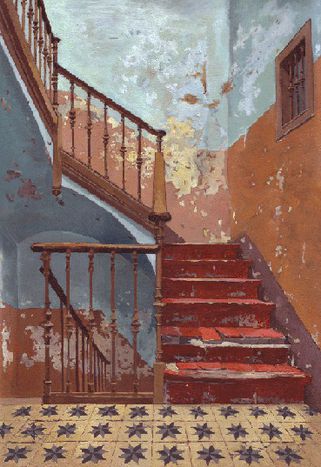 The Chipped Stairs
Published on
A lovely building stands at a corner in the heart of the Gracia neighbourhood. To go in you have to mind your head and walk towards an oddly small entrance next to the solid wood garage door. The footsteps echo in this big bare hall where the noises sound differently, like in a church. The awe-inspiring aspect of the room contrasts with its rundown conditions.
The stone steps are covered with cardboards and the pale light doesn't dare to shine in. In this flat, the leprous walls chip away and spread their sick crust all over the floor. These deteriorated coloured bits, full of delicately traced cracks, make up abstract paintings of subtle nuances. On the starry floor, a broken tile swings and plunges into a rustling. The decay caused by the footsteps brings out the deep wood grains and the broken pieces of glass of the glazed windows let the damp and the light in.
Text written by Géraldine Garçon, French artist who lives in Barcelona and makes artistic works about the daily life of the cities she lives in.
This is a text more of a series of portrayals of Barcelona written by Europeans. Are you in love with Barcelona? Contribute your articles to Barcelona's blog in cafebabel.com.
Translated by Montse Nualart