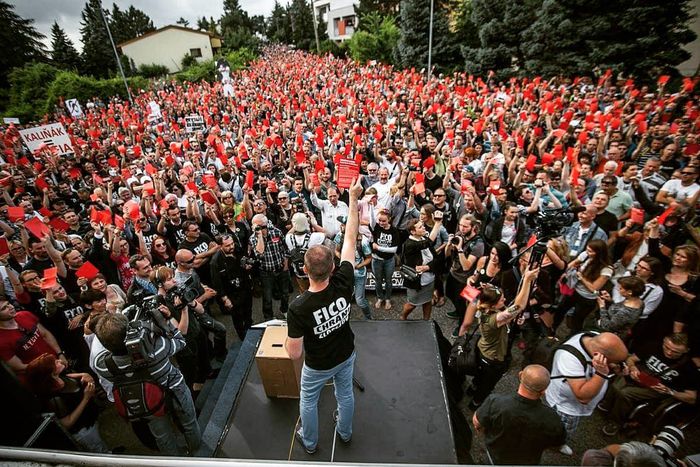 The Bonaparte Revolution in Slovakia
Published on
A familiar air of insurrection has returned to Bratislava this summer for the first time since Slovakia gained its independence. Thousands of citizens are protesting outside of a luxury penthouse. Heads may actually roll over a scandal involving the prime minister, the interior minister and a certain French emperor…
It's almost six o'clock on a Monday evening. As he has for the past few weeks, Luboš - a thirtysomething engineer - has made his way to the square where stands a misshapen apartment complex of glass and grey and beige brickwork. Above the entrance a familiar name is inscribed in block capitals: BONAPARTE. On the other side of the gates, thousands of protestors wave the national flag and wear black t-shirts bearing the slogan: "Fico chráni zlodejov!" (Fico protects thieves).
"I'm here because this scandal is typical of the insolence of politicians. Insolence which makes a mockery of the Slovak people," says Luboš. What scandal, you ask? A political imbroglio involving a rich businessman - Ladislav Bašternak - as well as the Interior Minister and the current Prime Minister, Robert Fico.
Friends in high places
Just a few weeks after the parliamentary elections last March, the media got wind of a scandal which seriously hurt the reputation of the Smer-SD, the ruling party led by Fico. The Interior Minister, Robert Kalinák, is accused of covering up evidence of fraud. In an exposé published in January in the weekly economy magazine Trend revealed that the long-haired dreamboat of a minister had allowed around 100 people to avoid paying any tax between 2007 and 2010. The cost? 75 million euros, which - according to bank records unearthed by an MP's assistant - Kalinák was heavily implied in. From these records, it's easy to unravel the entire affair. Follow the money, and we find most of it comes from a company owned by a certain Ladislav Bašternak.
But what's the link between Bašternak and Fico? The latter pays "mate's rates" on a luxury penthouse overlooking the city of Bratislava, which belongs to Bašternak. Cleverly christened "Bonaparte" because it was built on the site where the French emperor chose to survey his conquests, the building soon became symbolic in the eyes of protestors. Since its independence in 1993, Slovakia has seen many corruption scandals - story after story has been published in the media, but the politicans involved haven't so much as batted an eye. But now, a line has been crossed.
"Every week I come and stand outside Bonaparte," says Luboš. "One day I'd like to tell my kids that I did something to bring about change in this country. I want the law in this country to apply equally to our politicians and make them responsible. Not a single politician has ever been found guilty of wrongdoing, and it's time to change that."
The PM's luxury residence, where he lives with his wife and son, is itself a part of the scandal. The NGO Aliancia Fair-Play, which is investigating the affair, explained how Bašternák's business actually works in Le Monde: "He reportedly bought seven apartments for the sum of 12 million euros, then sold them for a tenth of that price and pocketed 2 million euros in VAT from the taxman."
"Fico reminds me of Putin"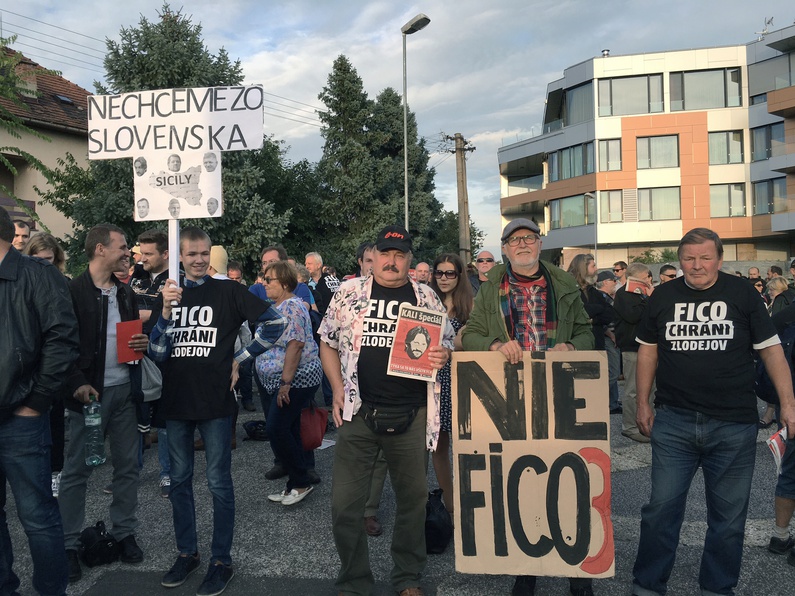 Many are still asking why Robert Fico went to ground in a penthouse which belongs to a man neck-deep in scandal. It's one of many questions that need answering about the man who, at the age of 51, is constantly heard remarking that he wants to leave politics. Last March, Fico won the elections after months spent railing against Muslims and refugees, whom he constantly referred to as a terrorist threat. "Monitor every Muslim", "Protect the Slovak people"… the leftist leader seized on populist rhetoric to seduce a right-leaning electorate, in a country where foreigners make up just 1% of the population [the lowest percentage in Europe, Ed.].
The strategy worked, but not as well as Fico hoped. He won a third term in office, but his party lost its majority in the Parliament. To break the stalemate, the Smer, formed a coalition with the far-right Slovak National Party (SNS). Despite suffering a heart attack in April, the head of state showed no signs of calming down. In an interview in May he declared, "Islam has no place in Slovakia." On the issue of refugee quotas, he added that like the rest of the Visegrad group (Hungary, Poland and the Czech Republic), who are firmly opposed to the idea of welcoming migrants in their country, he would not "bow down before Germany and France." A bold move, considering Slovakia took over the rotating presidency of the Council of the European Union in July and will host the 27 EU heads of state in Bratislava this month.
"Fico is a fantastic liar," says Luba, a retiree who despite her limited mobility comes every Monday to show her support for the protests. "His entire political career has been one big circus. He's built a cult of personality around himself. He reminds me of Putin. Fico is just as unpredictable. Nobody dares to tell him when enough is enough."
Teenagers on bikes, passers-by, old friends, entire families and even foreign tourists have been gathering outside Bonaparte since 26 June. The protests even have a nickname: "Bonaparties". Today is the tenth strike, and it's dedicated to ecology. On the small stage which has been erected for the occasion, citizens and elected officials alike make speeches about climate change. Only the signs reading "Prison for Kalinák" serve as a reminder of why everyone is here. The atmosphere on the ground feels like a revolution against the ancien régime. From his high tower, Fico probably sees a crowd of hooligans like the Euro 2016 is on again. 
"Now is the time to finish what we started in 1989"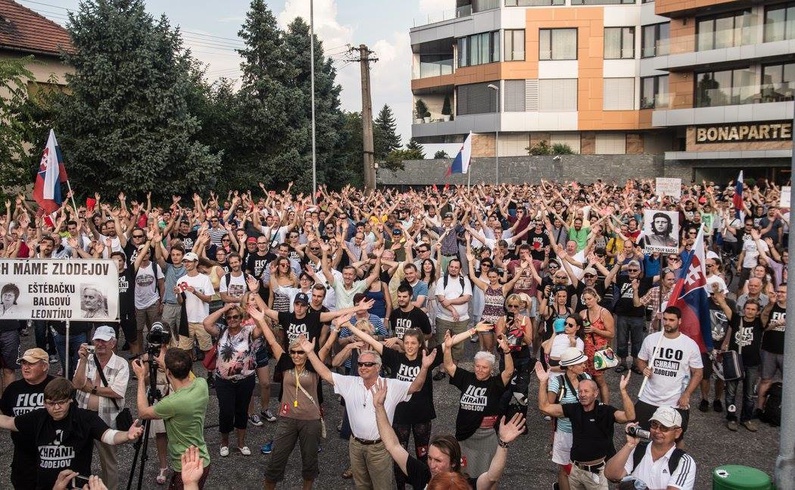 Jan Budaj, MP for the Slovak Democratic and Christian Union, spokesperson for a movement dubbed "Ordinary People and Independent Personalities", takes to the podium.
"Before November 1989, there weren't a lot of brave people. This republic that we fought for is still not a free state. It's run by leaders with the same style that the Communists once had. Citizens should have the right to know the truth about their politicians, but that is absolutely not the case in Slovakia. Now is the time to rise up, to finish what we started in 1989!" he finishes with great pomp.
It's not uncommon to see members of Smer-SD chastising their own party, either. Anton Martvon, a young MP, declares: "The influence of oligarchs on our party has gotten way out of hand. Either we make room for young party members who want to get into politics to help people, or we allow the older generation to run rampant and serve only their own interests."
You can feel the disillusionment in the words of the protestors, who criticise the Smer-SD for doing nothing for the people. "We've been waiting for things to get better for 15 years," says Katarina, 50. "We come from the Netherlands, and we decided to come here because we thought Slovakia had a lot to offer. It's brought us nothing but disappointment."
And yet, in comparison to much of the EU, this little country of 5.5 million people isn't doing too badly. Looking at official numbers, Slovakia is one of the countries that best weathered the economic crisis of the last decade. Its growth rate is at 3.2%, the average salary has climbed to 901 euros per month, and unemployment has fallen to less than 9.5%. That said, living standards in Bratislava are much higher than in the southern and eastern regions of Slovakia, where stable jobs are much harder to find.
Fico and Kalinák continue to deny any wrongdoing, even as the opposition has submitted a vote of no confidence against them. They've already survived one such vote, but the next will be considered during the Bratislava Summit; meaning further media attention that the Prime Minister could do without. But the next Bonaparty will do little to alleviate the stress, for Luboš and the others will not give up.
"It's not possible that people like Fico and Kalinák, who now have the right to retire from politics, have nothing to fear from the police." Maybe they should fear the people instead.
Translated from Slovaquie : la révolution de Bonaparte