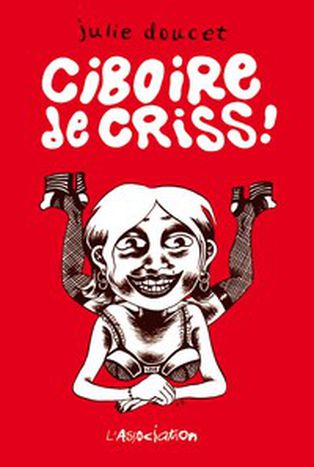 'The Association': revolutionary publishing house
Published on
Independent Parisian comic-book publisher The Association formed their own comic publishing house in 1991, celebrating their first bestseller with Marjane Satrapi's 'Persepolis' six years ago
Good guys never die. Turn back to spring 1990. A tired French comic scene brought seven independent cartoon artists together. 'The Association' (L'Association) was born; its first collection, entitled 'Eperluette' (based on the '&' character), soon set a revolutionised tone for others.
Sixteen years on and the good omens have been confirmed. Today, the Parisian bunch boast a premises, eight paid staff members, and a catalogue verging on 300 titles. Illustrious authors rub shoulders with the most classified cartoonists and scriptwriters. Original comics are already discernable classics, whilst there is a series in novel format which is called 'Chives' ('ciboulette').
Smashing sales
The Association made a name for itself with the worldwide smash 'Persepolis' by Marjane Satrapi, which was unveiled in four volumes. The independent publishers self-deprecatingly branded the win a 'scandal'. The book combining estimated success with commercial bankruptcy. Meanwhile Satrapi was 'pick of the bunch' at the Angouleme comic book festival in 2001, and her most recent offering 'Chicken with Plums' ('Poulet aux prunes') won 'Best Album Award' (Prix du Meilleur Album)' in 2005. Meanwhile Lewis Trondheim, one of the comic creators of L'Association (who has since left), is this year's president of the same 34th International Comic Strip Festival.
Have the cutting-edge dissidents finally been allowed to take a front row seat? 'It's not a question of sticking to our laurels,' The Association repeat. 'It's never really been part of our custom,' explains the editorial of the last catalogue. The apparent wealth of the market, which now mixes glazed annuals with illustrated stories, manga and specialist magazines, is deceptive.
'The comic strip industry is entering a new period of confusion. It could be good, if we don't conclusively fight against them. The innovations of fifteen years of independence should be replaced by shelve upon shelve of inferior work, created without heart or soul, nor respect for the author or the reader. In a context of overproduction, of confusion and of competition, which is often disloyal. The Association doesn't intend to cast itself in the mould.'
Eclecticism and demand
The keywords obstinacy and stringency are not to be taken lightly. Jean-Christophe Menu, one of the pillars of the collective, even seems to taken shrewd pleasures in enforcing them. He says he is unavailable due to the Angoulême festival. So we conduct our discussion with him via his attitudes on the subject as published by The Association.
'L'Éprouvette' doesn't want any reviews anywhere, thank you.' With his stepping stone in the water, the essay 'Plate-bandes' published in January 2005, he recalls that it is too easy to walk on those of The Association, especially in order to publish an inept comic strip. 'We have arrived at a point where there is no longer anywhere in any position to publish what we would really like to do, as much as the authors.'
The 1980s were marked by the reign of the standard album. 48 pages, packaged, printed in colour, which was cheaper to print and was what the children enjoyed. At the time, the emerging publishing house defended itself from other formats continuing to produce smaller, paper-bound productions in black and white with extensive page numbering. From Casterman to Associated Humanoids, they have since been 'often copied, but never identical.' Today, the authors of L'Association have things to say as well as things to design.
'These are the books which would not have been able to exist elsewhere or which would have had a less good existence.' Creations, reissues, translations and original works which are already considered classics. 'We do not consider a small sales figure to be a failure. We have very few regrets,' defends Jean-Christophe Menu, reminding us that the strictly non-lucrative The Association is funded by membership.
Marjane Satrapi spoke about this eclecticism when speaking to a radio station in Toulouse, just before buckling down to start work on the cinematic adaptation of 'Persepolis'. 'These are the things which are becoming very rare in the current world. I strongly believe in independent publishing and I am living proof that you can become rich and famous by staying with an independent publisher and not publishing anything else elsewhere. I think that an author and an editor are very much connected. It is a job where one does both. Each of the roles has really remained equal - it is essential not to forget that.'
Translated from Une Association têtue et exigeante