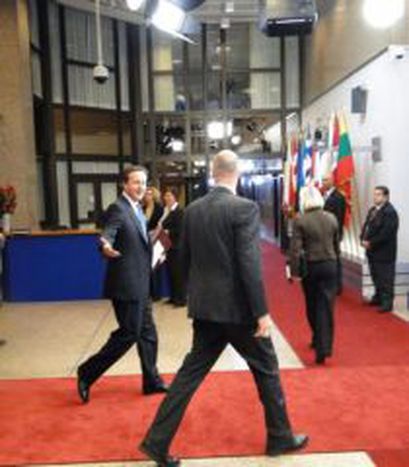 "The 6% increase is dead." Cameron knocks EU budget plans on the head.
Published on
By Rose Kelleher Buzek, Barroso et al won't receive the 5.9% budget increase for Europe in 2011 they were hoping for. And it's all thanks to UK prime minister David Cameron, to hear him tell it. The proposed increase is "necessary to implement the new policies", according to European Parliament president Jerzy Buzek at last night's press conference following a speech in front of national leaders.
The proposal, however, was shot down by 11 heads of state. Disgust at the substantial increase was spearheaded by David Cameron, who arrived determined that "Britain would make a difference."
Defending the spending plan, Mr. Buzek last night said that budgetary spending for 2011, even including a 5.9% increase, would make up only about 1% of GNI. He cleverly sidestepped questions from journalists about the increased entertainment budget that he would personally benefit from under the proposed budget plan.
But Mr. Cameron arrived determined "to put a stop" to the parliaments plans. At a press conference following a working session by the heads of state this morning, Mr. Cameron talked about the support the UK had received from other countries, including Germany and France, who agree that any more than a 2.9% increase at a time when national governments are being forced to implement austerity cuts was unacceptable.
Scapegoating the European institutions at a time when unpopular budget cuts are being forced down people's throats is par for the course, these days. Now that Cameron has what he wants, let's see if he can manage to pull Britain out of its economic hole, safe in the knowledge that citizens aren't shouldering the burden of the EU's cheese and wine soirées.