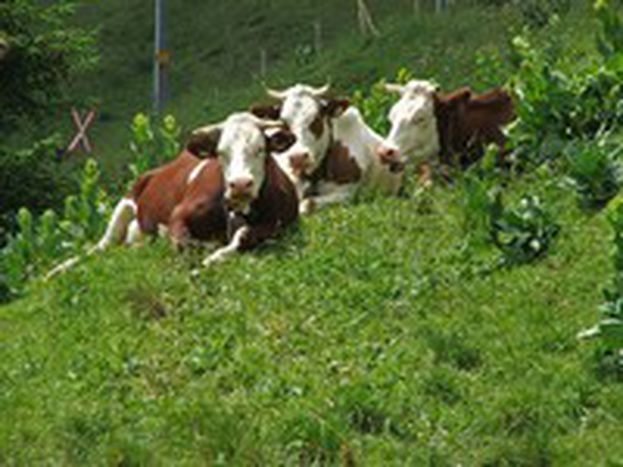 Switzerland and Europe: the story of an old couple
Published on
Translation by:
claire hooper
1 August is the Swiss national holiday – an occasion to reflect back on Swiss moves towards joining the EU
'Switzerland milks its cow and lives peacefully,' said Victor Hugo with a touch of irony. This famous writer's words aside, why has Switzerland, a rich, democratic, federal, multilingual and multicultural country in the centre of Europe, not found any interest in joining the Union? It is regrettable that as the enlargement contiues, the EU, with examples of perfect integration of relatively neutral countires such as Sweden and Austria in hand, should prove incapable of gaining Switzerland as a member in its club.
A privileged partner
Christa Markwalder is the president of NOMES (New European Movement Switzerland) which insists that Switzerland become 'a member of the EU because we share the same fundamental values such as democracy, respect of human rights and the rule of law.'
Nevertheless, Switzerland is still not a member of the European Union and according to many observers it is not ready to take the step. Since the Swiss 'No' in the referendum of 6 December 1992 on a possible accession to the EU, Switzerland and Europe have been following parallel paths. Markwalder thus stresses that 'Switzerland is not ready to be a member. Every bilateral agreement brings Switzerland closer to the EU at the same time as distancing it a little more from actual integration.' Indeed, these agreements have made it seem to Switzerland that its situation as a privileged partner is not only a succes but is in fact prefereable to joining the Union.
Prosperity, the army and the banking secret
Why? The reply to this question is to be found in Switzerland's history itself. Spared the horros of WWII, the country became very rich in the post-war period while its neighbours found themselves bled white and weakened.
In the 1950s there was therefore no interest for Switzerland in joining the sprouting European Economic Community (EEC), which imposed heavy customs duties on small countries. Moreover, the fact that Switzerland's main exports have a high level of VAT and that all raw materials are imported was a further deterrent to entry into the EEC. Finally, Switzerland's traditional policy of stubborn neutrality has held its own against European partiality.
Entry into the EU worries the Swiss. Would the disadvantages not outweigh the advantages? A lot of Swiss are terrified of the idea of having to renounce values which are often no more than a comfortable tradition or routine that they have built into a taboo,' analyses Jean François Bergier, a Swiss historian. 'They entrench themselves behind their 'unique case' that isn't one.'
In actual fact, Switzerland gives the impression of a country that is inward-looking, amongst other things because of the prevalent image of its army as reluctant to participate in peace-keeping campaigns. Yet Switzerland has considerable army with nearly 140 000 soldiers.
What's more, the famous banking secret is a black mark on the very clean image of the country. For the writer and sociologist Jean Ziegler 'the banking secret is the Swiss financial establishments' principle source of prosperity. Money laundering, corruption, traffic and above all tax evasion has been able to yield a profit in complete security' even if it is the duty of an investigating magistrate to provide information and clear up the secret in the case of legal proceedings.
It is likely that sooner or later Switzerland and Europe will commit themselves to constructing a future together. But, at the same time, a day is threatening to dawn when a Europe fed up with being rejected by an excessively temperamental madam time and time again, will turn her gaze towards other suitors.
Translated from Une histoire de vieux couple