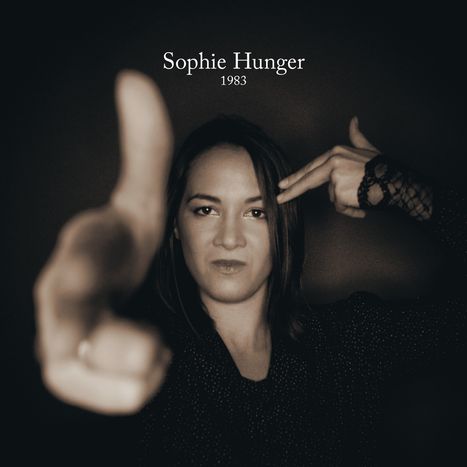 Swiss singer Sophie Hunger: former jazz 'fascist'
Published on
It's promo promo promo in Paris for the folk singer-songwriter, who's finishing up a tour of Europe via Glastonbury to shows in the Czech Republic and Austria. The mellow 27-year-old from Zurich is on the French festival circuit to continue the escape from the 'sad' studio
Sophie Hungerpicked up the guitar aged nineteen. It didn't take long before it bore fruit, with a debut album produced in her living room (Sketches On Sea, 2006), a smattering of jazz festivals and her first studio album Monday's Ghost in late 2008. Born in Bern, she speaks and sings in Swiss German, German, French and English. In concert, she switches from one to the other effortlessly, even having a tentative at Spanish. Both of her consequent albums, Monday's Ghost and the latest release 1983, are predominantly in English with a little French and German here and there. You almost want to hear more Hunger in German because her voice becomes richer and more familiar, such as in the album 1983, which she calls 'a conversation between the year I was born and myself.'
Hunger for German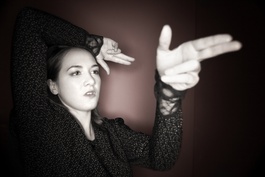 Hunger, who grew up in London and Bonn, confirms that German is a language of intimacy for her. 'English goes further, it allows you more freedom and levity,' she explains. 'I know German really well because I read a lot of books and I know the possibilities it has to offer. That makes it more difficult to create something. It's important for me to sing in German because there's much less musical tradition in English. It forces me to search with my voice.' Today, we're speaking in French, a language which she isn't completely fluent in. When she gets stuck, she resorts to English. For example, we talk about her initial fear at playing an instrument, intimidated when listening to the great names in jazz: 'I thought too much. I was a fascist in my head...It led into nowhere.' Or when she's talking about how her second album corresponded much more to her than the first: 'I felt I was looking up.' ...Sophie Hunger knows how to be obscure, at least to my French ears.
Hunger prefers to focus on the bigger picture. 'Artists preserve humanity. They have the task of talking about things away from politics.' She is definitely more at ease when she's discussing other people; the Danish group Kashmir who she saw recently caught in concert, or a memorised quote from Eminem. Curiosity and passion drive her in the role she plays the best, being a music mediator. It's irrelevant whether its about her own or others. It's an effort for Hunger to speak at length about herself: when she does, it's controlled.
Still to grow
It's such a difference from Hunger's onstage presence, when she is so intimate with her public! Sophie Hunger becomes accessible without losing her musical diversity. She switches to singing folk in English, holds her own with her guitar, changes to piano and then brings out a trumpet for a song in German, as all the other voices melt into a choir behind her. At the encore, the group inch closer until they're sitting on the edge of the stage, producing one of the most beautiful moments of the concert. This is at La Cigale, a venue in Paris, in June 2010. Just a year prior to that, when she stepped out to perform in a more intimate venue at the Montmartre venue La Boule Noire, Hunger was just beginning to be known in France. She already had a shot at something different. Her cover version of rock classic Vent l'emportera (from French band Noir Désir) came out in in hesitant French for a yet-to-be-convinced audience. At Glastonbury, she allegedly went on the John Peel stage and announced her group as being 'probably the least-known band at the festival.'
In any case, you can read it all about this five-piece, Hunger-fronted band – they are jazz, folk or even rock for the more audacious. Hunger tolerates the need to be boxed in a category, but attempts a description of her ways: 'If I eat fruit, I'll give it to a friend of mine who doesn't know it, and I'll say – it's like a banana but there's a bit of orange in there, but it's another fruit. I understand that, but for me it's just rubbish. I hope that I can be my own fruit.' She smiles without shyness – two successful years might just have put her more at ease offstage.
'I hope that I can be my own fruit'
There's so much I still want to ask as the interview nears to an end: about British and Canadian singers Piers Faccini and Patrick Watson with whom she collaborated at France's Eurockéennes rock festival in Belfort, her Bob Dylan covers and the world cup. Although as she leaves the cafe I watch Sophie stop in front of a screen to catch the Chile-Switzerland match. A mere three seconds, before she continues on her way.
Images: main ©Art10; videos: ©Jeremiah/ Kidam production
Translated from Sophie Hunger : « Les artistes préservent l'humain »