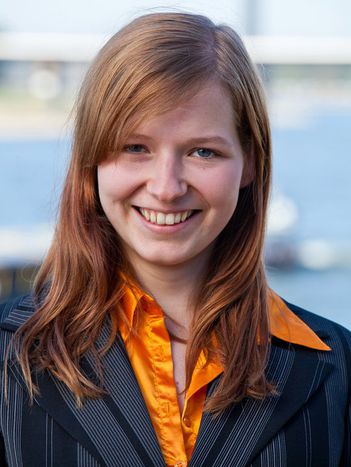 Susanne Graf: 'Those who remember the GDR know what it means to be observed constantly'
Published on
Berlin's September elections made her the youngest MP in the parliament at 19, the only woman in her fraction - and a 'pirate'. We talk data protection, mistakes in politics and why a quota for women in the pirate party wouldn't make any difference
I wait and sip my cappuccino on an autumn afternoon in the German capital. After all, Susanne Graf is a highly sought after interviewee, being the bright young MP in Berlin's house of representatives that she is. The pirate party which she belongs to, founded in 2006, won an unexpected 8.9% of the votes in elections in September. With their motto 'prepare to change', the pirates attracted both voters and abstainers who consider themes like data protection and the transparency of the political process to be important.
The pirates attracted both voters and abstainers on themes like data protection and the transparency
It's slowly getting colder, and Graf has still not arrived. I don't have her mobile number as we have only communicated via the party's press representative. Data protection indeed! I call him; he calls her; he rings me back. 'She should be there soon,' he tells me. Shortly afterwards the maths and economics student at the city's university of applied sciences is at the coffee shop, apologising for the delay. She's just come from an interview with the weekly paper Freitag, which had been delayed because she'd had a photo shoot with the magazine Stern beforehand.
Data protection for voters who remember GDR
Aged just nineteen, the pirate is the youngest MP in parliament and the only woman in her fraction of fifteen MPs. I order a cappuccino at the café Meyerbeer, handily situated near Freitag's editorial office; she opts for the juice drink Bionade. 'It's a bit odd to be the centre of attention like this,' she confides. 'All at once everyone wants to know something about me. I'm not used to that.'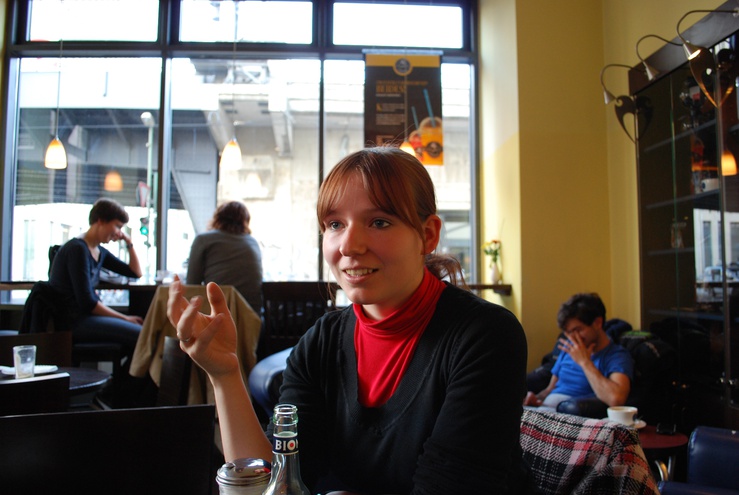 It was perhaps to be expected after the electoral success of her party. 'I once went to an event run by the European hacker club, chaos computer. That's when the theme of data storage first came up,' says Susanne, explaining why she got involved in politics; she joined the party in 2009. 'I felt that I wasn't quite happy with the way our data is dealt with. I want to know that my data is safe. I want to be in control of my information and I don't want the state to know everything.'
Data safety and data protection are two themes with which Graf was able to gain points during the electoral campaign. Her constituency, Marzahn-Hellersdorf, lies in the east of the city. The number of pensioners in the population is high. This isn't a target group in which the pirates, who mostly attract young voters, is traditionally successful. 'In Marzahn-Hellersdorf we have an average age of over fifty. Someone has to be able to explain that.' This isn't all that difficult, she adds: 'People here lived through the GDR (the former east Germany - ed). They know what it means when for citizens to be observed constantly.' That explains why 8.8% of voters in her constituency voted for the pirates.
Girl pirates overboard?
Graf talks a lot and quickly. She isn't a professional politician: her answers are rarely evasive and she isn't afraid of breaking party line, insisting on her own opinion. She had wanted to refuse to grant the German tabloid Bild an interview out of principle, until she was caught by surprise and had to answer short questions for them. She also doesn't seem to be power-conscious. 'I don't really want to be a career politician,' she says sincerely. 'I was asked to stand. I agreed because I thought, okay, the people want me to and then it'd be kind of stupid not to. However, I don't think I would have wanted to be number seven on the list if I had known that we would have such a high result.'
'I was asked to stand. I agreed because I thought the people want me to and then it'd be kind of stupid not to'
If Graf hadn't been elected, the pirate fraction in the house of representatives would have looked exceptional: it would have been the only purely male fraction in parliament. The reason for this lies in the way that politics is conducted, Graf believes. 'Politics rarely attracts people who are insightful, or ready to look for compromises,' she says. 'Instead it draws people who polarise situations and insist on their own opinions. Somehow men do that better.' Despite this, she rejects the apparent solution of introducing a quota for women. 'Just because some people have breasts doesn't mean you have to force them to stand,' she says.
Pirating in Berlin
The fact that the pirates were so successful in Berlin might have something to do with the town itself. 'Berlin likes to be unconventional,' she admits. 'That's a big advantage for us. Then you've got the fact that we are riding a wave at the moment anyway and that we deal with topics which other parties don't touch.' However the success means that the handsome theory now has to be put into practice. Twenty years ago the German green partyalso started as an anti-party party and out of sheer necessity had to abandon a lot of its innovations.
The pirates have to show how they really deal with transparency and openness and how they can draw citizens more strongly into politics. The fraction meetings are public for the time being, and the grouping has turned down its complementary car, asking to swap it for bikes instead. We'll just have to wait and see how the parliamentary practice of the pirates changes. Susanne Graf remains optimistic. 'We aren't afraid. If you're afraid you don't trust yourself to change things. We have respect for the task but we know that we can make mistakes. However, it's important to admit these mistakes.' Our interview time is over and Graf's bionade is almost untouched. She downs it, and hurries off to her next appointment.
Read this article in Hungarian, "Tisztelettel, de félelem nélkül!", on cafebabel.com Budapest. You can also read more by the author on the official cafebabel.com blog in Berlin
Images: main (cc) Tobias M. Eckrich/ wikimedia; in-text  © Tobias Sauer; homepage crop courtesy of (cc) Susanne Graf homepage
Translated from Berliner Piratin Susanne Graf: "Wir haben Respekt, aber keine Angst!"