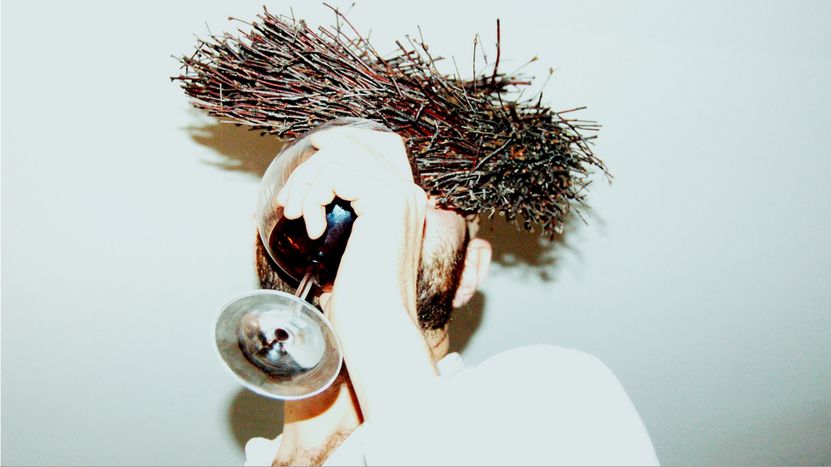 Supper clubs between London and Paris
Published on
With all the talk of recession-wrought doom and gloom, cutbacks and taxation, it can be easy to forget to make lemon cheesecake out of Life's proverbial lemons. If necessity is the mother of invention, let the economic depression yield inspiration. And let's have a slap-up meal in the process
As taxes rise across Great Britain, so too do prices, and the simple pleasure of breaking bread with friends and friends-of-friends has quickly become a luxury for many. If, like an estimated one in five people living in London, you are renting a room in a mixed-lot house-share with a small communal space, then the obvious option of inviting your friends over for a home-cooked meal is not a comfortably desirable alternative either. However, the answer has been birthed from the problem (an Ouroboros-style formula which could be applied to more New Depression era problems): get yourself invited to a stranger's house, allow them to cook you a hearty yet delicately balanced meal and set a charming atmosphere and pay only what its worth.
From Brixton to Paris' 14th district
'I had been looking for something like dinner clubs without knowing that they existed; an event where quality would matter over quantity, not just in terms of the food served but the atmosphere and experience,' says Nicholas Horton, a Frenchman based in London. Secret supper clubs, underground dining and guerrilla restaurants are some of the umbrella terms applied to the concept, but each enchanting evening seems delightfully unique. One such supper club, run by an anachronistically-moustachioed coquet who seemed incomplete without a penny-farthing bicycle somewhere about his person, offers an Eden of which a table-turning restaurant can't conceive: quirky, shabby-chic décor, thoughtfully-chosen, locally-bought food and a relaxed yet inviting ambience, in the heart of multi-cultural Brixton, south-east London.
'Each person attending must be there for the first time, or accompanied by someone who is, to encourage the circle of like-minded individuals to expand'
The rules of the Saltoun Supper Club are simple and logical: each person attending must be either there for the first time, or accompanied by someone who is, to encourage the circle of like-minded individuals to expand, and a donation should be left on the table before leaving. It is also suggested to bring a bottle to go with your meal - the law allows people to donate money to eat food in a private house but gets a bit more fussy when it comes to alcohol - but, without the hefty corkage fee or mark-up of a restaurant, a far higher quality, albeit supermarket, wine can be enjoyed. In a time when 'social networking' tends to involve a computer screen, it's refreshing to break down the barriers that prevent us from talking to each other.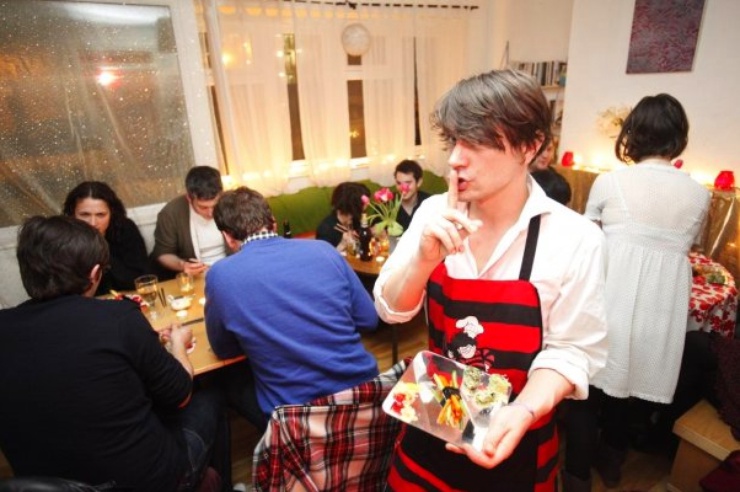 The idea, while not strictly new, is still in its infancy. A similar evening has been mutually celebrated in Paris' 14th district (south-western Paris) by Jim Haynes for the past thirty-odd years. 'I heard about the dinner via a link at the website of the Shakespeare & co English bookshop in Paris - I was looking around for job links when I was going to originally move there,' says Shakira Jones, 26, an English journalist based in Rome. 'I'd read that this has been happening every Sunday for about 25 years so it seemed like an almost historical thing to do. I'd also read that the man who organises it runs a small publishing house so the literary link was again appealing. I like the idea of lots of strangers coming together in someone's home and of having dinner with people from all over the world, also for the fact that it's an actual dinner instead of a meeting in a bar. It's more ritualistic and you can have better conversations over food.'
Supper clubs in Dublin and Rome - maybe
London's (allegedly) first secret dinner club is still going strong, with Horton Jupiter at the helm of The Secret Ingredient (who you can contact directly at thesecretingredienthq@gmail.com - ed). The usual dining rules are relaxed and then quickly forgotten, as a dozen people join in their neighbours' conversations, in some cases retire upstairs for a cigarette and a life-story swap or, at the very least, indulge in polite conversation about the endeavour itself. A supper club inDublin still asks for a donation of only 35 euros (£31) for a three-course meal that ends when every last crumb is gone and every drop has been drunk, not at 11pm. 'There is someone who has taken the idea to Rome but has copied the exact wording of the publicity in Paris,' adds Shakira. 'This just seems contrived and it's not a very 'Italian' thing to invite strangers into your home. Rome doesn't seem to have as strong an international community as Paris, nor a bohemian feel so I don't think it would work.'
'It's not a very 'Italian' thing to invite strangers into your home'
So it doesn't take Michelin-starred chefs to effortlessly satisfy your culinary desires, nor is it necessary to rely on gimmicks and tools to provide an alternative environment. 'I would like to see supper clubs evolve,' adds Nicholas, 'reusing archaic notions like the bartering system for example, and removing money from the evening completely, and expanding to include other social activities than just eating together.' However, it has taken a curtailing of personal expenditure to cause the popularity of these supper clubs to explode. Which leaves us wondering: what other surprise bonuses can the Europe-wide recession hold?
Get an idea: London versus Dublin supper club menus
Smoked Ham with Fig Puree, Celeriac Veloute with Truffle Toasty vs glass of prosecco
~vs
Choice of starters between chorizo, rocket and roast pepper salad; or tomato, coriander and coconut soup (vegan). Both with: Celery heart, apple and pine nut salad (vegan)
~
Roast Duck and Seasonal Vegetables vs Hot-smoked trout (from www.goatsbridgetrout.ie) with salad, new potatoes and asparagus or aubergine, sesame, tomato and pasta bake (vegetarian)
~
Chocolate Plate vs Chocolate mousse; or fruit salad (vegan)
~
Petit Fours, Coffee/Tea vs Tea and coffee: Selection of Barry's herbal teas, normal tea and cafetière coffee. Homemade biscuits: Macaroons
Catch a secret home dinner at The Secret Ingredient in London N1 on 4, 5, 18 or 19 May, or Wednesdays and Thursdays at the Saltoun Supper Club, or Sundays at 8pm chez  Jim Hayne (by demand)
Images: main and macaroons courtesy of ©2007, Arno Rupert Maasdorp for eatwithyoureyes.net/ for Saltoun Supper club; Waiter making silence gesture © courtesy of The Secret Ingredient facebook page