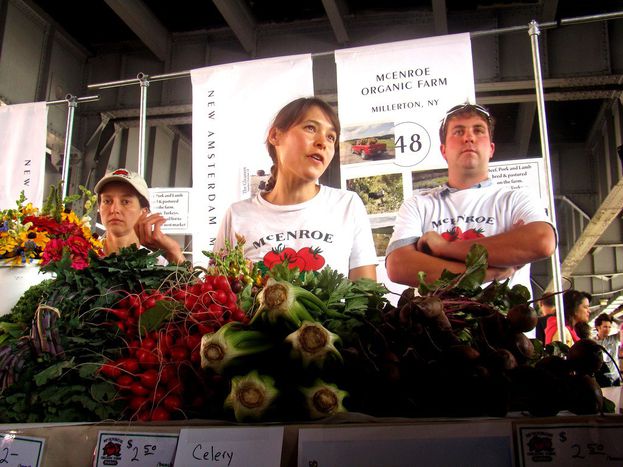 Student guide: community-supported agriculture in France
Published on
The system of associations for community-supported agriculture (French initials AMAP) has been growing in Europe over the last 20 years. In recent years, student 'AMAPs' have multiplied on campuses. From Nantes to Palermo, a look between pickers and carrots
The French alliance for maintaining small farming (Les Associations pour le Maintien d'une Agriculture Paysanne, AMAP) is the equivalent to community-supported agriculture (CSA) in English-speaking countries. It allow consumers to eat quality food, often made organically, and reduce the cost of their groceries all the while supporting local agriculture. Farmers, for their part, have the guarantee that their produce will be sold at a reasonable price. The ultimate goal of this 'contract' is fighting climate change by emphasising immediate connections and renewed dialogue between the agricultural and urban worlds. Elsewhere in Europe the name differs, but the principle remains the same whether it is Reciproco (Portugal), GASAP (Belgium), Landwirtschaftsgemeinschaft (Germany), ACP (Switzerland), GAS (Italy), ASC (Spain), Pergola-associaties (the Netherlands) or Landbrugs Lauget (Denmark).
User guide: AMAP at university
In France, a student spends 37% of his or her budget on food, on average 190 euros (£167) per month. This sum isn't always enough to buy quality food. Some students have set up AMAPs grounded in student realities. Mathilde of the student AMAP Fac Verte ('green university') in Tours (central France) and Joachim, a member of les paniers de gaston ('Gaston's ') in Marseille (south-eastern France), tell cafebabel.com how to set up an AMAP on campus. The two associations have organised a system of daily baskets of organic products.
Low cost: Every basket costs five euros (£4.3)Variety: Celery, leeks, carrots, apples and parsley are among the products in the sixty baskets available each week in Tours and MarseilleFlexibility: The widely divergent timetables of students require that products be made available for hours, preferably in the eveningKitchen recipes: Necessity, as certain 'vegetables students' may not know how to prepareCommunication: An email from the university to the student body can be a very helpful aidSummer holidays: How to allow the producer to continue working during the summer when the students are gone?
Laurent Jouve, a market gardener in Oudon, north-west France, supplies four AMAPs around Nantes, including two student ones, Bulliver and Fac Verte. Up to 2007 he was making a loss selling vegetables through a co-op. He took the chance of restructuring his production to supply AMAPs and today lives from his work.
Advantages
An independent budget thanks to the advance payments of the consumer and the removal of middlemenOptimised production because sales precede distribution, the usual losses of sales on the market are avoided
Constraints
The production of a dozen fruit and vegetables prevents economies of scale possible in the production of a single product.

If Laurent Jouve has chosen to work like this, it's also because it provides him satisfaction and recognition. The AMAPs have even allowed him to hire someone. The direct contact with consumers is a real encouragement for the farmer who 'does not have the impression of working for nothing'. It is a good way of fighting farmers' suicide, a scourge increasingly covered by the media.
Social AMAPs and community gardens
In Aix-en-Provence in south-eastern France, they are currently thinking about working with the charitable association Emmaüs to create 'solidaire baskets' within the financial reach of poorer students. On a national level in France, Fac Verte is working towards the creation of a fund to support the creation of community gardens and new AMAPs.
Other student AMAPs on French and Italian campuses
Papill'on in Montpellier, Zest in Toulouse, les paniers de l'ETU in Poitiers, Fac Verte in Aix-en-Provence and Energie citoyenne in Perpignan. In Italy too various projects exist or are being launched: in Palermo, Turin, Padua and at Roma Tre in Rome. Don't hesitate to tell us about similar projects in your cities!
Translated from AMAP : agriculture paysanne et université dans le même panier