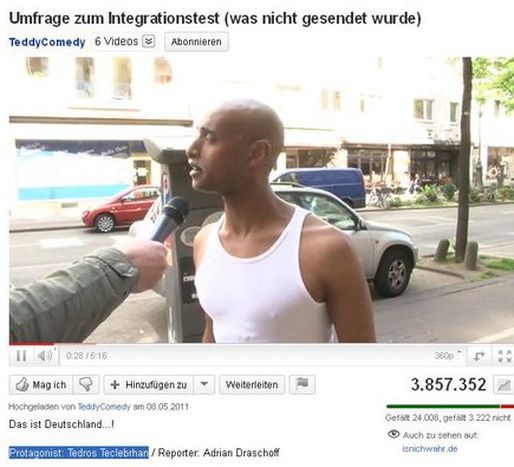 Street integration test: German Youtube hit Tedros Teclebrhan
Published on
Translation by:
hkeet
He hasn't hit his wife for more than two months now, has never heard of the fall of a certain wall and thinks the chancellor before 'Angelo Merte' was Hitler... Within two weeks, the video of the man with the blond mustache became a German web hit. Over 5.
5 million people have already clicked on it the promotional video, thinking the actor was a real migrant and thus not noticing the mirror being held up to German integration policy
28-year-old Tedros Teclebrhan came to Germany with his mother and two older brothers when he was just seven months old. The family fled from the civil war in the state of Eritrea, North Africa, to their new home in Baden-Wuerttemberg. All were given asylum and thus the chance to start a new life in Germany. 'I love Germany; my family and friends are here. I have a German passport,' says Tedros in perfect German in an interview with ihned.cz, the online edition of the Czech daily newspaper Hospodarske Noviny. 'But I do not feel like a German citizen here because the first thing many people see is not a German man, but a suspicious man with dark skin.' That is exactly what happened to Tedros in early May. He was seemingly stopped by a television crew on the street led by reporter Adrian Draschoff before willingly answering questions for a survey that was being asked of all new immigrants from non-EU countries, as well as foreign nationals who want to become naturalised. This so-called integration test can allegedly verify whether a person is integrated well enough.
Citizenship? Then I won't pass that test!
Immediately after the first question, it was obvious that the dark-skinned Tarzan, who was wearing a white vest and talking on his smart phone, did not have the faintest idea about the realities of his country. The survey for the integration test ('Umfrage zum Integrationstest') video, subtitled outtakes ('was nicht gesendet wurde'), became an immediate hit on Youtube. After five days it had exceeded the one million mark; after two weeks, the number of viewers had risen to three and a half million. For some, the survey is just another sad testament to the failed integration of immigrants in Germany. For others it is a satirical critique, holding a mirror to a xenophobic German society. Commentors have questioned if the video is actually authentic, or whether migrants to Germany really know so little about their new home. So what's the truth?
You can also read 'Citizenship exams: spotlight western Europe' on cafebabel.com
Tedros Teclebrhan, now without his trademark blond mustache, smiles shyly. He had not expected his sketch to be such a great success. The young actor, who speaks fluent Swabian and 'Turkish-German', just wanted to have some fun with the video. 'I was once in a similar situation myself,' he adds. 'I wanted to impress others but it went wrong. Straight after I thought it would have been better if I had stayed quiet. But in retrospect, we laugh about it. I come from a culture where you laugh a lot, it's like therapy.'
Actor, not politican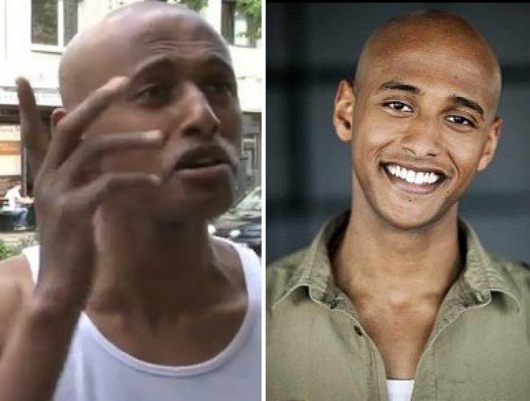 Tedros can hardly believe the fact that many people have taken his video deadly seriously and discussed it so passionately. 'I have quite deliberately demonstrated the absurdity of the answers to the questions. It is completely OTT. Everyone knows that Germany has a female chancellor. No-one would ever say that he beats his wife at home in public.' Having said that, Teclebrhan does think there are many badly-educated people in Germany who have major problems with similar questions, including migrants as well as Germans, he points out.
Tedros himself was not that far from becoming the classic example of failed integration. 'School was quite a turbulent time. I changed schools often. But eventually I came to, got my secondary school education and completed my training in Stuttgart.' Tedros has already starred in several television films. His greatest achievements includes a starring role in the world-famous musicalHairspray between 2009 and 2010, which was adapted from Broadway and became a blockbuster in Cologne. So how would Tedros criticise the passionate debate among high-level politicians who argue about how many immigrants there are in Germany who 'refuse to integrate'? Or whether multiculturalism has actually failed, as the chancellor herself stated in October 2010? Or whether or not islam is now part of Germany? 'I'm an actor, not a politician,' states Tedros. In any case, there is a message for everyone in his sketch. 'I do think that a big problem in this society is the lack of tolerance — on both sides,' he emphasises.
Images: (cc)Tedros Teclebrhan/ facebook; video (cc) TeddyComedy/ Youtube
Translated from Reinfall deutscher Integrationstest: Kanzler Angelo und sein Vorgänger Hitler