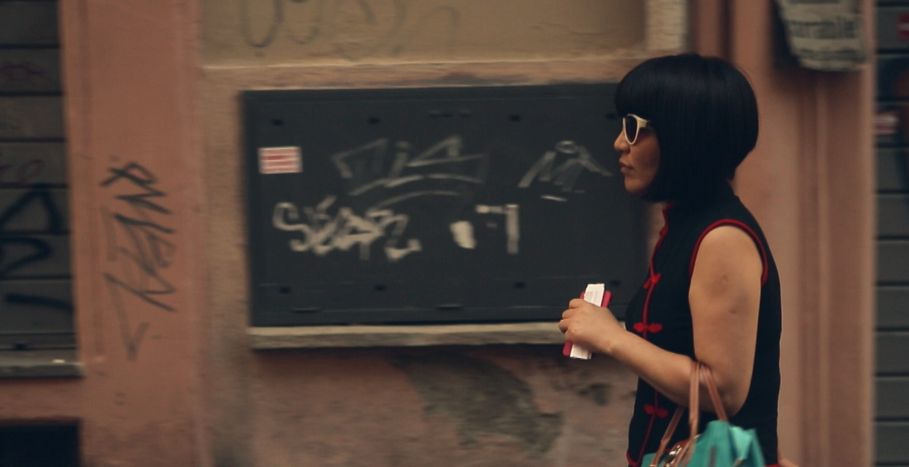 Strange strangers: migrant women talking about theirselves
Published on
Translation by:
Adele Benlahouar
Five women leave their country and reinvent their own identity, tackling immigration problems. A way to narrate through film women's struggle in everyday life. 
Strange strangers are the protagonists of the documentary coming out the 8th of March. The film director is the young screenwriter and film maker Elisa Amoruso (who's already the author of Fuoristrada which obtained the special mention during the eight edition of the Rome International Film Festival in the section PROSPETTIVE DOC ITALIA- DOC PROSPECTS ITALY,  in 2013). This work is born from the anthropologist Maria Antonietta Mariani's research on a group of women immigrated in Italy that succeeded in planning their future integrating themselves effectively. The movie will be displayed during a special day: the 8th of March there will be an all-female mobilisation which will get involved 40 countries and the Women's March also will take part.
Before the documentary's presentation in Rome we asked some questions to the film director:
cafébabel: Is it a case that Strane straniere will come out the eighth of March?
Actually we've established this date for a long time, it was chosen by distributorship which is the Istituto Luce. We've chosen this day because it is a film that talks about women, it gives them value and moreover it is a movie which has been entirely produced by a crew of women, a part from the sound technicians we're an all-female troupe.
cafèbabel: What do you think about the mobilitation planned for that day?
I think that it is always important and necessary drawing to the world's attention  female questions even though I'm sorry that we're forced to restrict it to a single day. I think it is reductive, if we really want to give voice to female questions we should have the chance to do it everyday. In the movie I narrate an emancipation that it's still not real for a lot of women. Lot of wives, mothers who are still forced to a strict way of being.
cafébabel: In the movie you tackle a type of emancipation which is defined by gender and by the place of provenance that implicates to reinvent the female way of being, the profession and integration. What attracted you about them?
The report of their story, the problems that they had to face. Nowadays it seems really strange to talk about matters as such, we shouldn't be talking about violence against women in 2017. The women that I describe, come from countries where the culture relating to their femininity is notably restrictive and maybe they left behind a complicated relationship. Leaving everything behind they reinvented theirselves successfully. We've chosen these five characters moreover for their strong personality, they've a really leading nature and they behave with courage through a real obstacle course. Maybe the result doesn't coincide with what they expected to reach or with what they wanted but they're all happy with the crucial decisions they made.
cafèbabel: How did you interact with them? Was it difficult?
The relationship with them was fantastic, they allowed me to get into their lives and in doing so they've been authentic and friendly. They gave me a lot of strenght, I've married their cause and they've married mine. There has been a firm will to be described and I think that this is the best condition to realize a good documentary. If the subjects close theirselves off it's much more difficult to find a key of interpretation that allows you to narrate their stories. If you can't get deeply involved into a character's life you can't talk about him-her truly.
I'm satisfied with the result I had even if, being a documentary with a lot of characters I could have assemble scenes over and over again. With the last editor, Irene Vecchio, (there have been three female editor during all the production) I had a good result, we're satisfied but  I don't deny that intertwine these five stories in an efficient way it's difficult moreover in a documentary-film which hasn't a strong narrative structure. So, there are five portrays that should arrive as they were one only voice, this was the bet.  But it's you who tell me if I've succeeded! Movies are made for the others, hoping that they can be useful.
cafèbabel: You're a young filmmaker, how do you live the gender gap in the show business? Do you still feel the effort to establish yourself?
This specific sector is mainly male-oriented unfortunately and not only in Italy but also throughout the world. Just think that the first and the only female film director who won the Oscar was Kathryn Bigelow in 2010 for The Hurt Locker.
Women's problems in this sector never end unfortunately. Some days ago I was with Cinzia TH Torrini at the TV show Cinematografo. Cinzia is a director who's been in the show business for much more time than me, particularly in the television sector. She also has observed problems of this kind. I think that the only way to fight these situations is to not care and reflecting without thinking that we're part of a minority. Don't think as we're "different", don't act with the preconception of the failure just because we're women. I think that strenght lies in unity. It is not coincidence that Strane straniere is produced by a group of women in front of and behind the video camera. Maybe if we as women give  opportunity fo work to other women thins will change.
I don't deny that since I've become a movie director,  both for comfort and for appeareance I wear trousers. Beyond the fact that I do a job where I have to move a lot, I wear trousers also because  I've noticed that with some men you can't wear a skirt if you want thay to respect you. Hurrah for the trousers, in this sense…if only they would be enough. 
Translated from Strane straniere: le donne migranti si raccontano