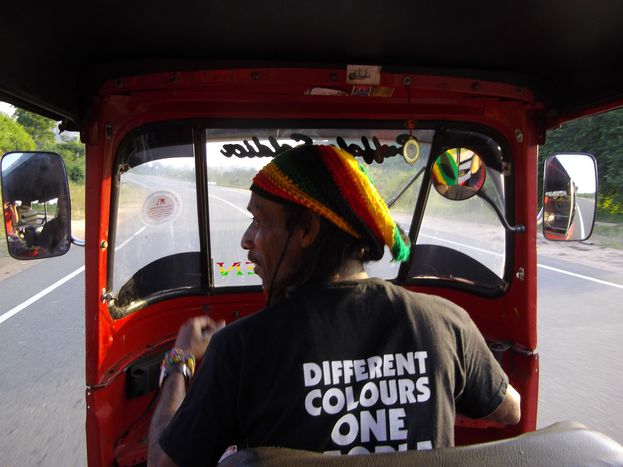 sri lanka: on the hunt with laxman marley
Published on
Don't you worry 'bout a thing, 'cause every little thing is gonna be alright! On the way back to my hotel, I am ambling down the long and dusty road of Dambulla when suddenly I hear the happy sound of Bob Marley. I have to smile involuntarily. How on earth did Jamaican beach vibes make it to this ugly little town in the hot and empty centre of Sri Lanka?
If Dambulla wasn't so close to Sigiriya, the famous Sri Lankan "lion rock" from the 5th century AD, and the best preserved Buddhist cave temples of the whole island, no tourist would ever get lost in this conglomeration of bus depots and shopping centres. Despite all vicissitudes, Bob Marley has made his way here – at least in the person of Laxman, the self-proclaimed "Bob Marley of Sri Lanka". 
When his little red, black and yellow rickshaw comes to a halt next to me, the music blaring from the loudspeakers is so deafening that I can barely understand him. Rise up this morning, smiled with the rising sun, three little birds pitch by my door step... As I have nothing else to do, I jump in and let him show me around his very own Dambulla. According to Laxman, his birthplace is far more interesting than its reputation and Bob Marley is still the greatest musician of all time, even after so many years. Laxman, who prefers to be called Bob, is in his thirties and easy to recognize in his blue jeans, Bob Marley T-shirt and Jamaican hat. His job? "Tourist helper". Not a tourist guide or tout and definitely no mere rickshaw driver, but rather someone with a big heart. "I don't care about money, it's about the fun. Behind the wheel, I meet a lot of interesting people from Europe and America, so I learn a lot. They are always good for a laugh, too."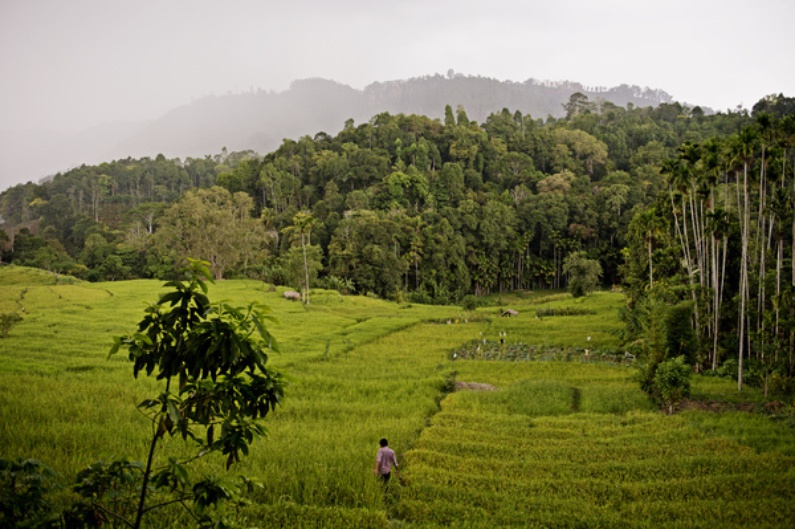 Singing sweet songs of melodies pure and true, singing... this is my message to you-uu-uuu... Laxman's first good deed is a visit to his accii's house, which means "grandmother" in Sinhalese. Although their ties are made of friendship rather than blood, that doesn't really seem to matter. "After all, you can never have enough grandma's", Laxman laughs. After having drunk a cup of sugary tay (black tea) and having moved my things from the hotel into accii's guest room, Laxman takes me on the highway up North. "If you want to see wild elephants, you don't have to visit the expensive eco resort. They are just here, by the roadside." While I am still wondering if Bob Marley's slowly swaying beats won't deter the elephants, we have already been swept into a speed trap. However, that doesn't seem to affect Laxman's good humour as he pays 1000 LKR (about 5,90€) and drives on merrily. Laxman seems to have made Bob Marley's Don't you worry mantra his own.
"It wasn't always that easy, especially not during the civil war from 1983 to 2009," Laxman tells me while we are waiting for the elephants in the high grass by the side of the road. "My family used to have a lot of problems. Now, my sister is working in the United Arab Emirates and I have to look after her daughters." One of the two just recently left her husband who is an alcoholic. In Sri Lanka, as in wide parts of Asia, this is still no easy step. "But I'm trying to always look on the bright side, to work hard and maybe one day go to Europe." Laxman only wants to visit though because he can't imagine living in such cold grey countries. Neither does he want to renounce the excellent Sri Lankan cuisine which is profoundly infused with the flavours of rice, coconut and a lot of chilli. "I went to South India once, to Mumbai, but I couldn't eat anything for a month. Everything was disgusting, much too oily and dirty. Luckily, I found a Sri Lankan dhaba after a while, otherwise I would have starved to death."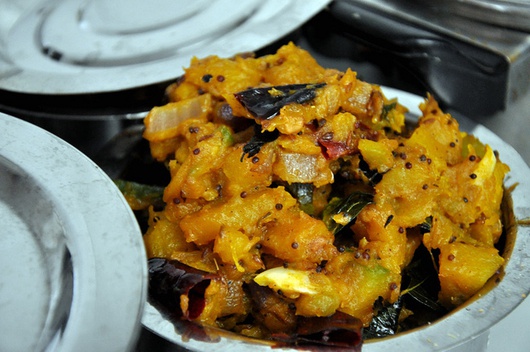 Laughing, I try to explain to Laxman why to a European the food in Sri Lanka and Mumbai doesn't seem so fundamentally different, when he suddenly pricks up his ears. On our right, the first elephant herd suddenly appears, three cows and a calf, walking leisurely along the highway. "They are looking for a good place to cross", Laxman whispers into my ear. Don't you worry 'bout a thing, 'cause every little thing is gonna be alright... Toned down, Bob Marley doesn't seem to scare the small elephant herd. While the sun is setting behind tall, grassy hills and dipping the landscape into the magical red and gold that Sri Lanka is famous for, three more lone elephants pass us by and I find a long peacock feather in the grass. Don't you worry... 'bout a thing... Long after darkness has fallen, we drive back home to accii in our sparkling little rickshaw. 
The next day, Laxman insists on taking me to the bus stand, but before that we pop into his home. Full of pride, he shows me around his little house where mint green paint crumbles off the ceiling and long smears cover furniture and windows. Laxman must have sensed my hesitation because he immediately tries to explain. "My house is right on the main road of Dambulla, not too far away from the Buddhist caves and the Golden Temple. The monks have been trying for years to take this land and dispossess us. That's why I don't repair anything in my house any more, I don't want to throw my money out of the window." Laxman has little good to say about the Buddhist clergy in Dambulla. "They only care about donations. Not very Buddhist, eh?"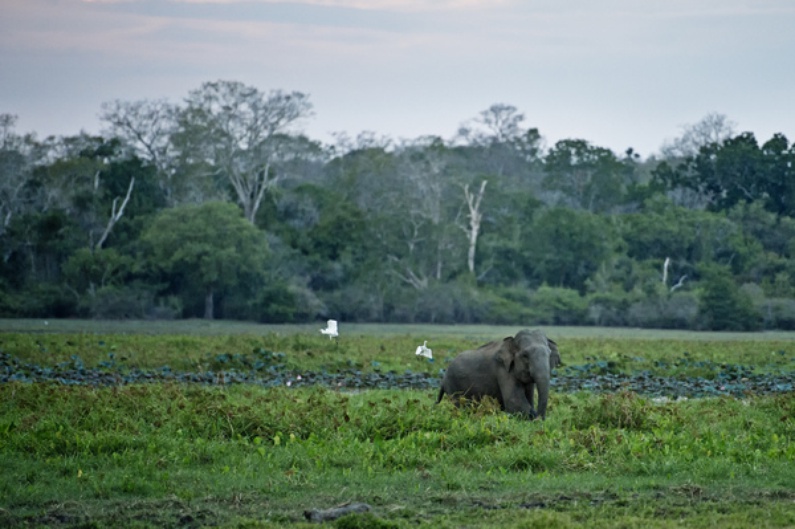 Nevertheless, he doesn't want to complain too much. 'Cause every little thing is gonna be alright. I won't worry! As long as he can afford his hourly tay and biscuits, dinner for his nieces and a scabies shot for his dog, Laxman is happy. Of course, he would like to visit his friends in Germany and Holland, but it is not that easy for a Sri Lankan to get a European visa. When I get off his rickshaw at the bus stand, Laxman doesn't even want to accept the money I offer him. I hardly manage to slip 1000 LKR for the speeding ticket into his pocket. After all, he is quite well off, he says. "I want to remember you as a friend, not as a customer." Laxman has already jumped back into his colourful rickshaw and is slowly rattling away, but I can still hear the happy vibes of his sound system. Don't you worry 'bout a thing... Bob Marley sure would have loved it at accii's house in Dambulla. 
In July 2013, Laxman and his neighbours are awaiting their immediate eviction, as their properties have been finally signed over to the clergy of the Golden Temple. The current Kandy Road residents will receive no compensation or provisional lodgings in return. Until now, there has been virtually no coverage of the Dambulla incidents in the local or national media of Sri Lanka. 
Translated from Sri Lanka: Auf der Pirsch mit Laxman Marley