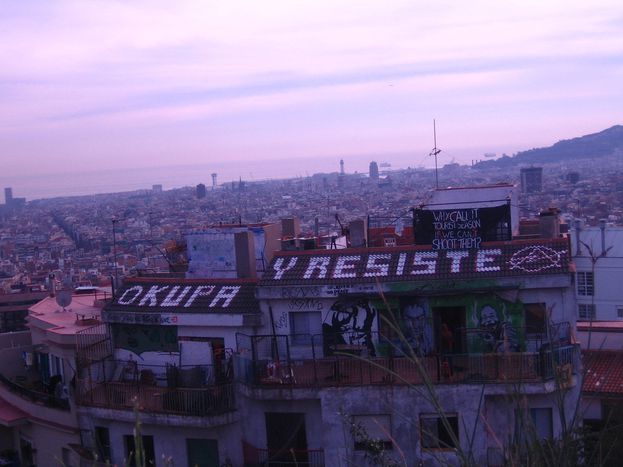 Squats vs. sharks in Barcelona
Published on
As riots hit Copenhagen after the demolition of a legal youth culture house, Barcelona considers its 300 squats in the look up to May's municipal elections
Vallcarca, western Barcelona. The buildings in this district, just above the more alternative district of Gracia, belong to property firm Nuñez and Navarro. Vallcarca is like a small town, and is on the hitlist for the council's next urban project; they plan to tear everything down and rebuild offices. Problematic, since Vallcarca also has one of the highest densities of uninhabited buildings - including 300 occupied squats.
Living on a pittance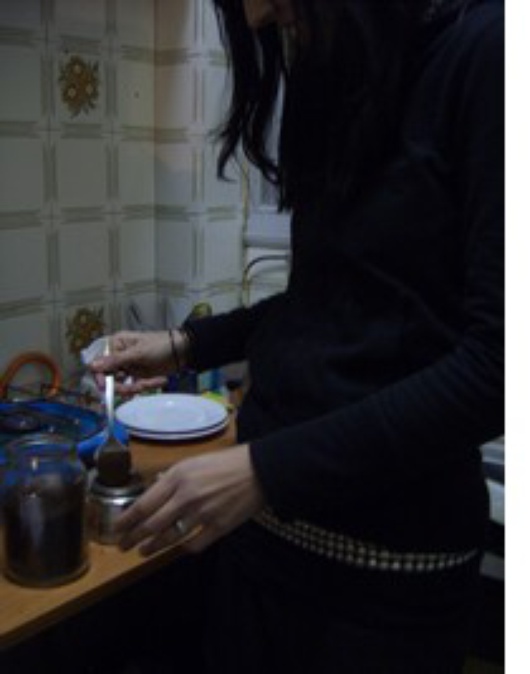 Kira (under an alias) is a squatter, or an 'okupa' (literally 'occupier'). The okupa movement ranges from those who 'occupy' a flat to live alone or with their family (most commonly immigrants), to communities who 'occupy' large spaces, using them for 'cultural activities.'
At 24, Kira has had her fair share of community metropole experiences - she lived in a squat in Berlin too. This evening, she welcomes me to her home, inviting me for coffee. I use my mobile phone to light my way up the dark, enclosed main entrance to reach her on the second floor, tackling a dodgy staircase on the way. The building is small, sparsely furnished and is heated with an electric heater – despite the fact that Kira pays neither rent nor for utilities.
'I support myself with a part time job of 400 Euros a month,' explains the young Spaniard. 'I don't want to spend 80% of that on rent. In Barcelona, squatting empty spaces is the only way of having a roof over your head,' explains Kira. 'If that wasn't enough, lately we've been targeted, undermined by those who want to cause disruption, who send the 'bogeyman of safety'.'
The current ruling left coalition is not prepared to turn a blind eye to a delicate problem in the run up to the May municipal elections. The Council already popped out an 'anti-occupation manual' at the end of January. It's a sort of vademecum for property owners who are unable to free themselves of unexpected guests. But they often take matters into their own hands, serving their own brand of justice. 'It's not unknown for estate agents to hire so-called matones (thugs),' says Kira. 'Property sharks beat whoever they find in a squat to a pulp. They've paid my flat a visit - but I pretended that I wasn't home.'
I deserve a home
Why do young people have it so difficult finding a home in Barcelona? The phenomenon's roots are deep, as Juli Esteban, director of the urban programme in the local Catalan government, points out. 'The young people born in the baby boom during seventies Spain appeared on the property market simultaneously. That determined a hike in prices. Today in this city, there's hardly any constructible terrain left!'
The okupa movement arises from this phenomenon. 'Squatting is effectively a demand to the right of having a home,' clarifies Albert Martinez, a member of the city's squatter movement (Movimiento de Okupación). 'We squat above the flats of estate agents in a speculative building trade, because the majority of Barcelona's citizens can't find the means to pay high rents.'
Esteban rejects a direct correlation between the lack of houses and squatting. 'Catalonia's urban law obliges councils above a certain inhabitant threshold to provide 30% social houses as part of the urban planning programme (Vivienda Protección Oficial). So useful tools do exist to find a dignified arrangement, and you don't need to resort to squatting'.
Unsheltered Spain
Evidently, this is not enough. The administration reckons there are around 20, 000 houses lying empty in Barcelona, climbing to 300, 000 in the entire province. The National Institution of Statistics (INE) shows Spain is the European country with the highest number of empty flats: that's 14%, or over 3 million available houses.
'The census also takes into account holiday homes by the sea and in the mountains, which are obviously abandoned for only part of the year,' defends Esteban. But there's no covering up the problem. As the authorities figure out how to recuperate empty flats, the tug of war between squatters and property holders will continue.
Translated from Okupas contro matones. La guerra immobiliare di Barcellona