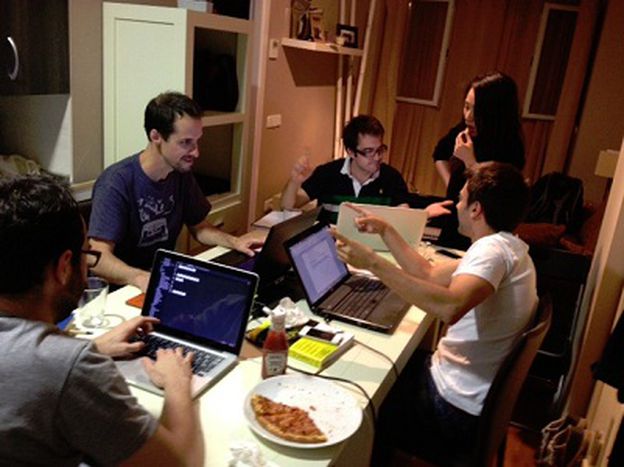 Sportise: Gambling on an Enterprising Spain
Published on
Right in the middle of an economic and youth-identity crisis, a group of young entrepreneurs are proving that optimism, professionalism and ingenuity aren't tied to Spain's current economic predicament. When faced with difficult times, the biggest events can be turned into business opportunities depending on the user's savvy. This is just the case for the team over at Sportise.
net, a site created for the entertainment of friends and families who participate in sport-related sweepstakes.
At Sportise, participants make predictions about sport-related outcomes, for free, and are rewarded with exciting prizes. At the recent Euro Cup, the multicultural group of this enterprise (3 Spaniards, a Mexican, an American and a Malayan) made their Internet debut receiving 5,000 hits during their very first week. Cafébabel.com couldn't miss out on this opportunity to immerse ourselves in the constructive spirit.
How and why did Sportise comto be?
Sportise was born out of a desire to innovate and create something that was our own. We were lucky enough to be at the same entrepreneurial event in Madrid, The Startup Weekend, where we were able to meet and begin working together. From the first minute, our connection was phenomenal, which was the key to the gestation of Sportise.
First challenge, the Euro Cup: results, number of hits or users
In order to validate our idea – a sport-related sweepstakes website where anyone could make their own predictions for free – we had to launch a pilot as soon as possible. And the Euro Cup provided us with a golden opportunity. The challenge was that we only had 25 days to start working together, build a website from scratch and develop a marketing strategy that was complementary to the technical effort. It was a complete success. Eight days after the launch, we had 1,500 users and more than 5,000 visitors. Something that Internet professionals have recognized as a notable feat.
New horizons: the Olympic Games
In the future, we want to provide an online medium for everything that could be predicted; everything that could possibly become a sweepstake. We draw a distinction between our site and betting websites. This is not a betting site; it is a place where friends and colleagues can try their hand at predicting sport outcomes.
Do you know if the visits and the users come from outside of Spain?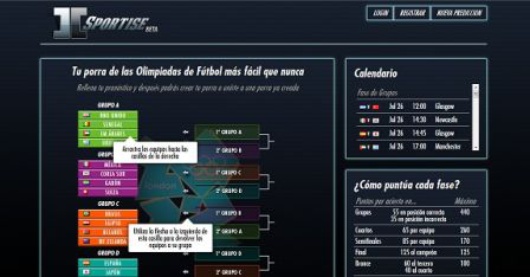 Right now our focus has been on Spain and almost all of the visits come from here. Of course, international expansion figures into our plans. It's something we will tackle in the upcoming weeks. 5) As entrepreneurs at the height of the crisis, what do you hope to get out of this initiative: profits, investors, experience? Our objective is to create value from a site that serves the people and we hope to achieve a sustainable business. In the short-term, the experience that this endeavor is bringing us is a very motivating factor. In the mid- and long-term, we hope to be able to create permanent job positions and contribute our grain of sand to the betterment of the current situation.
Advice for young entrepreneurs
We aren't so bold as to think that we could give advice to young entrepreneurs for we are novices in all of this. However, I would like to encourage anyone who has an idea floating around his or her head. Put it out there, go to events, share your idea. The benefit of sharing your idea outweighs a million times over the risk of someone copying it. Sportise would have never been born if we hadn't shared the idea from the beginning. And the success of the Euro Cup was made possible thanks to the fine-tuning of our idea through many contributions from friends, other entrepreneurs and people who we have never even met.
Collaborators, supporters?
We have found great support in startup communities. Also, sport lovers like our product and they have been essential in providing us with major visibility. Because of this, we've had a presence in more than 8 digital mediums including radio and television. 8) Social network followers Sportise has really taken off because of social networks. Knowledge of our site was spread by word-of-mouth thanks to both Facebook and Twitter.
Goals from now to the end of the year
The most pressing goal is to consolidate the product using a platform that supports the largest number of events possible, and that is 100% centered around the user's experience. If we are able to pair this with a solid marketing strategy, then we are sure to have good results.
Clara Fajardo
Traduction: Leora Glasgow