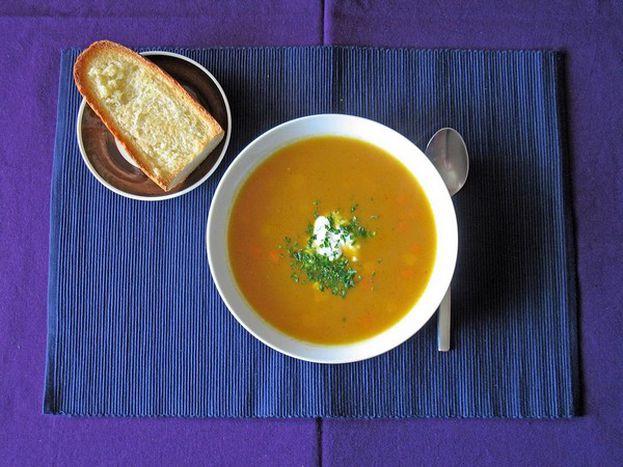 Soup: from Spanish gazpacho to Ukrainian borscht
Published on
If, after an orgy of fat, sugar and alcohol, you're thinking of a detox diet, join the club! The only solution: soup
The temperature is plummeting. New Year treats - like the French galette du roi eaten on 6 January – are striking the final blow to a stomach that's already been assaulted by the feasts and indulgences of Christmas. From now until easter, when catholics break their fast and the chocolate eggs descend on us, Europeans will no doubt be cutting right back in their diets. Now's the time for soup to take the stage - dressed in costumes that are often colourful but never heavy.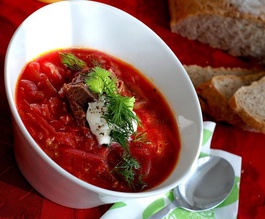 Unlike other dishes, soup is not likely to set Europeans against each other to determine who came up with this ingenious creation first. The art of boiling vegetables down to mush is as old as the hills. 'Soup appears as soon as mankind finds a means of heating water for the purposes of cooking: a hole in the ground containing blazing hot stones in water, an animal skin, a sheep's stomach. We're back in 500BC,' states the French website vivelasoupe.com. From the first lentil gruels of Athens, designed to 'maintain troops' moral', to peasants' rice and bean stews, by way of the Romans' highly seasoned soups using game, fish, poultry and honey … the recipes seem to go back forever.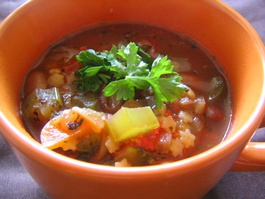 What's interesting with soup is that you can add your personal touch. Like the guy who one day hits upon melting his Dairylea triangle into a bowl of courgette velouté and, after taking a gulp, realises with a sense of pride that, actually, it's really not bad! And the big hits of the soup world travel well from one country to the next: the summery, cold gazpacho of Spain, or Ukrainian borscht with its beetroot and cabbage base. And for real sensory pleasure, don't forget Flemish hochepot stew (made from streaky bacon, chipolatas and cabbage), Italian minestrone (a vegetable broth often enriched with pasta), Altländer-style wedding soup from Germany (a very rich soup with meatballs and eggs), and finally French onion soup – simple, traditional, and generally eaten the day after a feast. Just in time!
Recipe: French onion soup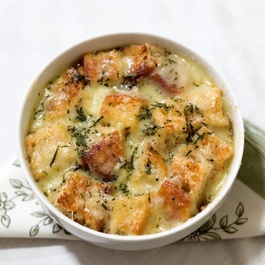 Preparation time: 10 minutes
Cooking time: 40 minutes
Ingredients (to feed six people):
- 12 medium-sized onions - 45g butter - 2 cloves of garlic - 15g plain flour - 1.5 litres of stock - 1 bay leaf - salt and pepper to taste - 6 slices of bread (rounds of baguette are best suited) - 60g grated cheese
Preheat the grill
Chop the onions and soften them in butter for 15 minutes on the hob
Next, sprinkle with flour and add the garlic
Once the flour has coloured, pour in the (warm) stock, add the bay leaf, and leave to simmer for 15 minutes
Cover the baguette slices with the grated cheese and brown these under the grill
Place on top of your finished bowls of soup and serve piping hot
First published on cafebabel.com on 7 January 2009
Translated from Mange ta soupe!