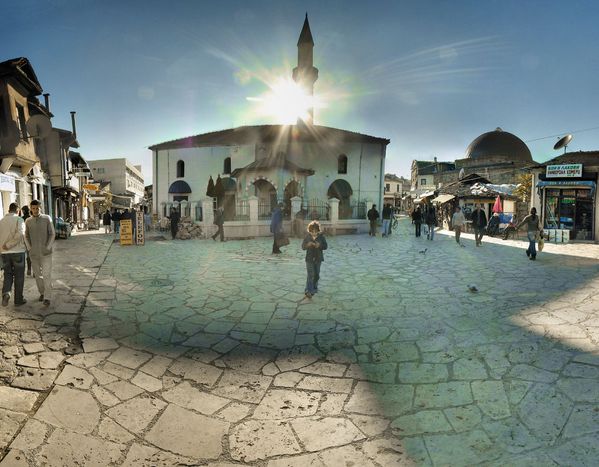 Skopje's 'Albanian neighbourhood' in Old Bazaar, Çarshia
Published on
There are essential traces of the history of Albanians and Macedonians, evidence of survival and revival after the Balkan or world wars. Skopje's 'Albanian neighbourhood' is in a corner where the çarshia (bazaar) lies below the citadel, says Anisa Ymeri
Cross the stone bridge over the Vardar river which divides Skopje into two parts, and head for the Çarshia e Vjetër (Old Bazaar), where it seems as if time has stopped. Shops dot every corner of the cobbled streets. Original carpets made in the loom by Albanian women hang in front of the shops. The sound of a çifteli (Albanian musical instrument) accompanies the song of a rapsod (singer of Albanian folk music) in the background. A path takes you to inside the çarshia, which represents a kind of narrative about the traditional way of living which now mostly attracts foreigners visiting Skopje. Once producing products and objects serving the inhabitants of Macedonia to survive, today they are traces of the past and tourists traps.
Sound of the hammer and anvil is no more
The Çarshia was created between the eleventh and twelfth centuries as an early trade centre. When Skopje was under Ottoman rule in 1392, the Çarshia e Vjetër was revived under a culture brought by the experienced Turks. From the first emperors, the construction and modernisation of the çarshi started immediately with important trade buildings, such as bezisten. Its architectural composition signifies the codex of three in islam; the mosque, hamam (baths) and han (inn). Accordingly, today the Murat Pasha mosque, Çifte Hamam and Suli Han stand beside two churches in the old bazaar, also home of the city's art academy.
'The desire for a modern life has chased families away'
Çarshi is big, hosting anything from tea bars and restaurants to coffee bars and various shops selling gold imported mainly from Turkey, though you won't easily find artisans making jewelry in filigree or silver. It is rare to find families living here, where you can still see the buildings which once housed the artisans. The desire for a modern life seems to have 'chased them away' from this part of Skopje. Shoemaker Darçe Mitrevski is one of the last of the artisans who has decided to preserve his family's tradition. The shop where he sells handmade products was passed down to him by his great-grandfather. Yet nobody else will sell here after him. Darçe has spent every day of his life in this shop since he was five years old, but his two sons decided to continue their studies and have their own professions.
State help
Many old crafts which have been a characteristic of çarshi are slowly disappearing. There are no more workshops even in the more traditional shops; nobody can see how traditional shoes are made from the leather of the cattle growing in these areas, carpets of dyed wool and motifs showing the tradition of the area on its quilts, copper vessels or pipes.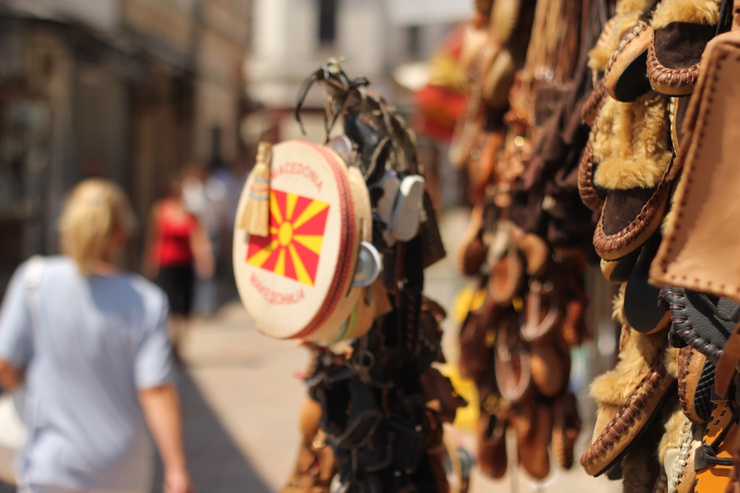 Seladin Jaiu, an Albanian artisan who grew up in this çarshi, agrees that life has become more difficult with the passing of time. 'Artisanal crafts are rare. Almost all of the production has stopped as the younger people are increasingly more distant from the family business.' He points to a shop selling Chinese products. 'These cannot be compared to the crafts made by artisans, and anybody can buy them for one euro, whereas our products are expensive.'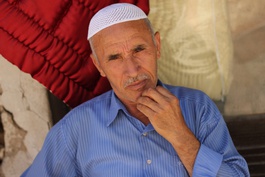 There is no governmental policy through various subsidies which could help the artisans stay in business. Although the Çarshia has been declared a cultural heritage of special importance and commissions have been set up to design projects aiming at its revitalisation, the only thing that has happened is the proliferation of restaurants. It has been transformed into a kind of business area of another type but it has lost its physiognomy. Nothing has been done for those who have connected their life with artisanal production, and the 2002-2006 project did not seem to make any changes. 'Only three of the fifty original blacksmiths have remained in this çarshi,' explains Ibrahim Zekiri. As it stands, it seems a shop here will to have to continue to be closed down almost every day.
This article is part of cafebabel.com's 2010-2011 feature focus on the Balkans - read more about the project Orient Express Reporter
Image: main (cc) Panoramas/ Flickr; artisan and bazaar © Nela Lazarevic for cafebabel.com Orient Express Reporter in Skopje