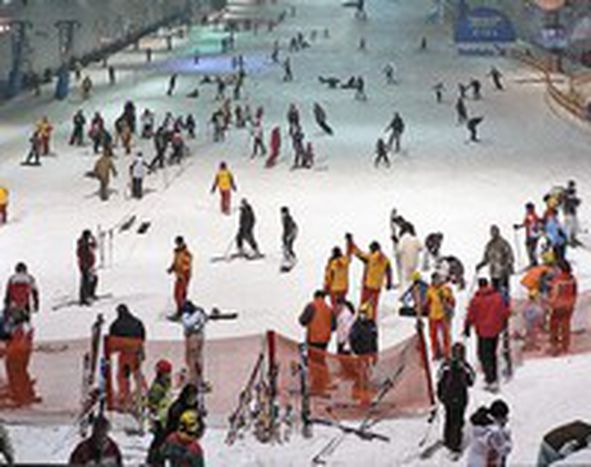 Skiing within four walls
Published on
Translation by:
claire hooper
In the style of Ski Dubai, the indoor skiing resort in the middle of the desert, ski domes are sprouting like mushrooms throughout Europe
Indoor skiing is worth its weight in gold – that is, white gold. Following in the footsteps of 'Ski Dubai' in the heart of the Middle Eastern desert, indoor ski resorts are growing in number across the 'Old Continent'.
An increasing lack of snow cover due to the worrying situation of global warming offers partial explanations for the success of these venues. Ski domes in or near large cities are now open all year round, with regulated temperatures, snow cover and lighting. And if a shorter skiing season guarantees success for ski domes, they certainly also offer many a means of practising winter sports near their homes - however much they earn.
Winter in the sun
At the entrance of the biggest shopping complex in the Middle East, the 'Mall of the Emirates', the thermometer is flirting with the 40 degree mark. But only a few metres away, it's the middle of winter. Snow, fir trees and sledges as far as the eye can see: welcome to 'Ski Dubai', a real ski resort in the middle of the desert. After two years of work by French company 'Transmontagne' and a budget of 272 million dollars, the 200 employees at Ski Dubai greeted their first visitors in November 2005.
And the outcome? 170, 000 visitors in just two months. Success. A year later, and more than 3, 000 clients per day discover the delights of the resort. According to Lucas Marchand, operations manager, 'the clientele is just like this country – very cosmopolitan. Approximately 50% of them live in Dubai or the UAE. The other half are tourists from everywhere else really. We've noticed that there are increasing numbers of English and Russians.'
Not just for winter
Europeans did not need wait for this 'theme park' to be launched to be interested in it. The first indoor skiing centre opened in 1995 in Rucphen (Holland). Since then, a couple of dozen more have opened in Europe, and more than twenty-odd throughout the world – from Singapore (Snow City) to Cairo, not forgetting Madrid (Snow Park).
The complex opened its doors in the Spanish capital city in spring 2003. It offers a 250m long ski slope in the middle of a 135, 000m2 Cortes Inglés shopping centre. Next year Antoing (Belgium), a town 7km from the French border, will embrace 'Snow Valley', the biggest winter sports facility in Europe costing 300 million Euros.
Double-dutch
Holland anticipated this craze well before the rest. This flat country has equipped itself with 5 skiing centres in 10 years. Entrepreneur Nicky Broos was the first to test the waters in Rucphen. Since then, like at the ski dome in Zoetermeer (Snowworld), there are annually more than 300, 000 winter sports fanatics who will fork out about 20 Euros for an hour on the slopes, including equipment hire.
Translated from Ski en salle et neige sous vide