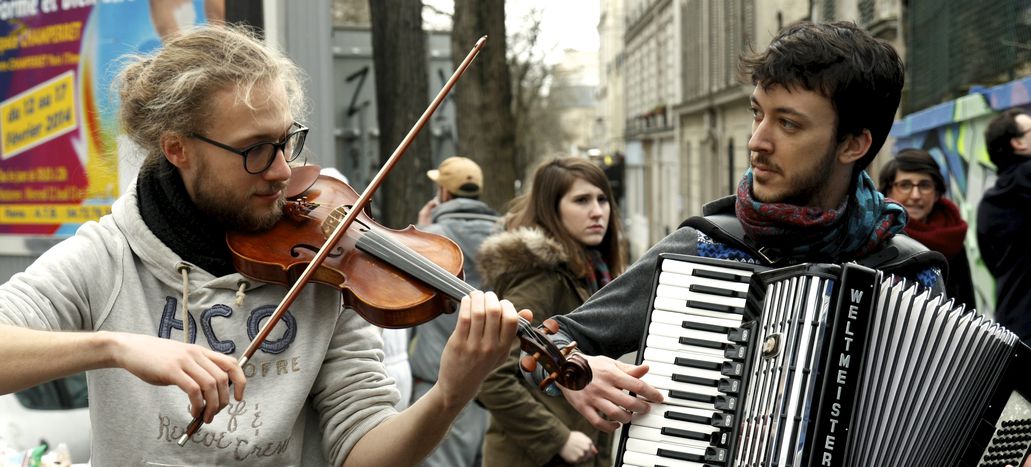 SINGA: Helping refugees to feel at home
Published on
Translation by:
Kath Burns
Thousands of refugees are arriving in Europe. After being sent to welcome centres, it's necessary to begin the long journey into work or accommodation. SINGA, a French organisation, has recently launched a project called CALM ('Comme à la Maison' – 'Feels like Home'), which puts potential hosts in contact with refugees. Cafébabel met with Guillaume Capelle, one of the organisation's co-founders.
cafébabel: Can you tell us a little about what SINGA does?
Guillaume Capelle: SINGA is a citizens movement, set up in 2012. The idea is to help connect refugees with members of the society they're joining by means of their particular passions, projects, or interests by hosting events at all times of the year. We also pair up individuals so that refugees can learn the local language, better understand their new socio-cultural setting or develop personal projects. At the moment, Nathanael Molle, Alice Barbe and I are overseeing it. In total, there are eight people running SINGA, and we have the good fortune to be joined by many volunteers. 
cafébabel: Where did you get the idea to set up SINGA?
Guillaume Capelle: Nathanael and I had just returned from abroad – I'd been in Australia, and he'd been in Morocco. We noticed that the refugees in France were only in contact with local people who were being paid to meet them. They basically only knew someone at the welcome centre who could help them find work, and someone else who'd help them find accommodation. There didn't seem to really be any spaces where they could make new friends, and so we started to build our own spaces where people could meet. From a professional perspective, we strongly believe that asylum can be a real source of innovation for the host communities.
cafébabel: How is SINGA organised?
Guillaume Capelle: It's a non-profit organisation, and it keeps on growing. A lot of people are involved in the process of developing projects through SINGA, and we're working with projects that have many different sorts of organisational structures – including social enterprises. We're currently trying to develop a way to manage international and intercultural projects, which we are hoping to achieve through a SAS business model (a simple limited liability company).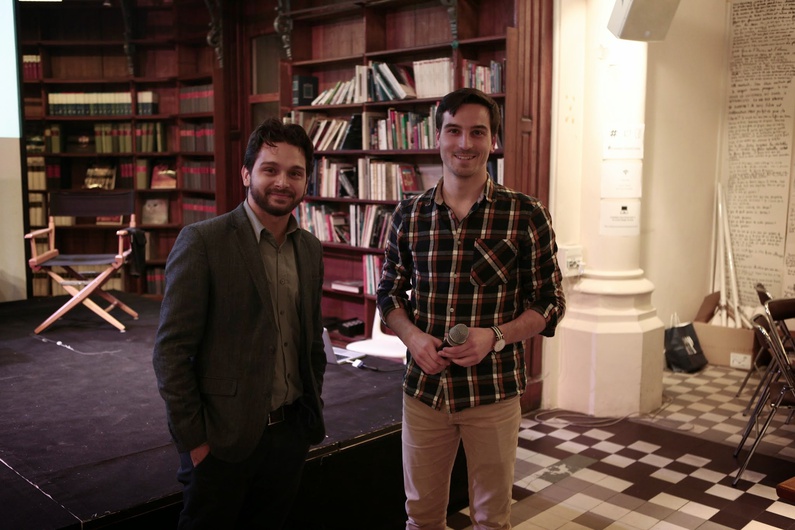 cafébabel: What projects are SINGA developing for refugees? How do they get involved with the organisation?
Guillaume Capelle: SINGA isn't a project solely for refugees; it's society wide. Our approach isn't about charity or aid. It's more about offering events that are open to all. If we organise a yoga session, everyone's invited to it. It's not an intergration scheme per se, but people get to meet and interact with each other, which will then lead to integration down the line. We also do a lot of tutoring for people who want to learn French, by pairing them up with French students. They'll spend an hour and a half speaking together a week, which really helps them get to grips with the vocabulary. It's always done through pairing people up. In a nutshell, we're forging a community where people are able to offer each other something – whether that offer comes from a host or a refugee.
cafébabel: One of the best means of integration is through work. Do you offer employment support?
Guillaume Capelle: Yes, we offer full career support. We try to find people in the SINGA community who can, for example, give advice on how to write a CV or covering letter, while others might be able to provide contacts, or explain how the French system works. They're generally entrepreneur-led projects with huge local or social potential. In the Île-de-France region, the way it works at the moment is very simple: people pitch projects to us, and we give them the green light.
cafébabel: An increasing number of refugees are struggling to find accommodation. You've just launched the CALM (Comme à la Maison) project, which aims to put a roof over refugees' heads. How and when did the idea for this come to you?
Guillaume Capelle: In 2013, we conducted an international study across 15 countries on the use of new information and communication technologies by refugees. We found that there were loads of initiatives. In Australia, there's a scheme that puts foreign students in contact with host families, and in 2012 the scheme was extended to asylum seekers. The results were incredible, people were able to build personal and professional networks far faster than they normally would. That inspired us to set up a similar project in France. In January 2015, we organised an event for project developers on asylum in France. CALM was one of eight projects pitched, and it won the jury prize.
cafébabel: CALM connects refugees who are looking for accommodation with hosts. How do the two groups interact?
Guillaume Capelle: The hosts and those who are looking for somewhere to live answer a questionnaire so that we can establish their preferences: geographical area, their eating habits, their interests and so forth. With enough information an algorithm is eventually able to put people in touch automatically.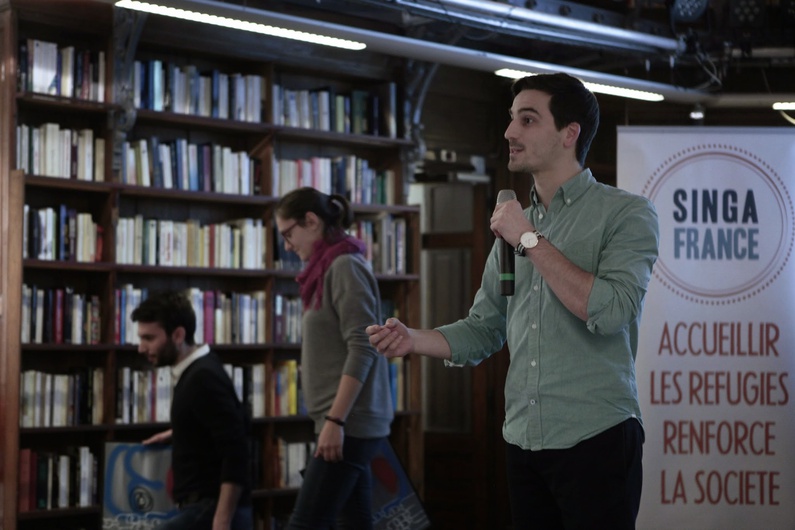 cafébabel: How many hosts are registered on CALM?
Guillaume Capelle: The project started two weeks ago, and since then we've put about 60 people in touch. The hosts can be anyone from families, single people or flat-sharers. Of course people would ideally like us to connect 5,000 people straight away, but we want to do things properly by offering good-quality accommodation. The 7,000 registered hosts are all very different – some people are offering up their holiday homes, while others are offering their Parisian apartments or farms in Corsica. We don't have the time to visit all the accommodation, but we do ask for photos. We also make sure that they undergo training, and that we set up an initial meeting so that we can check people's intentions are good.
cafébabel: Could you give an estimate of the number of people needing accommodation? Can you manage them all?
Guillaume Capelle: We do a lot of work with refugee welcome centres, where many recognised refugees are struggling to find accommodation. Several thousand people stay there, often for months at a time. It's difficult to give an exact number because there's no statistical analysis, and there's certainly no one tasked with listing everyone who needs accommodation. There are also those people who aren't in the welcome centres but have just been sleeping on their friend's sofa for six months. In France, there are 14,500 recognised refugees for every 1,000 places in temporary accommodation centres.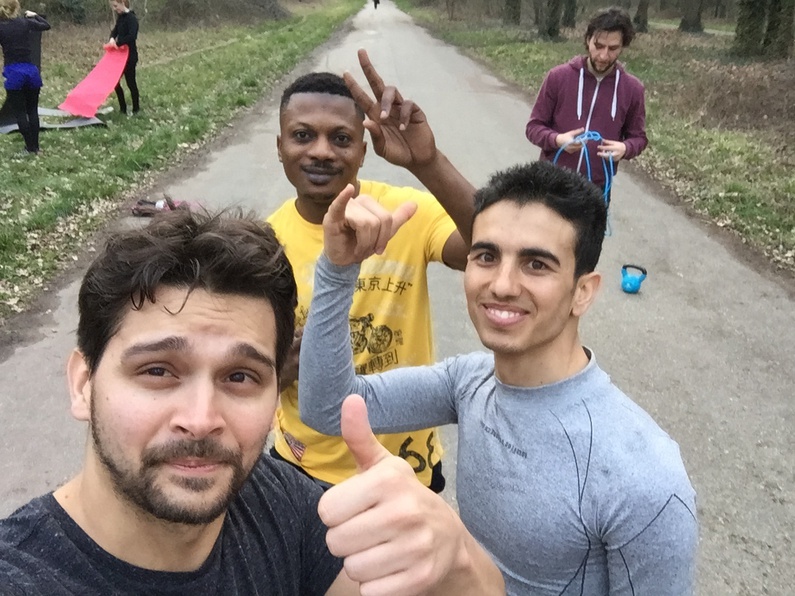 cafébabel: What's your vision for the future? How can you develop and improve CALM?
Guillaume Capelle: We're going to launch a digital platform in the style of Couchsurfing, hopefully somewhere between now and December. A business has offered to do this for us free of charge.
cafébabel: What are the main obstacles to your future projects?
Guillaume Capelle: For the moment, it's going well. What's difficult to balance is our desire to take our time and do things well with the huge level of demand in France. Lots of people feel rushed to find accomodation quickly, which is completely understandable given the urgency of their situations. Our vision is more of a long-term one. We don't simply want to act on compassion. In 10 or 15 years, we want society to look at refugees in an entirely different way, and that takes time. In the coming weeks, we're going to make sure the scheme is up and running across the whole of France, starting with Lyon, Nantes, Lille and Montpellier.
cafébabel: Do you think that politicians are doing enough to welcome and help refugees?
Guillaume Capelle: SINGA doesn't have a political affiliation. For us, it's a question of thinking about how our society can improve itself. Whether or not we're able to welcome more people is a political decision. We can see that there are 4 million displaced people, and countries like Lebanon are taking in 1 million people. Here in France, we're taking 24,000 refugees, evidently, that's fairly few in comparison. What interests us however is ensuring that the people who do arrive here have enough of an opportunity to start a new life.
Translated from SINGA : laisser les réfugiés se sentir comme à la maison