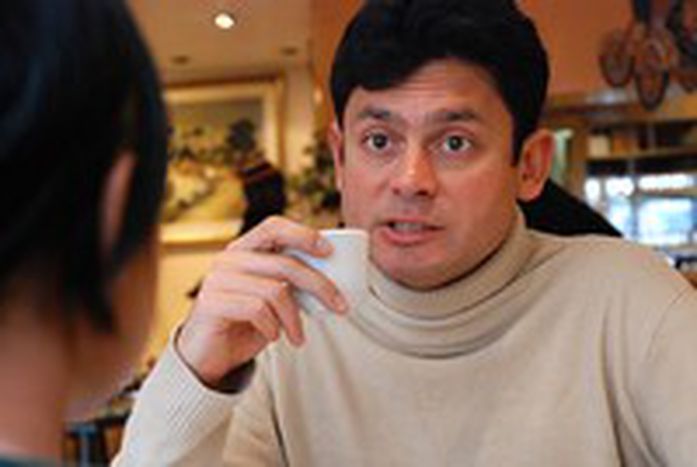 Simon Wheatley – 'Photography helps me be a simpler person'
Published on
Life through the lens: the Magnum photographer, 37, on snapping European youngsters, the decline of local communities and fearing Islam
'Maybe the most important thing I ever did was get away from England and that idea of having a career as a photojournalist,' said Simon Wheatley once, a photographer who now works for the international photo agency Magnum and is back in London.
I have five minutes to make a ten minute walk to Tay Do Café where I am meeting him. As I wind my way hurriedly past various passers-by, I'm stopped by a man walking in front of me. He's wearing a red fleece jumper, hands stuffed in pockets and elbows swaying rhythmically to the beat of his footsteps. As I slow down and peer cautiously back, I recognise the face framed by the red hoody. 'Simon Wheatley?' He smiles, I introduce myself, and he pats me on the back, giving me and our conversation a momentum which carries us to the little Vietnamese restaurant in East London.
We start skimming the menu for noodle soup. As established in our initial email exchanges, we are both South East Asian by origin and enjoy fishing thick rice noodles out of a big bowl of broth for breakfast. He initiates the questions; 'Tell me about yourself.' Becoming the interviewee, I briefly explain my Vietnamese-German background. 'What do you actually know about me?,' he then probes. I tell him he is a Magnum photographer who specialised in photographing underprivileged, violent youngsters. At the end of which, I finally get to pose my first question: 'Why photography?'
Simpler through photos
'Photography helps me to be a simpler person,' he explains. Born in 1970, he grew up wanting to be a writer, but felt he could not live up to his own ideals of the job. 'When I read Gabriel Garcia Marquez, I thought that I could not do that. I was more gifted as a photographer.' But shifting his interest did not mean giving up on story telling: 'I want to be an auteur, an author. I want to tell my stories - I'm not happy just seeing my pictures in a magazine.'
Born in Singapore in 1970, Wheatley studied American and Latin American Studies at Manchester University. He has lived in Budapest and Amsterdam, and moved to Magnum in 2005. He's currently putting together a book of photographs. The subject is underprivileged youngsters who live in council estates in London's headline-hitting suburbs. He has been working with under-18s since 1998, and has watched many of them grow from being playful kids to troubled adolescents.
Through a microcosmic view into the world of these ASBO-branded, 'crime-ridden scum', as French Interior Minister Nicolas Sarkozy controversially slammed it as, Wheatley tries to 'set the record straight' and counter the press' sensationalist presentation of this urban phenomenon. 'I think the decline of local communities is an important issue. The wildness of the youth is a phenomenon in Holland, France – even in London it's tricky.'
Different countries, alternate worlds
We discuss the differences between European youngsters as the steaming bowls of soup arrive. He spoons in more and more chilli as he speaks about the youth in Holland. Many of them 'got more hope because of Islam, there is a safety net.' The situation in England is similar. Although these youngsters are muslims, 'they're essentially criminals. They're 'Muslims', but they're not 'good Muslims'. They're stealing, getting stoned all day, but they have something with which they guard themselves.' But for many, in christian families for instance, even this support is dying.
While the religious safety net is somewhat functional amongst many muslims, in France it has been ripped to pieces by a multi-racial frontier of violent youngsters, enraged by social injustice and everyday racism. 'France is a messed up place, man. It's a war over there. Drugs and violence are just a small section of the banlieu (suburbs) situation.' He tells me that a young French-Algerian, who would greet the young receptionist when he visited an employment office, would continuously be ignored by her. Wheatley is so caught up in this tale that he is forgetting to eat. His soup sits there, cold.
His monologues are a monument to his true dedication for these youngsters. It's a closeness that can be detrimental for a photographer who will have to continue his life and inevitably have to withdraw from their world. Only through his candid curiosity and his honest concern about their stories, has he been able to infiltrate the intimacy of their private lives.
What's cool?
The stories of these youngsters are those of individuals far detached from the abstract political discussions held on French or British television. He knows they're just that, stories captured through the lens of someone who spent only a few years with these youngsters. He refers to himself as a 'joker'. He is not an expert on their lives, who could prattle on about statistics and sociological research. And maybe this is the sort of exposure that these kids need.
But the nature of his work has attracted many advertisers. Big corporations like McDonalds or Virgin Mobile have interpreted his work as an open invitation to contact him about advertisement images. 'My work appealed to small commercial photo agencies, who specialised in the advertising world. I did work with a couple but they didn't understand me as a photographer, what I was about. They think that my work is 'cool'. But social disintegration is not cool. I'm interested in hip hop and in jazz because this music was the voice of dispossessed America. In London, it is a big part of my job but that's incidental. My focus on urban music is an attempt to explore the vacuum of society that makes music the only legitimate inspiration for a lot of youth.'
It is his interest in social issues that drew him to Magnum. The photographers there 'don't care about what's cool'. It is the perfect license for him to continue exploring the globe for stories that concern him.
Next week: kicking the ball around with Frenchman Jean-Pierre Papin, former player and current manager of French club RC Strasbourg