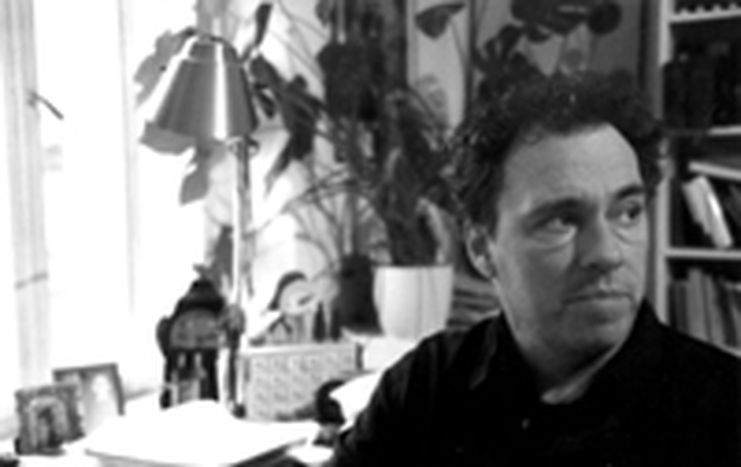 Sidney Corbett, composing for beauty
Published on
A renowned composer for the Berlin state opera and a passionate guitarist, 45-year-old Sidney Corbett talks to café babel about his career, which began with his move from his native USA to Europe, and modern European music composition.
Corbett's German wife Eva and his two-year-old daughter Chiara are already sitting in the café, munching away on the brunch buffet, when Corbett and I arrive huddled up in our winter clothes. His attire is casual but serious; he is dressed all in black. But then we hear his daughter cry, "Papa!" and a smile lights up his face. He takes off his hat and a short, frizzy mane of dark and grey curls emerges from under the black woollen hat.
From rock to classical
Looking at this slightly dishevelled man, you would not expect him to be an international award-winning classical composer, whose music has been broadcast on radio stations from Japan to Germany. And yet Corbett, who is quietly spoken and shy, has earned a doctorate in classical composition at Yale and studied with one of the greatest living classical composers, the Hungarian Györgi Ligeti. He has also been a guest lecturer on classical music at some of the best music universities in the world, including Yale, Berkeley, the Hamburg University, the House of Composers in Moscow and the Royal Conservatory in Aarhus (Denmark). Now, he is here with me in a café that offers a six euro brunch buffet and cheap coffee.
We walk up to the buffet bar, grab two plates and start loading up on some potato gratin. To my surprise, he tells me that he came from an unmusical family. "I was the first one in my family to pursue music. But at least my parents raised me on Bach and Duke Ellington." He talks about picking up the guitar at the age of 12, having a Hendrix-like afro and performing in clubs and bars in Hollywood at the age of sixteen. Then he scoops up a portion of the orange-coloured pasta bake. "I loved playing the guitar, but didn't give a damn about school. The only thing I liked in high school was composition. I had miserable grades when I applied to the University of California San Diego to do music composition and philosophy. But I got in through the entrance exam. I guess they thought I was talented." He halts at the steaming broccoli and cauliflower pot, picking up one of each with the metal tongs.
Working with God
We sit down to eat and he starts telling me about his transition from a self-taught guitarist and music illiterate at age 17 to a PhD composition graduate from Yale at 25. Although he always doubted his musical abilities, he seemed to breeze through exams and was even awarded the Fulbright scholarship to go to the Hamburg University for Music. "When I was told that I got the scholarship, I was in awe. I mean, that was an opportunity to be taught by God." By God, Corbett means the Hungarian György Ligeti, one of the best living classical composers and whose music has featured in several of Stanley Kubrick's films, including The Shining and Eyes Wide Shut. Studying with his personal god, however, was much harsher than Corbett might have expected. "He was really cruel and honest about music. With his schooled ears he tore your music apart. In the beginning we had our problems", Corbett says, scraping off the last bits on his plate. But the American and the Hungarian learnt how to work with one another – unlike many other students. "I was much more thick-skinned than the other students when I arrived in Hamburg. I was twenty-five, had survived an alcoholic father and the hippie music scene in California."
Corbett describes how European music education produces up-and-coming maestros. But he laments that many music students at Hamburg had "all the theoretical knowledge but were only kids", too young and too weak to endure the tortures of Ligeti. Corbett, however, survived and came out a better composer. "European music-writing is much more experimental than American music-writing. In the US it's about pleasing the audience. It's all about the money. European music is not dictated by the market, partly because cultural institutions are funded by the government. You have much more freedom." In Europe, Corbett was thus able to explore something that had lain dormant for years – his experimental inclinations.
A sweet tooth
Without losing his American identity, Corbett started creating his own type of music: a fusion of European and American styles. In his works - his orchestral compositions, his ensemble and solo pieces, his opera Noach and in the vast amounts of vocal music he's written - he experiments with sounds, interweaving quiet or impulsive vocals with complex, pulsing rhythms. His music is subtle, inward-looking; but despite its minimalism, it never fails to have an emotional impact on the audience. His works have transcended the borders of both his old and his newly chosen home continent. "I always think that my music is written for the sunken city of Atlantis. It's a little bit too experimental for Americans and a little bit too sweet for Europeans", he says as we get up for dessert. Little Chiara has already started on her sweet. Her face is smeared with chocolate sauce, while she continues to devour more pear pieces dipped in Nutella.
I ask him what he means by "too sweet for Europeans". Do Europeans only enjoy bitter and depressing music? According to Corbett, after World War II, music composition took a turn. It seemed that music, especially in Germany, wasn't allowed to be beautiful anymore after such atrocities had occurred. German composers were stuck in something Corbett calls the German "music ghetto", where music is dark and tragic. For years, composers never dared to write anything delightful. But now some are trying to get out of the ghetto. Corbett is one of them and seems to have convinced many with his music: critics from national and local newspapers, like Die Welt or Stuttgarter Zeitung, rave about his works.
We end the conversation with coffee. We get ready to enter the crisp cold, putting on our thick coats and scarves. The four of us leave the café in Kreuzberg, Berlin, walking in the same direction. I even get to hold little Chiara's hand until the next crossing where our ways part.