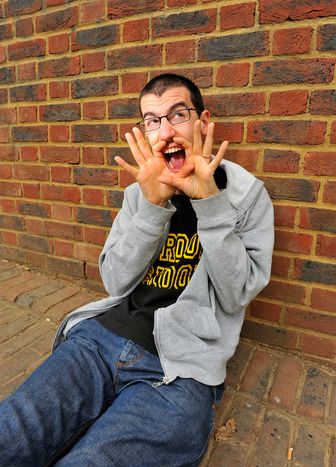 Shlomo: 'I used to think beatboxing was a way of impressing people'
Published on
Simon Shlomo Kahn, 25, preaches his vocal talents to the mainstream and children. The British human beatbox artist, who has Israeli, Iraqi and German origins, talks self-important VIPs, the death of record companies and working with Bjork
Hampstead Heath is not the most hip hop of places, so the location for meeting human beatboxer Shlomo appears at first a little incongruous – certainly the photographer seems unhappy with the green fields and trees surrounding us. Shlo', aka Simon Shlomo Kahn, is a classically-trained musician who got into beatboxing because he liked 'impressing' people. He shrugs off the urban connection. 'I'm not particularly hip hop – although you may have guessed that by now.' With gigs at Glastonbury, Latitude and Womad, today's concert at 'Sweden on Stage' hardly sticks out as a big-name event, even with Benny Andersson headlining; but all Shlo' really cares about is performing.
Beatboxing freedom
'The freedom you get from being a beatboxer is just amazing, it's liberating,' he says. 'You can be any instrument you want, at any time you want – I feel like a wizard standing in the middle, controlling it all,' says the man once described by Radio One DJ Tim Westwood as 'the Harry Potter of hip hop'. As an artist-in-residence at London's Southbank Centre (a complex of artistic venues on the River Thames - ed), the boy from Buckinghamshire has the opportunity to do 'as little or as much as possible,' with no official duties – not even a minimum performance schedule. 'It took me ages to realise they didn't have any plan for me. When it clicked, I just brought them a big list of the projects I'd always wanted to do.' Shlo's agenda is now brimming with projects for the next eighteen months. 'It seems to be working well for everyone,' he says. 'I'm bringing in a different type of audience to the traditional atmosphere at the Royal Festival Hall (one of the Southbank venues - ed). I'm getting so much from it. I just love it.'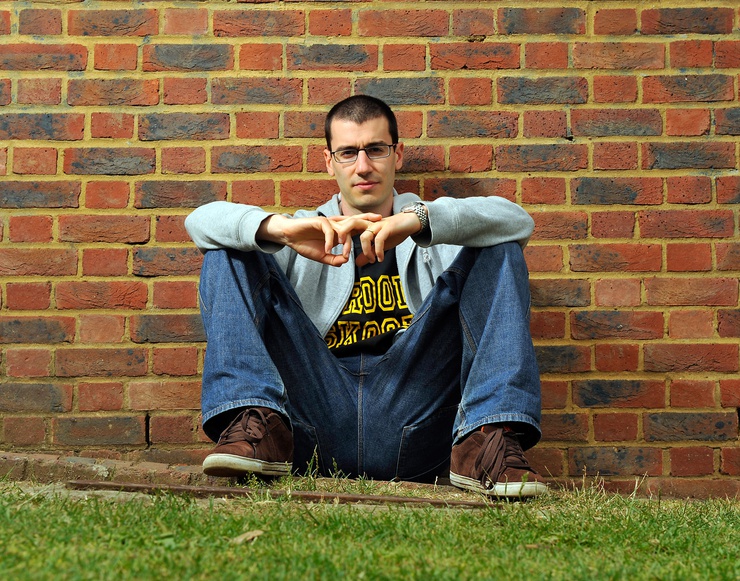 Shlo' is working on three main projects. His Vocal Orchestra, a group of UK beatboxers and singers including female world champion beatboxer Bellatrix, are currently working on 'a theatre thing. Kind of like Stomp (the musical - ed), but for the voice.' Secondly, his troupe will be embedded in a collaborative performance with acoustic and electronic music composer Anna Meredith in February 2010. 'I'm really excited about it, because it will be a proper piece of classical music,' says Shlo'. 'We'll perform it live. I'll be at the front in my top hat.' He is creating a notation system for beatboxing for this second project. Meredith is helping to develop the 'morph between basic drum notation and phonetic sound.'
Sustainable beatboxing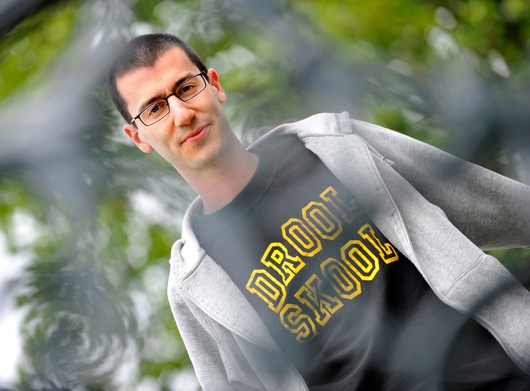 The Beatbox Academy is perhaps the closest to Shlo's heart. Currently in its third term, it has a mixture of backgrounds. The teachers (Shlo' plus two orchestra members, Jez and MC Zani), have focused on visiting 'really rough schools', outreach workshops or youth clubs to attract kids. 'Once you're taken out of context of having to be somewhere, the kids have so much more motivation.' Building on both the school and the notation system, Shlo's idea is to set up a 'sustainable beatbox system'. He cites the Venezuelan-based Simon Bolivar Orchestra as inspiration. 'That's the formula I want to use,' he says about the youth troupe, which has been running for 34 years. 'At the most basic level, kids are there to hang around and not stab each other. If you're into it, you can come back and do more advanced classes, eventually start teaching.' Enthusiasm aside, the reality is that this sort of project is also the most problematic. Shlo' hopes to roll the school out across London before hitting other cities. Yet funding and bureaucracy present hurdles.
One way around this is through his 'Music Through Unconventional Means' collaborative benefit concert series, which 'highlight the role of music as a way to fight knife crime in the UK'. The orchestra has backed artists as eclectic as Jarvis Cocker and ex-Sugababe Mutya Buena. The best of the kids from the academy, whose horror stories inspired the anti-knife crime theme, also perform. The big names draw in 'a big audience, get the media behind it, and then it gives the young people a chance to do their thing.' Although Shlo' refers to the VIP sections at festivals as areas for 'self-important people – they're not very important', he has a seemingly inexhaustible list of celebrity friends. Icelandic singer Björk asked him to beatbox for her 2004 album Medúlla 'out of the blue,' and they performed together at the opening of the Athens Olympics the same year. 'It was a good hook up because so much has come from it,' says Shlo'. 'Until that point I didn't see beatboxing as music in a way. I always thought I was just getting people to be impressed rather than moved. It really opened my eyes to it being a way to collaborate and experiment.'
'Record labels are finished. I put music on my site, give away mp3s for free'
Shlo' isn't just held in demand by audiences and other artists. Record companies want to get in on the act, but so far, all offers have been rebuffed. 'It's an ancient art-form anyway - record labels are finished. I put music on my site, give away mp3s for free... That's why being at the Southbank is the equivalent of the most amazing record deal. I'm not a recording person, I'm a performance person, and this is the ultimate performance deal.' Despite Shlo's languid way with words, the passion for his craft spills out: he calls everything 'awesome' and 'fantastic', and when he talks of 'building an army' of talented beatboxers, I almost believe him.
Catch Shlomo and the Vocal Orchestra at the Greenbelt Festival, Cheltenham Racecourse, 30 August 2009, and at the Queen Elizabeth Hall, London, 19-20 February 2010