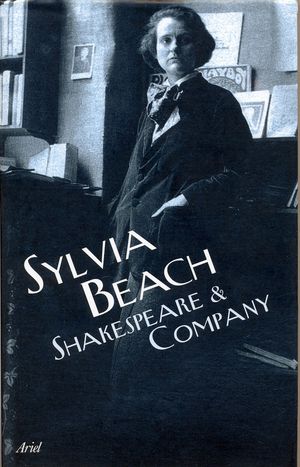 Shakespeare & Co library: community in Paris
Published on
An afternoon between the oldest shelves of Paris with the ninety-plus George, his burnt hair and his caramelised apples
Walls draped in culture. Books by the thousand. Dickens, Cervantes, Aristotle, Nietzsche. Old volumes bound in leather and photographs yellowed by the years, newspaper articles, love-letters, poetry. Wooden shelves bursting from floor to ceiling; from another time and marvellously dusty. We are a stone's throw from Notre Dame at number 37 of rue de la Bucherie; Paris' most beautiful bookshop, the hidden paradise of 'Shakespeare & Company'.
That lost generation
The story begins in 1919, when young American Sylvia Beach decides to opens a centre for English poetry on the rive gauche (left bank) of the river Seine, soon a cultural laboratory and crossroads of intellectuals. Writers of the so-called 'lost generation' gather here, from Hemingway to Ezra Pound, Henry Miller to James Joyce, who thanks to Sylvia was finally able to publish Ulysses, following years of thwarted attempts. Years and trends have passed, but everything remains the same. The small rickety staircases that lead to the second floor, the smell of old wood coming from the shelves. A magic exquisitely out of time surrounds even those who live here, such as George Whitman, the current proprietor. Many believe him to be a descendant of Walt Whitman, the revered nineteenth century north American poet. Undoubtedly, aside from their surname, the two share an unconditional love for books.
Anarchist bolthole
There is a constant thoroughfare of young people from all over: England, Ireland, Poland and the United States. 'We are students, penniless travellers, who are able to live here for a few days thanks to George's hospitality,' explains American Elisabeth, travelling around Europe. George, the near- centenarian who in his own words describes his domain as 'an anarchist bolthole masquerading as a bookshop.' 'We exchange the hospitality for work in the kitchen, doing small repairs, piling books and washing floors,' details Anna, a young English girl. In five decades, at least forty thousand have been guests in this extraordinary, fairytale bookshop. Up on the first floor, a black cat sleeps undisturbed on a sofa. Next to him, a young man is buried in a book of dedications written to George. Fragments of lives detailed on a paper tissue, the back of a photograph, a used metro ticket; the young euro-generation who knock on George's door.
Chicken curry & cockroaches
He welcomes, observes and silently rejoices. He has the appearance of a Hollywood actor from the thirties, slightly aged, with a straggly beard and stiff white hair, cut according to a fiery, eccentric method:
Yet his sky-blue gaze reveal that he is the same enthusiastic young man that originally reopened the bookshop. Extravagant, angelic and a little devilish, George is a true bohemian. It is five o'clock in the afternoon. He offers tea and cake in his living room, as on every Sunday. He has always lived here, surrounded and comforted by his books. Some recite poetry, others converse in English, some listen and others (like me) observe the cockroaches on the wall. The smell of caramelised baked apples and chicken curry lingers in the air. It is he and his daughter Sylvia - his only daughter - who look after it all. Blonde, little more than twenty years old, gentle and open as her father, Sylvia will inherit the treasure that lies in rue de la Bucherie. The management harks back to older times; no credit cards, no logos. A few phrases, painted on the walls, encompass the spirit of this enchanting place:  'Be not inhospitable to strangers lest they be angels in disguise.'
One feels obliged to buy a book, if only as a souvenir, with the bookshop's stamp Shakespeare & Co. Kilometre 0. - the latter a reference to the point in front of Notre Dame cathedral. All around the bookshop, everything has changed. Tourists pour from every direction, traffic, ethnic restaurants, souvenir shops, a Subway restaurant around the corner. Everything is fast, far away and frustrating. But one knows, too, that the magic of Paris is hidden and must be discovered. Who knows, one day it may come by here again.
Seeking writers
For those in love with the Parisian atmosphere and literature, George's refuge is a true paradise. It is possible to stay here for up to one week, following this procedure. First of all, you must contact Sylvia Whitman (sylvia@shakespeareco.org or by telephone +33 (0)1 43 25 40 93), to share your project with her and demonstrate that you are a writer (published or aspiring) in the process of writing a book. Ultimately: be able to speak English
Translated from Shakespeare & co, una "comune" tutta da sfogliare