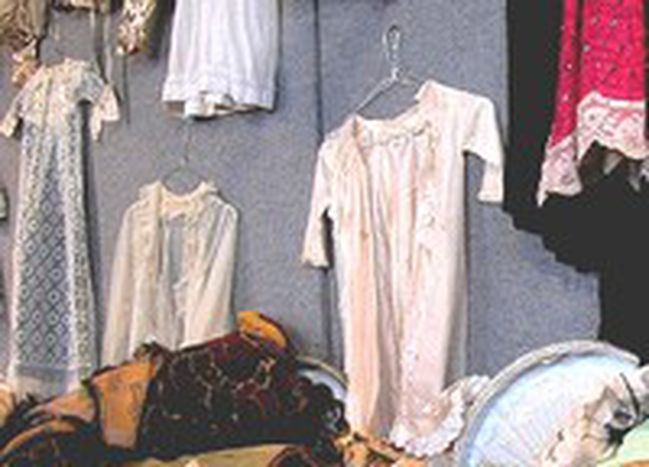 Second-hand clothes fly off Polish shelves
Published on
Vintage clothing, or used designer garments, is currently experiencing a revival in Poland
The word 'vintage' is originally derived from wine terminology, referring to the year in which a wine was bottled and thus its quality in age. Vintage fashion itself came from America. 'Great finds and great prices in eighties New York meant that second-hand clothes were really in demand from Europe. You could buy a pair of linen pants for 20 dollars, and a lamp from the fifties for ten dollars,' reported Polish author and artist Hanna Bakula in a 1999 issue of Playboy.
Second hand rebirth
Polish shops are currently undergoing a rebirth. The huge popularity of nineties second-hand clothing was down to affordable prices rather than the quality of the clothing. In today's metropoles, you can find second-hand shops on almost every street corner. Customers silently vie amongst each other to grab the hottest bargains and coolest original items. And it's not only hoardes of women – crowds of men of all ages are in on the action too.
'Every generation of my family buys from second-hand clothes shops,' says 75-year-old Barbara. 'The clothes are cool and have a bit of soul, even those from the highest racks,' adds Anne, an imaginatively-attired art academy student.
Despite the huge popularity of second-hand shops, most people prefer to keep their distance. Some even go so far as to find the idea disgusting. 'I don't shop in second-hand places myself, because I think they smell funny and the things are too old!' says English teacher Radek. 'But I wear things that my mum has bought me from there. Sometimes the quality is good and the garments don't look so bad.'
Steep rents, big chains
Used clothing is a lucrative business, but only providing the shop is in a great location, or if the owner has more shops. 'Unfortunately my business made me bankrupt,' complains 50-year-old Urszula. 'The rent was incredibly steep and the location wasn't so appealing for people on the street to come in. Big business have it so much easier. They can afford to buy more things and change their clothing range often.'
Small-time businesses usually buy their used clothing in bigger stores, where the prices range from 5 to 100 Polish Zloty for one kilo or item, whatever its quality, condition, label or country of manufacture. Most of these big fish own their own businesses too, so that they are free to change the place of sale. This tends to put pressure on small companies.
But not everyone is able to import clothes from western Europe or America to Poland due to special sanitation restrictions. For example, most shopowners have to put up signs warning that their items have been sterilised to avoid landing fines. Supporting documents are also usually a requirement.
'Sew' original
The second-hand boom is also taking place in other post-Communist countries. 'I like second-hand shops not only for their economic value, but also because of their atmosphere,' says Judit Jaradi, cafebabel.com's Budapest correspondent. 'You can find excellent quality items which you wouldn't necessarily find in other trendy designer stores. I usually get my sewing machine out to make the clothes even more original.'
However it's not the case for newest EU members Romania, one of the most important European textile producers, and Bulgaria, where second-hand clothes were in fashion five years ago. They get even cheaper clothes imported from Asia and Turkey.
Vintage in your own four walls
Fans of typical second-hand shops can also visit online sites from the comfort of their armchairs, such as the Polish site www.glam.pl. 'I've been wearing second-hand clothes from Poland and abroad for years,' says founder Joanna Draus. 'I think it's one of the best ways to dress originally without having to fork out a shedload.' Online second-hand shopping is also a fantastic way for people who don't want to compromise their originality but who otherwise have no time to browse the shopfloors themselves. 'My customers are mostly women who either work a lot or have children, and simply don't find the time to hunt for bargains.'
Be it low prices, originality or the chance to find hidden designer treasures, vintage clothing still has a place in the fashion market.
Translated from Vintage: moda nostalgiczna