Screening African Emotions
Published on
These days, it's film frenzy in Berlin again. Berlinale, the city's famous film festival is under way. This is the third part of a special series on cafebabel.com's Berlin blog, in which three Babel reporters will cover a not so well-known aspect of the festival.
It's called "Berlinale Talent Campus", a forum for 350 young filmmakers from all over the world to present their works, meet each other and improve their skills during various workshops.
by Paula Martinez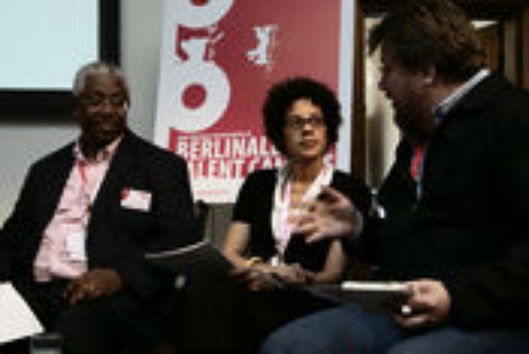 Sunday, 2 o'clock, HAU 2: the sun shines outside but dozens of Talents try to find a place in a crowded room. It's the first round of the Focus Africa events. With a panel of experts from African cinema (producers, journalists, directors from South Africa, Zimbabwe, Senegal, Nigeria...), the session "Hot Spot Africa" draws the attention of Talents from sub-Saharan Africa but also of Talents from all parts of the world. Like Alberto from Italy who told us he wanted to explore "a world which is far away from European independent production."

Alby James, scriptwriter, Selina Ukwuoma, screenwriter and Michael Auret, distributor and former director of the Cape Town World Cinema FestivalFor more than two hours the experts and the public analysed the panorama of sub-Saharan cinema and defended what Zimbabwe producer Pdero Pimenta described as the "African way of doing things." Talk ranged from training new generations to broadcasting African cinema, from the very important issue of fundraising to the necessary cooperation between African countries and the incredible "Nollywood" phenomenon. Peace Aniyam-Fiberesima stated to the applause of many, "there's a lot of raw talent in Africa" and there's a real need for African movies made for an African public and focused on African topics, independent from Western influence. She also emphasized that it's crucial to make cinema accessible to the majority of the population: for example, by setting the cinema entrance fees to one dollar (or less). The round was followed by questions concentrated on the colossal issue of distribution. As one young speaker said, "the main problem starts when you have finished your movie". It's difficult to find a platform where young directors can show their work and thereby garner funding for the next film. Breeze, from South Africa, criticized the gap between younger and older, more professional generations and the latter's reluctance to bet on risky projects that explore new filmic language. Afterwards I spoke with Nyaradzo Muchena, a Campus participant from Zimbabwe. He said that the round table was interesting, but he didn't agree with the general opinion on the Nigerian model as the only model for African cinema. Nyaradzo criticized the quality of filmmaking in Nigeria: "Nollywood is a great example of good film distribution, but definitely not a role model in film production". After a short break, I headed to the main stage in HAU 2 for the second Focus Africa session focussed on North Africa and the current state of independent filmmaking in Egypt. The discussion, entitled Cairo Underground, addressed the different forms of doing cinema away from mainstream channels. A modern artist who uses multimedia as a way of communicating (Shady El-Noshokaty), a female documentary filmmaker (Hala Galal) and two Egyptians participants of this edition of the Campus (Kaiser and Emad Mabrouk) showed their works and talked about multimedia language, independent cinema in Egypt and self-censorship. As Hala Galal said, "the main problem is that nobody knows that in Egypt there is also independent filmmaking". The photos of Cairo taken by El-Noshokaty and screened on the backdrop during the talk were beautiful and a perfect touch.