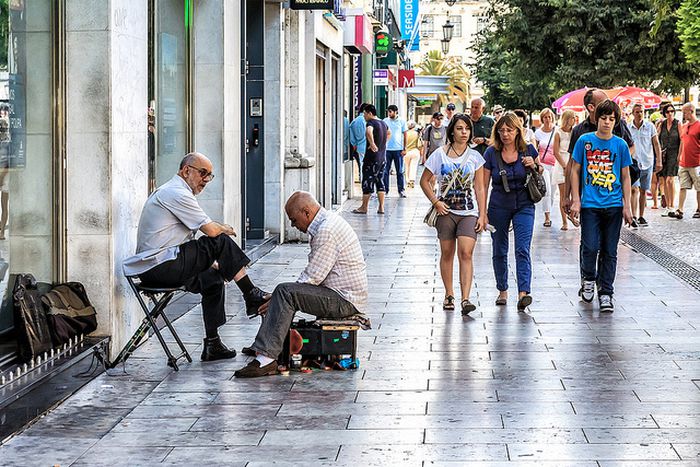 Sciuscià  2.0: the return of the shoeshine boys
Published on
Translation by:
Adele Benlahouar
They're the shoeshine boys of the third millenium.  Born in Palermo, the cooperative Shoeshine 2.0 will train the new Sciuscià, integrating them into the business sector. Among dreams, hopes, crisis and precariousness, this is a job opportunity that could change most of people's life. Cafèbabel reports you the emotions and the projects of some of the lucky ones among the 16 future artisans. 
Having an opportunity in the world of job. That's a revolutionary concept in an Italy that is losing its progeny because of the infamous crisis and of a society where the ability to make a photocopier work or to carry a plate in a balanced way are worth more than a degree. That's why the Sciuscià's return in Palermo, has made everybody's hair curl. Providing a job, a handcrafted one in a digital era and moreover not an underpaid job, it could seem crazy stuff but it's a forthcoming relaity.
The shoeshine boy's job is an out of date job. In the capital of Sicily this job is reliving thanks to the initiative of Confartigianato Sicilia and with the Shoeshine 2.0. cooperative. The challenge is to rethink the profession in modern-day. The new sciuscià will benefit from technology, advertising and from the alliance with the big brands of this sector. They'll work through telephones and social networks and there will be also, even if it is an embryonic stage idea, an app with wich clients who are attached to their sciuscià will know in which Palermo's corner they can find him before a business appointment. But will all the sciuscià have a smartphone? Will those older adapt to the new technologies?  Possible problems that do not worry  at the moment the aspiring shoeshine boys who are focused on the opportunity to be the future of a profession that seemed faded.
But why 2.0? The aim is to specialize this workers group reinterpreting the basic role of an old profession, freeing it from the black market and giving it back its commercial dignity, creating new professionals, contemporary and flexibles, able to start a commercial path. Confartigianato hopes that soon enough, the new sciuscià will be able to think big and, why not, to open business activities throughout Italy. According to Nunzio Reina who's the President of Confartigianato "it's not excluded that you'll see the sciuscià inside Louis Vuitton stores". During the start-up phase  the cooperative's members will have a free financial consultancy and a company from Verona will provide brushes, creams, aprons and uniforms same for all.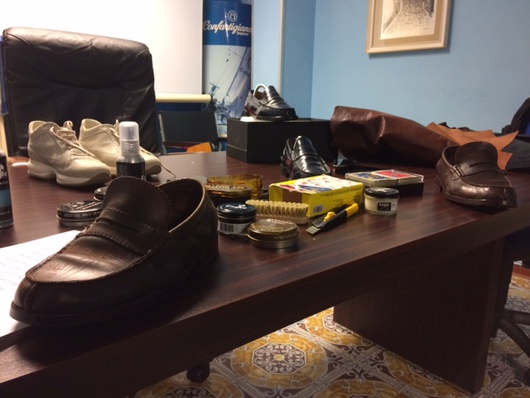 The candidates were 160, coming from all over Italy. In the end they were only 16: 12 men and 4 women, a graduated from college and high school graduates  between the age of 20 and 61 who are going to use by April a moving location to polish citizens and tourists's shoes all around the city. They will do this after taking 15 hours of class with Piero Caccamo, who's  a maestro in this sector. From piazza Castelnuovo to via Maqueda, going through via XX Settembre, piazza Verdi and piazza Borsa until we reach the Courthouse and the Central Station, Palermo will recall the set of the famous neorealist movie made by Vittorio De Sica, obviously without all the ruins of war.  
The initiative has been received enthusiastically with some polemic. The barrage of criticism doesn't stop. Someone comments: "This opportunity is the reflection of the State's failure". Someone who adds: "That's where our graduates go". But the future sciuscià are excited and their contagious enthusiasm has no limits. During the first lesson the atmosphere is calm, they joke, they know each other. But, when caccamo take the first pair of shoes to explain the art's basic, tha guys take their pen and notebook carefully.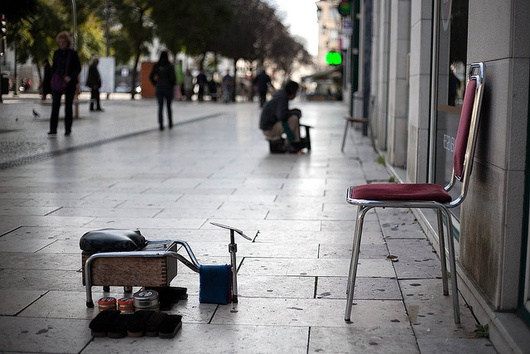 "This is an important beginning. Then maybe I'll leave from Palermo"
Marilisa is 21 years old. She's quite short, bleached hair, an extraordinary energy, it seems she has the business acumen in her blood. She has lived in Trentino for 15 years. Her mother who's a cashier in a market in Palermo, gives her a shoe shine boy's kit to show Marilisa her support. "It's a great opportunity for me-she says- in a country that's economically died and that clips young people's wings". "I'm surprised with who defined Palermo young people's capital on 2017. I answer to this qualification with a loud "Fuck". This is just the beginnig for Marilisa. A work that will allow her to earn some money and then to attend a degree course that gets her ready business world. " I don't want tolive my studies. I want to hold a degree and make my dream comes true: starting my own business in Milan because here in Palermo it's very difficult to build your own future" she ends. A business that could have to deal with shoe shine boy's world, why not. And dreams go: "I can already picture myself in a place where professional workers are relaxing themselves reading a newspaper and sipping a coffee while their shoes are polished". Like in the America of '50s.
When they called her from Confartigianato and communicated her the successfull outcome, she couldn't hold back her happiness. But some of her peers didn't spare her some criticisms: "I received some negative messages on Fcebook" she says "They questioned me how is it that I've chosen to present myself as a candidate for a so old-fashioned profession, while we're inthe age of social. I believe that in this age we need to recover that communication that social has taken away from us. This craft allows you to do this".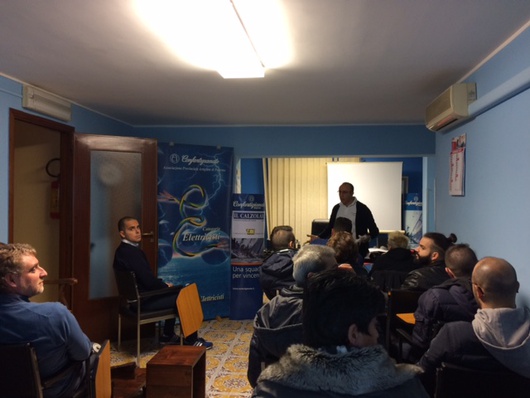 "We need to work"
Vincenzo sits next to her, he's 30 years old. He has a degree as dental techinician, his parents are unemployed. He worked in the real estate without too much luck. He would like to work in Palermo and live there but he believes that it will be difficult even though he has hope. "This is a fundamental opporunity . We need job and the government  has the duty to guarantee it, but nowadays it's not like that", says with a pinch of anger. "That's why I didn't think twice-he continues- when I found out about this opportunity  through social networks". Vincenzo hasn't a specific dream, he just wants to "work to live with dignity".
"Working hard will be essential"
And then there's Fabrizio, the college graduate of the group, he's thirty-seven and has a degree in political science. During the lesson he's always very neat. He fills his paper with notes as if he were at the university. This is a bet for him not a failure or a fall-back scheme. "Nowadays we need to roll up our sleeves, working  hard to earn something" he says. "After the degree  I couldn't find job opportunities and no one answered to my candidacies. When I heard about this opportunity , I tried and it was fine" he smiles. Fabrizio has no intention to leave Plaermo. "I believe in this project. I want to work here, I don't want go away. This is my city and I don't want to leave it."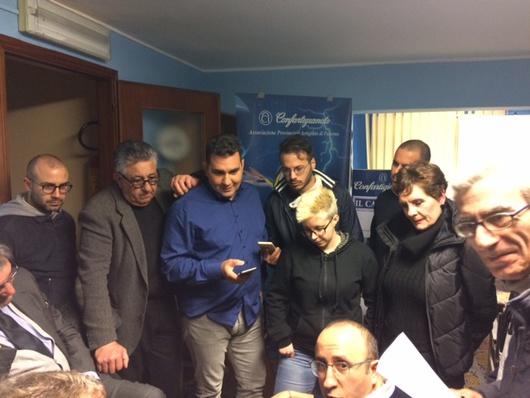 "I take a challenge"
Among the future Palermo's shoe shine boys there's also Renzo, who's italian-brazilian, over 40s and a really marked Milanese inflection. He lived in the north of Italy with his wife for some years then she moved to Palermo and he followed her. This job opportunity arrived almost at the same time and he leapt at the chance. "It's a way to take a challenge, an important opportunity".
Opportunity: this word always recurs. A refrain coming out indiscriminately from the mouth of those young people, and not only, those who want to work with dignity without being exploited for starvation wages. They want to earn real money and not voucher. Making business,  connections, all together. This is a real little big revolutionary opportunity. So, let's make ourselves comfortable, stretch our legs and let's get ready for this new urban experience: shoe shine boys are coming back.
Translated from Sciuscià 2.0: il ritorno dei lustrascarpe