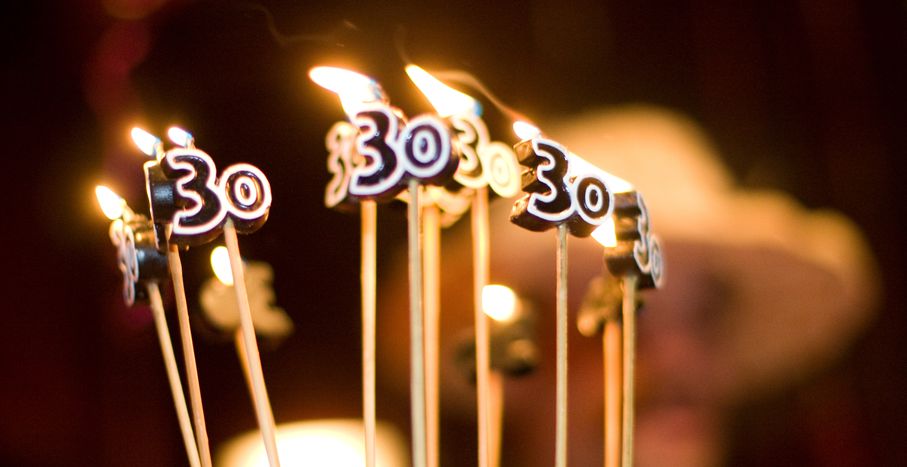 Schengen speaks! The anniversary interview
Published on
Last year the Schengen Agreement celebrated its 30th anniversary. 2015 has been the most turbulent year since its creation. We thought that, after such trials, it would be a good idea to let Schengen speak for itself. We met up for a quick coffee and personal interview with the free-movement area, to talk about its past and future.
So Schengen, you turned 30 last year. Such a wonderful age to be! Can we assume, from the double expresso in front of you, that you are still a little tired from last year's celebrations?
[Smiles] If only that were the case. To be honest, I barely celebrated because I was continually preoccupied with quarrelling with our family and neighbours. Unfortunately, I often find myself at the centre of these conflicts. As you most likely know, the work that I do for our family is extremely important, but there are massively differing ideas about how it should be done. This conflict significantly increased over the last year. Many people criticised me. At times, I feared for my life. To be honest there wasn't much to celebrate.
I'm sorry to hear that. When you were born in 1985 your family was noticeably smaller and no one really knew what lay ahead...
You might think that. However, back then, everything was quite straightforward. On the 14th of June 1985, I was born in a small town in Luxembourg, from which my name "Schengen" originates. My family, then consisting of Germany, France, Belgium, Luxembourg and the Netherlands, decided that I should abolish passport checks at their borders. The plan was that the intra-European borders would gradually be abolished. 
What implications did that have for your family? 
It meant that my extended family were able to visit each another more easily. If they travelled from Germany to France for example, they were no longer checked at the borders.
Is that all?
It sounds easier than it actually was. Abolishing border controls necessitated adaptation of the safety standards and Visa regulations between the contracted parties. Shortly after my fifth birthday (on the 19th of June 1990), the Schengen Agreement was signed, which specified my objectives: the harmonisation of the conditions of entry and the introduction of the Uniform Schengen Visa, police and judicial cooperation, measures against cross-border drug trafficking and clear jurisdiction on asylum issues. A common area of security and justice was thus created.
Evidently you had a lot on your plate. Not an easy task at such a tender age!
I quite agree. Above all I lacked the technical and legal know-how. The convention entered into force on the 1st of September 1993, but the practical application of collective decisions was not implemented until the "enactment" of the Schengen convention on the 26th of March 1995. My team needed some time to set up the databases and data protection authorities we see today. Initially, the European Union's external borders were the priority, however it became clear that I needed to also work within the EU. Through the Schengen Protocol attached to the Treaty of Amsterdam, I became part of EU legislation on the 2nd of October 1997. [Schengen smiles contentedly.]
So, your family expanded then… 
It certainly did, but I can't remember how exactly! [He raises his eyebrows, tipping his head to the side for a moment, and taps his index finger on his forehead.] Yes I believe, I do remember: Italy joined in 1990, Spain and Portugal 1991, Greece 1992 and Austria came along in 1995. Denmark, Finland and Sweden – imagine that! – even non-EU countries, from 1996 onwards, expressed a desire to join. From 2007 onwards, the Czech Republic, Latvia, Lithuania, Estonia, Poland, Malta, Hungary, Slovenia and Slovakia were added to the family. Finally Liechtenstein, also not an EU member, joined us. Bulgaria, Romania, Cyprus and Croatia are still not fully-fledged members, but are close to becoming so.
That is quite impressive!
Yes, we have grown considerably over the last few years, but the UK and Ireland for example, are not part of the Schengen area. We do however maintain a cooperative relationship with them. We work together to ensure greater police and judicial cooperation for example, within my "Schengen Information system" (SIS for short). They don't however issue Schengen visas and continue to carry out border checks.
That explains why one still has to queue for passport control checks, upon arrival at a London airport. However, border checks have been re-introduced in certain places. Also, there has been talk that you are no longer able to perform your duties properly, in the face of the increasing numbers of refugees... 
Ok, just a minute. You need to look at it differently. My duty – to ease intra-EU mobility –ties in with the reinforcement of external EU borders. As you mentioned at the beginning, at the time of my birth, no one anticipated how Europe would evolve, the levels of migration, the sources of conflict and, which would most influence my work. Conflicting ideas about how to deal with these new developments and challenges, led to the family disputes that I mentioned above. I believe that in times like this, we should stick together and look for sustainable solutions.
What's your view? 
You should know that after 30 years of life – and work experience – I have come to the conclusion that it is important not to take decisions single-handedly. One should use an interdisciplinary and innovative approach to tackle issues. That means utilising scientific, practical and political expertise as well as taking into consideration the views of younger generations. 
Schengen, thank you for your time!
---
In the upcoming weeks cafébabel will publish a series of articles together with the grass roots think tank Polis180 e.V. on the various facets of the Schengen area and the connected vision of a borderless Europe. This piece was written by Natalie Welfens.
Translated from Auf ein Gespräch mit Schengen