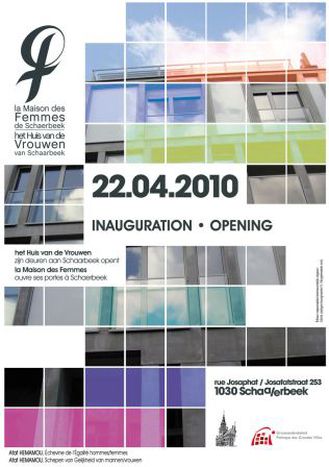 Schaerbeek Opens the House of the Women
Published on
On the 22nd of April, the Schaerbeek Municipality will celebrate the opening of its House of the Women, which aims at becoming a new meeting and exchange place. Every woman is welcome regardless of age, nationality or social environment. The goal of the House of the Women is to contribute to the social cohesion made by and for women.
This multifunctional building will host both public housing and a friendlier wing for the women's accommodations including a kitchen bar, a pub or a reading space.
The House of the Women will be inaugurated on Thursday April 22, at 6.30 pm. The following artists will take part in the ceremony
Anakrouze
Les Ateliers PARTage
Cécile Michel
Les mains qui écoutent
Erminio Modesti
Chantal Debaise
Louise Baterna
Where? Rue Josaphat 253, Schaerbeek, free entrance!
Inauguration Maison des Femmes
envoyé par realeye. - Découvrez des webcam de personnalités du monde entier.