Scene City, breaking down European cultural barriers with electro
Published on
Translation by:
Eleanor Cooke
The music project Scene City connects eleven European cities, including Tbilisi in Georgia, Lisbon in Portugal, Bordeaux in France and Kyiv in Ukraine. Laurent Bigarella is the project's co-founder. He aims to shine a light on vibrant music scenes that are still under the radar. He states his commitment: to make Scene City a spotlight for European electronic music.
Having lived in Poland and hosted the cultural programme Cause Commune from January 2002 to June 2006, Brice Couturier speaks of a significant cultural divide between Eastern and Western Europe, in an episode of the radio programme [Tour du monde des idées] on France Culture (https://www.franceculture.fr/emissions/le-tour-du-monde-des-idees/le-tour-du-monde-des-idees-du-mardi-01-juin-2021).
"This gap is mainly caused by Western Europe's unbelievable ignorance about Central European culture - an ignorance that is not at all mutual", he says. "We are updated practically in real time about everything being written in North America. But our lack of curiosity about what people are thinking and writing in Poland, Hungary, the Czech Republic, Romania, Ukraine, Lithuania or Slovenia is astounding".
According to Laurent Bigarella, one of the ways to bridge the gap between East and West is through culture, with the Scene City project linking artists and talents from eleven different European cities. Interview.
Anne Billoët : Can you tell me when you and your partners decided to launch Scene City?
Laurent Bigarella : The project officially started in 2019. We chose ten cities, ten projects and, most importantly, created an event, which took place on the 7th September 2019 in Bordeaux, called "[Vivre de l'art"] (https://www.google.com/search?client=safari&rls=en&q=%C3%A9v%C3%A9nement+bordeaux+2019+vivre+de+l%27art&ie=UTF-8&oe=UTF-8) ».
We created the event around the electronic scene in Tblisi (Georgia), one of cities included in the project. The others are Lisbon, Bristol, Bordeaux, Lyon, Leipzig, Belgrade, Vilnius, Moscow and Kyiv. The Scene City project is supported by an online magazine called [Le Type] (https://letype.fr), which has existed since 2011. The magazine writes about what's happening on the Bordeaux arts scene, and about the people who are running it: artists, actors, festival organisers, media...
Our goal is to promote the emerging electronic scenes of these European cities.
With Scene City, we wanted to do the same thing, but talk about other cities in Europe. That's when we thought it would be interesting to explore cities that aren't necessarily written about in most of the mainstream media, but which still have extremely interesting arts scenes. So the idea came up of finding people based in the cities, who could help us find emerging artists, DJs, producers...With the single aim of promoting the emerging electronic scenes of these European cities.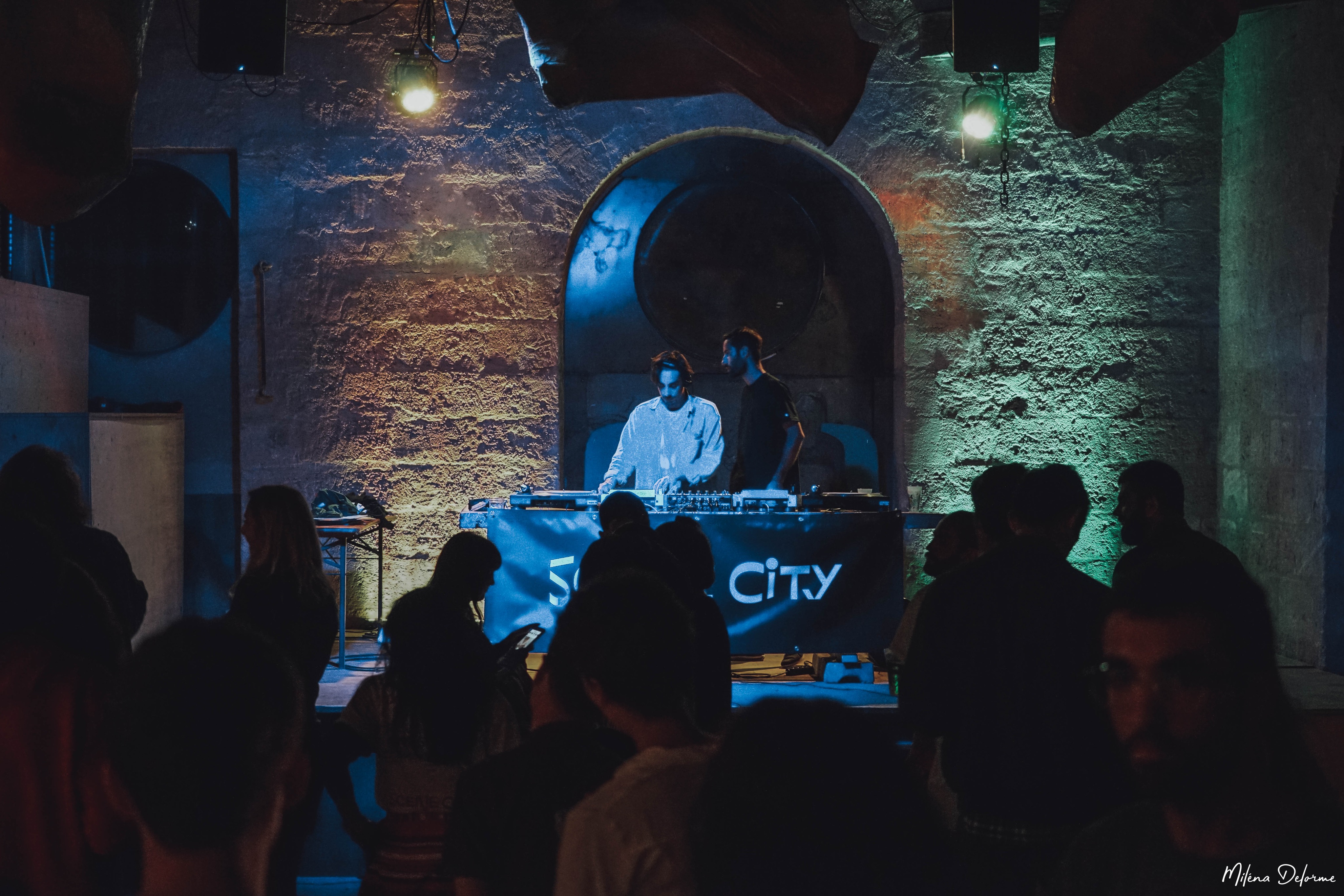 A.B. : What's your relationship with Le Type?
L.B. : I'm now editor-in-chief of the online magazine. It was founded by Mélody Thomas and Fen Rakotomalala in 2011, to promote the city and region's cultural life. Since it began, the project has evolved quite a lot. It's supported by an association, Kultoural, who we work with on a lot of projects, like Le Type but also Scene City, and most recently the paper review Akki.
A.B. : Why did you choose the name Scene City?
L.B. : We were looking for a name that spoke for itself. What interested us was thinking about what we mean by "scenes". It's a rather vague concept, but also quite evocative when talking about the arts, especially on a local level. There's a strong local dimension to the project because Scene City is supported by local media platforms, like Le Type. It's this local level that interests us. We also try to connect the cities to one another. A scene, a city, Scene city.
A.B. : And there's a link to GTA, right?
L.B. : [Laughs] Yes, that's true too, a little nod to GTA. It's funny that people get it, but that wasn't the main reason we chose it.
A scene, a city. Scene city.
A.B. : Why did you create Scene City?
L.B. : We wanted to find out what was happening in other cities. We've been "preparing the ground" for quite a long time in the Bordeaux area. We wanted to go and see what was happening in other countries and, at the same time, connect with other organisations doing the same thing as we do, but in different forms. We went looking for internet radio stations, clubs, labels, festivals...Since we included Riga last year, we've had 11 partners and they fall into 5 or 6 types of organisation. There are four internet radio stations. There's one club, two labels and one record dealer. There are promoters. There's a festival... These are people who have worked hard to get to know their area and its main players perfectly. We're interested in seeing what happens in these areas and how these organisations are going to write about, support and promote their scenes.
A.B. : You're from the Nouvelle-Aquitaine region originally, and now you work in Lyon. Have you ever felt that capital cities have a particular view of the arts and culture scenes of smaller cities?
L.B. : If you look at France, since a lot of media platforms are based in Paris, they don't pay much attention to what's happening in the rest of the country, for example in Bordeaux. Here there's quite a big electronic scene, but it doesn't get much media coverage - and it's the same for Lyon (even if things are changing bit by bit). With the project, we wanted to put forward scenes that were underexposed or under-represented in the media.
In Europe, the project includes cities like Tbilisi, Kyiv, Moscow, Vilnius, Belgrade and Lisbon. These are six capital cities but their electronic scenes are still little known in France. Most of the media platforms in Western Europe that cover electronic music are interested mainly in England, the United States, Germany...
With the project, we wanted to put forward scenes that were underexposed or under-represented in the media.
But they hardly ever talk about what's happening in Georgia or in Ukraine. Whereas, having had the chance to go to Kyiv recently for the media platform We are Europe and for Trax, I can say that it's an extremely vibrant and fascinating scene. With Scene City, we wanted, on our modest scale, to work on rebalancing the exposure that these scenes get.
And that's true for France too. But we're also looking at big platforms like Resident Advisor, who don't write much about what's happening in eastern Europe. Besides, there are studies that have been done, like the one by ORAMICS (a Polish collective), which have shown that these large media platforms are biased in the way they treat electronic music news. These platforms over-represent Western European artists, especially in their yearly charts of the best mixes and albums.
We've also got to question these charts for the scant representation of producers or DJs from African countries like Uganda or South Africa, which are full of extremely interesting artists.
A.B. : What are the requirements for a city to be eligible for Scene City?
L.B. : As long as a city has "fertile ground" for emerging electronic music, it can work. For example, at the start there were 10 cities in the project, Lisbon, Bristol, Bordeaux, Lyon, Leipzig, Belgrade, Tbilisi, Vilnius, Moscow and Kyiv. We were contacted at the end of 2020 by a collective in Riga.
They wanted their city to be featured on the platform. After some discussion, we decided to include the city in our project.
A.B. : Can you tell me a bit about the atmosphere in Kyiv, in Ukraine, where you recently visited?
L.B. : I went to celebrate the second anniversary of a club, for the media platform We are Europe and for Trax. The sign outside is a mathematical symbol - the backwards, crossed-out E, which literally means "does not exist". It's the symbol of negating existence. At the moment, this club represents brings together the most interesting elements of the Kyiv electronic scene.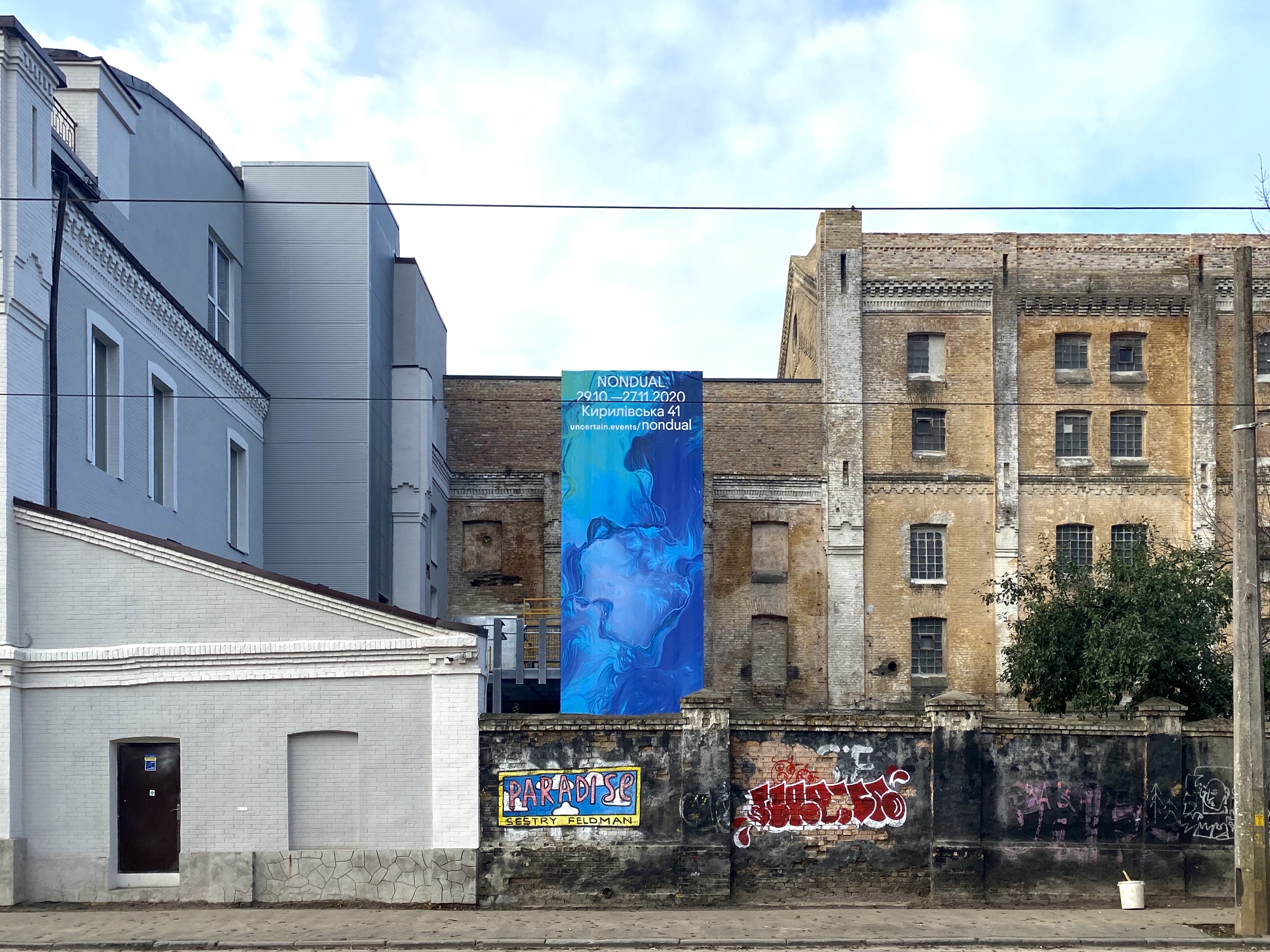 This music scene has been talked about a lot by certain media platforms, especially following the Revolution of Dignity in 2014. It was said that the scene was renewing itself, with organisers like CXEMA putting on events that were quite visible on an international level. Boiler Room went to put on an event over there, which really shone a spotlight on the Ukrainian scene. However, that's also when the press, especially the Western (and French) press, started writing about it using the terribly reductive expression "New Berlin".
There are a lot of artists and organisers who are very active in developing the Kyiv electronic scene. There are lots of great producers and very good DJs. You can feel the excitement, especially on the dancefloor.
Another thing you need to know is, in Ukraine, the political and social context is very different from what we have in France. For example, on the night that I was in that club, there were protesters outside: anti-clubs, anti-drugs, anti-LGBTQIA+ community...They were demonstrating outside the club, yelling anti-gay, anti-lesbian, anti-trans slogans.
In France, we talk a lot about "safe spaces" nowadays, which is great. Over there, the concept really makes sense when you see how people find refuge in the club. You can feel it immediately on the dancefloor, it's really intense. The locals who go there also really want to hear DJs from the local scene. There are sometimes fewer people there for big guests than there are when local DJs play, the artist Voin Oruwu told me. People love them, and that's very interesting. What's more, this club is run with a very strong sense of professionalism. At the entrance, there was a free testing system, compulsory for all clubbers, regardless of their vaccination status.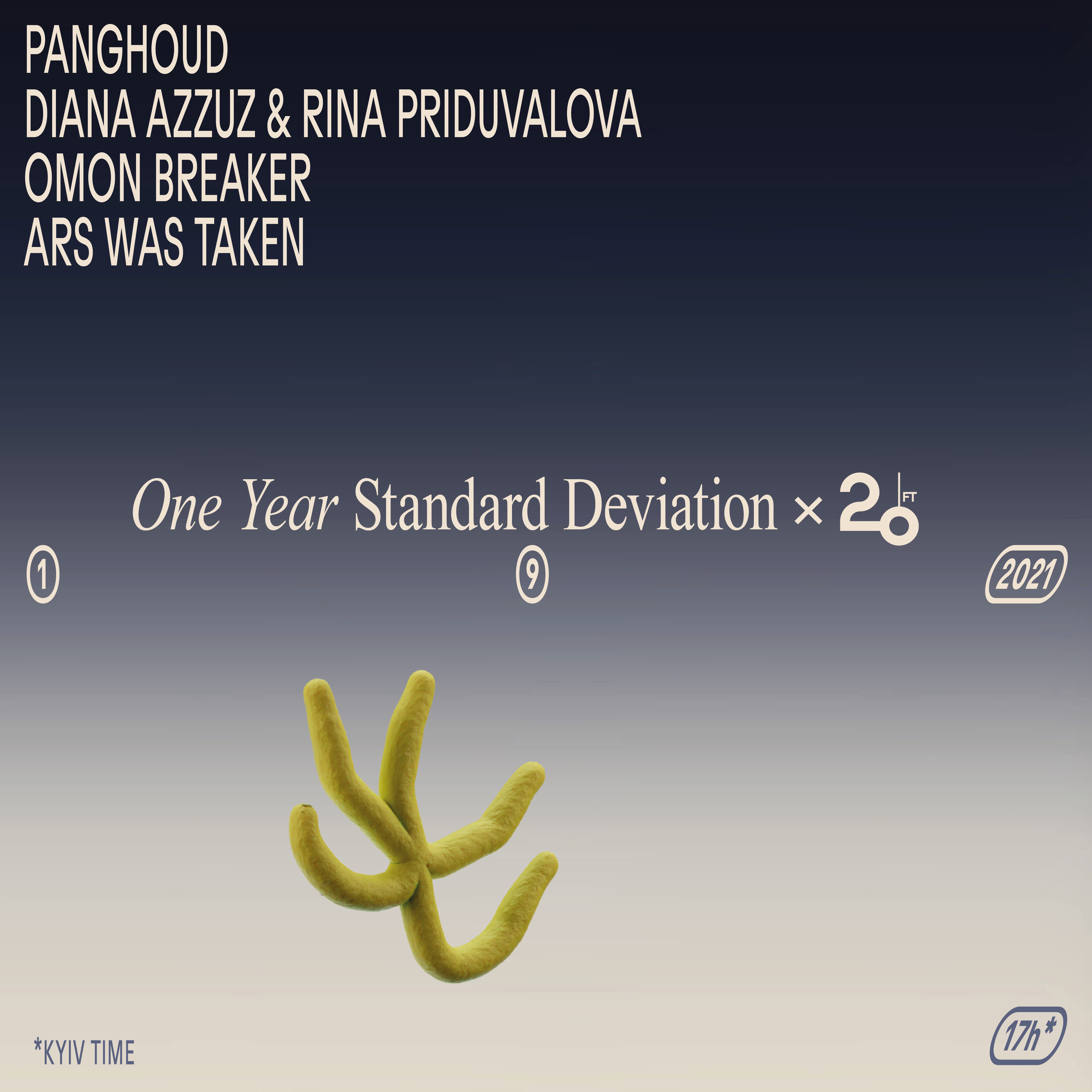 They have also developed a label called Standard Deviation which, as it happens, works on creating connections between the Kyiv scene and the international scene. For example, they recently made a compilation - half of the tracks were made by local artists and the rest by international artists. They also write about the club's different seasons. Every six months, more or less, they announce a theme, which will influence the artistic colour and and editorial vision of the project. For example, for the last six months, the theme has been "Stimulation Zone". This theme inspired content with interviews about sexuality, etc. in their articles.
They also publish advice leaflets about drug use and consent, available in English as well as Ukrainian, obviously. It's a global project that is very clever.
A.B. : What does a partnership with Scene City look like?
L.B. : When we chose the original ten cities, we targeted organisers who we could partner up with and who could help us discover local artists. It's quite simple. In real terms, Scene City is a residency, every two months, on the Georgian internet radio station Mutant Radio, when we invite artists and DJs to record mixes. Obviously, these artists are from one of the eleven cities. The idea of this residency is to invite artists to make their mixes exclusively using tracks by local producers. The first episode was based on Lisbon, with Phoebe from Radio Quantica, the second was with André for Leipzig, and the next one comes out in early March! Before that, we had a residency on the Bristol-based internet radio station Noods Radio.
We've also got a residency on Ola radio, Marseille's internet radio station, in which we explore local scenes, in the form of talks. The latest episode was dedicated to Kyiv. We also do what we call premieres, when we bring out previews of tracks on our SoundCloudby artist-producers in the cities we cover.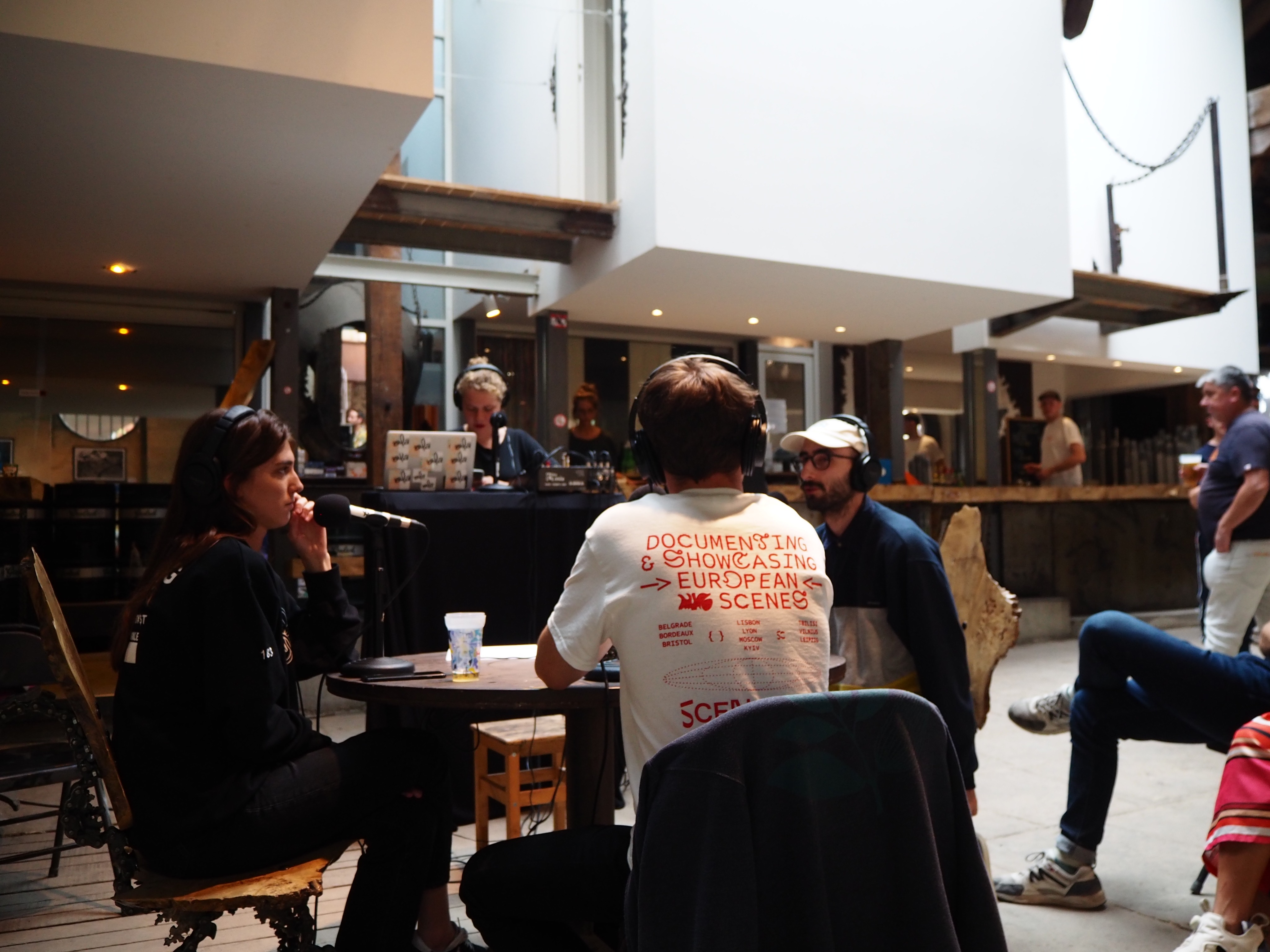 And we also organise events to focus on one city. The first one we did was in Bordeaux, about the electronic scene in Tblisi, Georgia. We had two DJs from Tblisi, we also invited a Georgian chef, who could introduce Georgian cuisine to the people of Bordeaux. We also invited a photographer from Bordeaux who had been to Georgia and created an exhibition about her trip.
We also had a live talk, on the same Ola radio, to talk about Georgia, about Tblisi
More recently, we organised an event in Lyon about the Bordeaux scene and invited three artists from Bordeaux to play.
A.B. : What are the next steps for the project?
L.B. : We'd like to focus more on events and make the project stronger. We have some projects organised for 2022, namely two events between Bordeaux and Lisbon, as part of the France-Portugal exchange season run by the Institut Français. We submitted an application, which was accepted. There'll be an event in Bordeaux in June 2022 to showcase the Lisbon scene and an event in Lisbon to showcase the Bordeaux scene in July.
Translated from Scene City casse le mur culturel européen à coups d'électro