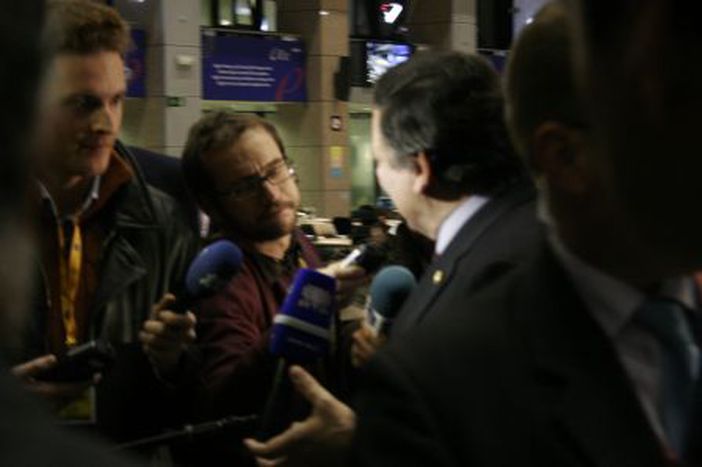 Say what?
Published on
Photo: Barroso using enlightened language to woo journalists in the atrium late last night. "Blah blah blah" he is quoted as saying. Manuel Barroso, President o f the European Commission, shocked gathered journalists in the press room of fthe European Council by using the adverb "holistically", with a straight face while speaking about treaty amendments and other serious stuff last night.
Despite the fact that this word means nothing, and is more related to home remedies and witch-craftery than permanent financial mechanisms, it has been confirmed by Barroso's aids that he indeed used the word intentionally, and that it was not an accidental slip of the tongue as was first assumed.
A representative from the commission defended the choice of word of the President by saying "Basically, at the end of the day, it is a coherent message that those involved at a European level are are commonly bound by the impetus to form initiatives by harnessing such expressions as to render them uniform in the context of a shared environment and indeed, a shared context".
This message had to be submitted to DG Trad(uction) to be deciphered. They reckon, but are not quite sure, that this comment was intended to convey that "Barroso works for the commission and they all talk like that"
To underline the importance of the outcome of the discussion between the 27 heads of state, Barroso used the word "radical" twice. "We have made radical, radical changes". He also used the word "coherent" way too many times during his ten minute speech. Though it was agreed that something important was definitely said, journalists were too busy banging their heads against the walls of the Justus Lipsius building to figure out what it was.