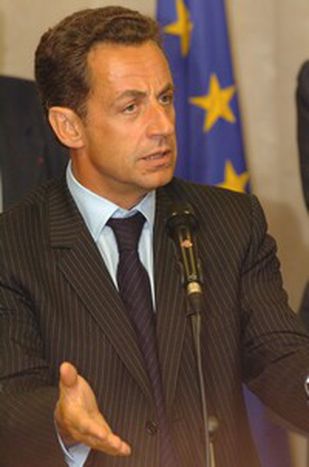 Sarkozy to toughen EU immigration laws
Published on
Translation by:
clea caulcutt
In Madrid, the leader of the French right wing party UMP declared the EU should decide on asylum issues
Home from Madrid, on September 29, Nicolas Sarkozy was triumphant. And with good reason. During a meeting attended by eight leaders of Southern Europe on illegal immigration, Sarkozy upstaged his Spanish hosts. At his return he declared, with some Napoleonic overtones, that his ideas concerning immigration were 'approved across Europe'.
European consulates
But what did Sarkozy say in Madrid? The likely French right-wing candidate for the 2007 presidential elections set out his will to see the present minimal 'coordination' of immigration EU policies improved and developed. Given that 16 000 illegal immigrants landed in Italy and 24 000 in Spain since the beginning of the year, Sarkozy wants immigration policies to be decided at a European level – a change which was deemed 'radical' by Le Monde. The greater integration of European policies would include the 'entire transfert' of asylum policies to the EU, the creation of European consulates in charge of delivering visas outside the EU and the creation of a European agency against clandestine immigration.
Electoral manoeuvring
The realisation that migration is a European more than a national issue bears witness to a radical generation change. This change is all the more surprising given that Sarkozy heads a right-wing Gaullist party and represented a country traditionally attached to its national sovereignty. Georges Sarre, the 70-year-old first secretary of the Citizen and Republican Movement (MRC), underlines that 'immigration policies should be decided by individual states. France cannot accept that an anti-democratic EU determines whether it welcomes immigrants or not'.
Is Sarkozy warming to federalist ideals while remaining profoundly pragmatic? 'His statements justifies countries who might eschew their responsibilities,' states the Dutch MEP, Jeanine Hennis-Plasschaert, spokesperson for immigration questions for the Liberal Group of the European parliament (ELDR). 'Instead national governments should act and honour their promises, first by giving the EU's border agengy Frontex the means to be efficient and then by unifying asylum applications in 2010,' she argues. Hennis-Plasschaert concludes 'Sarkozy declarations are mere electoral manoeuvring 7 months before the presidential elections in France.'
Haunted by the failure of the Constitution
Yet the candidate is seeking alliances with other members in European right-wing parties. In Madrid, he met the president of the Spanish popular party; Mariano Rajoy, with whom he agreed to work within the Euopean popular party (PPE) to set out European immigration policies. On July 15, he visited Gianfranco Fini, the leader of the right-wing party Alleanza Nazionale, in Rome and declared that 'solutions to problems caused by globalisation can no longer be found at a national level'. Similarly the socialist Angel Moratinos, head of Spanish diplomacy, said, 'we no longer think of the Spanish coastal border but of the European border'. Are the governments of the EU gradually turning in favour of Sarkozy?
The French Interior Minister wants to ban all massive legalisations of immigrants. The Spanish secretary of state in charge of security, Antonio Camacho, rushed to declare that Sarkozy's declarations had been 'well-received', disowning his government whose amnesty offers had interested 600 000 immigrants in 2005.
The impulse to decide asylum policies at a European level is in phase with recent proposal presently being discussed in the European Parliament and Council. Indeed some believe that decisions concerning EU justice and home policies should be taken with a qualified majority and not unanimously. In principle Germany does not adhere to this initiative, arguing that this measure was included in the European constitution rejected by the French. Should Sarkozy become president in 2007, this issue should be first to be addressed. In the meantime, the conclusions of the meeting in Madrid will be presented to the European council in Lahti on October 20.
Thanks to Lorenzo Morselli contributions from Brussels
Translated from Nicolas Sarkozy veut européaniser la gestion de l'immigration