Sarajevo, Milijenko Jergovic and me
Published on
By Anna Huber
It was the opening day of the Sarajevo film festival. The weather was moody. The doors of the bookshop looked very inviting. I recalled the title of a book I was recommended very strongly as an exceptional book about Sarajevo: "Sarajevo Marlboro" by Milijenko Jergovic.
This is the little story about my admiration for the author and its works that began that day in Sarajevo in a kind of reverse way:
Usually you like something, become a great fan, attend public presentations and eventually hunt for an autograph. In terms of literature, you read a book, love it, eventually visit a reading and get the book signed.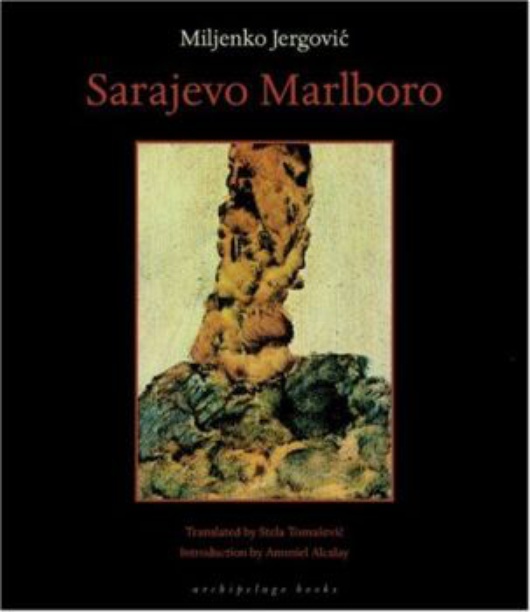 This time it was the other way round: I ran into this bookstore on Maršala Tita, went to the small English books corner and grabbed "Sarajevo Marlboro". This book was supposed to be very good and the various short stories should give a new perception of the city and its people- a lot of hopes and expectations for this thin book. But when better to read, but in Sarajevo…
Walking just to the counter, the elderly woman working in the shop stopped me. She was kind of whispering excitedly to me. Noticing that my Bosnian is less than rudimentary, she tried to explain me with hand and gestures. She pointed at a big guy with greyish curls who was rummaging in a book presentation table. A bit confused, I started to guess that this man over there apparently was Milijenko Jergovic. Bookshop woman ran off behind her desk, got a pen, pressed it into my hand and pushed me towards the table, said something to Jergovic in Bosnian and left.
Suddenly I was standing in front of him, a little ashamed, as I didn't quite know what to say. It was one of these moments when you wish to have some more time to prepare yourself and to not appear like stupid girl not having any idea. So I just asked if he's visiting Sarajevo Film Festival, thinking it might be rude to ask him who he actually is and what he's writing about exactly. (And yes, he walked over the red carpet one hour later, by the way.) Jergovic signed the book timidly; we said thank you to each other and we all continued our book shopping.
Later, when I finished reading "Sarajevo Marlboro", full of questions and thoughts, I wished I had met Jergovic after I read one of his books.
Leaving the bookstore, there was no question: Immediately I had to start reading the book.
It is a journey into the ordinary people's lives in the besieged Sarajevo. The first part of the book called an "Unavoidable detail of biography" makes you automatically connect all the short stories to the man Jergovic. Even though it is not an explicit autobiographical work, I started to get the impression of slightly getting to know more about this person I just met, word by word, page by page, story by story.
Milijenko Jergovic himself grew up in Sarajevo, and left it shortly after the war began in 1993. Since then he's living and writing in Zagreb. Jergovic started in the 80s to write poems and went on with short stories, novels, essays and articles that are internationally renowned.
He's not only a chronicler of the Balkan war; his stories go far beyond that, which is an exceptional quality. His German publisher even sees him as a future Nobel Prize in Literature winner.
All the short episodes of "Sarajevo Marlboro" transmit small details whether it is a little "Cactus", a "Bosnian hotpot" or "The letter", that get charged with the entire burden and suffering during the war or the exile, The fragments take the reader close to the fates of individuals, in a very sober way, whereas the dark history of the Balkans is captured along the way. "Sarajevo Marlboro" contains twenty-nine prose shorts that leave a strong impression of how people cope with the needs of daily life during the siege.
So it happened that I carried this little book "Sarajevo Marlboro" with me throughout the Sarajevo Film Festival days and whenever there was a quiet and undisturbed moment, I read one of the shorts.
Wherever you walk in Sarajevo, the city is full of stories, memories and emotions in all kind of variations and they come along with you as if they are a part of it. Not only the shorts of "Sarajevo Marlboro" make them appear so close and intense, but also all over Sarajevo you start recognising hints of books and pictures. And while recognising these stories of other people's lives, Sarajevo told a completely new story for me.