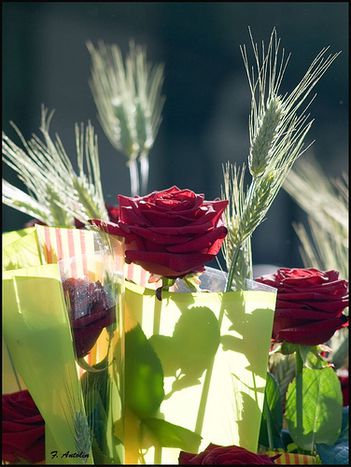 Sant Jordi through European eyes
Published on
About a week ago, on 23rd April to be precise, a great event was held in the streets of Barcelona. It was indeed Sant Jordi's Day, the patron saint of Barcelona, though you must admit that it does not represent such a colourful festivity. According to the legend Sant Jordi had to kill a dragon to save his beloved princess's life and a rose sprouted out from the dragon's blood.
On account of this story it is this special day, which makes us think of a sort of Valentine's Day brought forward in time, that men give a rose to their wives, mothers, girl friends or just to their female acquaintances. In return women give a book to men, since the 23rd April is the anniversary of Miguel de Cervantes' death as well, the famous writer of Don Quixote and therefore one of the greatest figures in the Spanish literature.
On Sant Jordi's Day hundreds of street stands with flowers and books (brand new or second-hand) fill up all the corners in Barcelona but especially the well-known Rambles in the city centre, where as we could see from live images on TV, roses and books were sold until well into the night. This shows the importance of this day for people from Barcelona and Catalonia who enjoyed both a book fair and stands in the heart of the city.
Valentine's Day, magic legends, a book fair and street stands. Sant Jordi is all these things together!
Article by Lucille Wehrlé
Translated by Genma Herrero