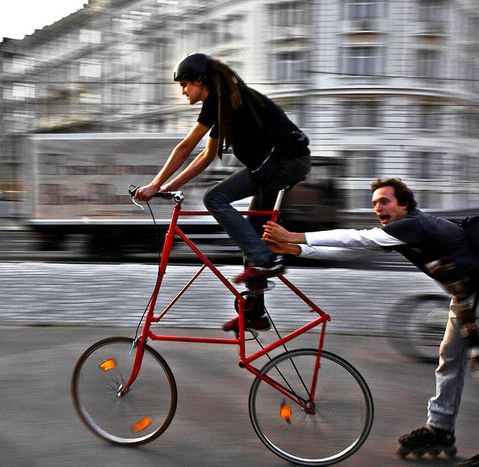 Rome was not built in a day...nor for bikes
Published on
Translation by:
cbinns
I am a devout cyclist who first rode a bike by chance. I come from Strasbourg in eastern France, a city in which the two wheels reign supreme, so I did all I could to get hold of a bike in Rome. 'It's suicidal!' those around me squealed, but after four days alone in a city dominated by cars, I realised that cycling can also look like a kamikaze mission
Cycling in Rome is like re-enacting the battle between David and Goliath on a daily basis. I lead my charge, however, on my beautiful Violetta bike, with a lump in my throat as soon as I am forced to apply its slack brakes. First observation - between Tiburtina train station and the historical centre, I meander around for at least three hours without coming across a single cyclist. Such is my level of concern that I even end up counting them - less than twenty in four days. I initially thought that my figures could have been skewed somewhat by the fact that I had mainly been cycling around the historical centre. Even if bicycles are tolerated in the city centre pedestrianised areas, the traffic-filled roads contain no cycle lanes. Two days later, in the neighbourhoods of Testaccio and Trastevere, however, I do discover some (extremely rare) cycle lanes, yet they are completely unused.
Even municipal bicycles have failed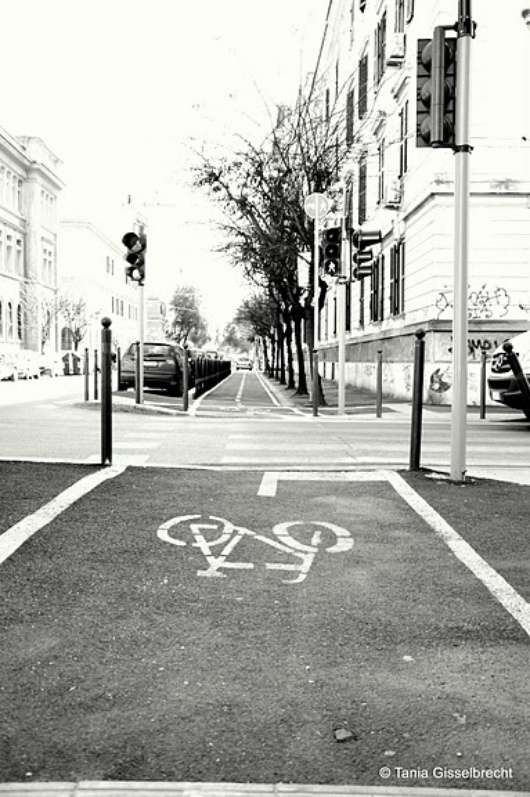 There is (or was?) a Roma'n'Bike, a self service bike rental system, introduced in 2008, which should have allowed bikes to become a familiar sight for Romans. Yet by and large, the bikes are curiously missing from the stations that were built for their use. The owner of one bike shop understands that the bicycles have even been removed from the stations due to the endless complications that have made it difficult to award a contract to run the system. So why have some bikes been left abandoned in the stations? One thing is for sure, for motorini (moped) drivers, the empty bike stations are a godsend when it comes to parking.
About to lose my patience, I bump into a group of Dutch tourists on bikes, led by a Dutch guide. They are the only ones to have opted for this type of ecological, active guided tour. Given the regularity with which they ride, they do not allow themselves to be intimidated by the awful reputation of the local traffic. Still, they are no more clued-up than me on the seemingly non-existent traffic rules. Everyone seems to have their own interpretation in Rome. 'Yes, of course you can cycle in the bus and taxi lanes' is contradicted by, 'Absolutely not, you're putting your neck on the line. Buses and taxis aren't prepared to share their space with you, you hold them up.'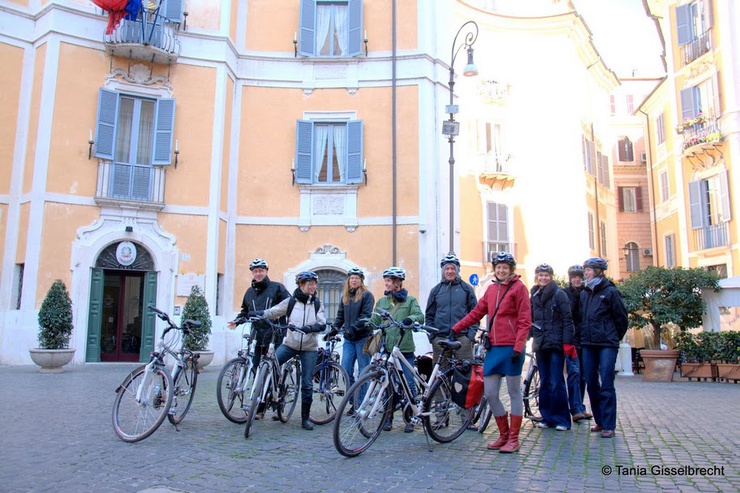 Two-wheeled revolution or social rebellion?
The Dutch tourists aside, the only cyclists I came across were travelling at full pelt and I couldn't hail them down through fear of putting their lives in danger. It is therefore difficult to understand the profile of the Roman cyclist. How many of them are there? (There are only 5, 000 according to the man in the bike shop). How do they cope with the chaotic traffic? Cycling in Rome seems more a question of necessity or militancy than an enjoyment of 'eating up the tarmac'. Given the mediocre standard of public transport that attracts constant complaints, Romans take one of two stances. Some give in, whilst others show ingenuity, for example by heading to a ciclofficina populare ('popular cyclo office'), a cultural association where you can get kitted out for next to nothing by picking up an old carcass of a bike and learning to patch it up yourself. Such initiative is far from warmly received in one of the oldest bike shops in the city, which considers it the actions of a group of 'anarchists' that do not respect basic safety rules and by organising critical mass meetings, 'cause disturbance and as a result incite hate rather than admiration'. It is a different story, however, at a bike hire shop that also organises guided city tours, where there is no fear of competition between businesses and ciclofficine. 'The more we use bikes, the better.'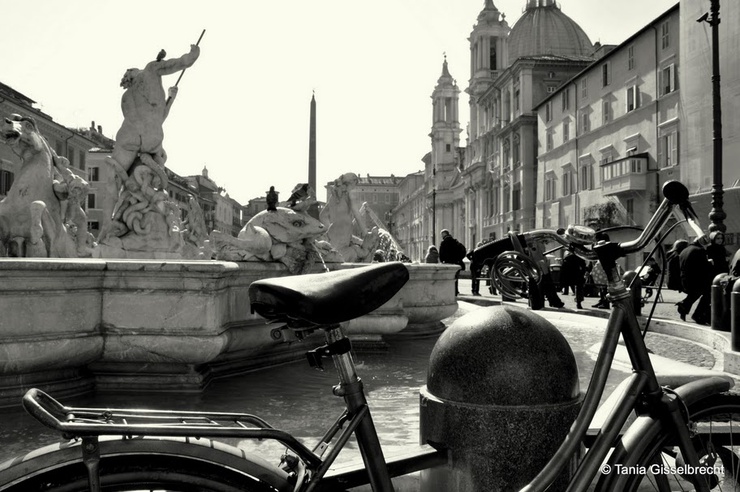 Even though people remain reluctant to use bicycles for various reasons, namely out of habit, ignorance, laziness, pollution, a lack of encouragement and fear of the traffic, nothing is being done to bring about a change in behaviour and give priority to more environmentally friendly means of transport. Without exception, everyone that I speak to believes that there is no community transport policy. Even the few initiatives in this field, such as the bike-sharing project, are dismissed as 'Greenwashing'. A representative of Cittalia, the foundation of the national association of Italian communes which carries out studies on urban issues, explains to me with regret that without encouragement from 'up above', people's behaviour will show no sign of changing. The political inertia surrounding the issue is not a question of political ideology. 'In Italy, the environment isn't always seen as a priority.' Cycling in Rome is therefore seen as an act of militancy. Let us pay homage to the brave Roman cyclists, who by remaining loyal to the bicycle, are perhaps bringing about change from the bottom upwards, even if they are not all aware of it. One encouraging sign in a nonetheless hostile environment is that official statistics, as well as statistics from professionals within the biking industry, show that the use of bicycles is only on the increase, even if it is not always apparent to the naked eye.
This article is part of Green Europe on the ground, a series of reports on sustainable development written by cafebabel.com
Images: main (cc) Estevão Passarinho/ Flickr; in-text © Tania Gisselbrecht
Translated from Rome : voyage à vélo au bout de l'enfer