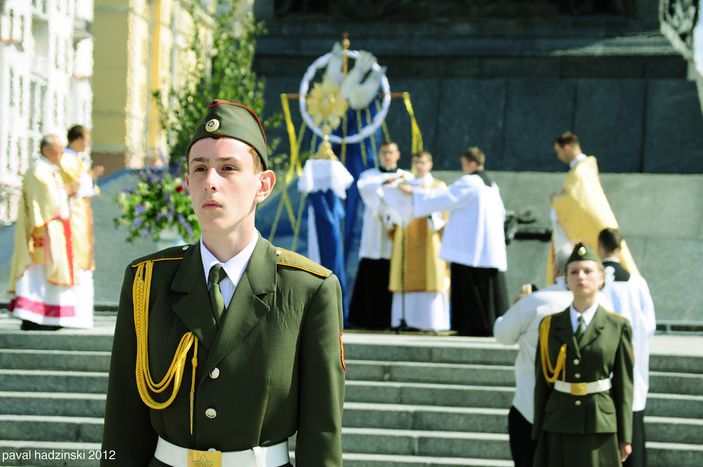 Religious outlaws of Minsk
Published on
In 2002, Belarus introduced new legislation on religious affairs. Amidst the complex and byzantine instructions, one message was clear – state permission is required to practice religious ceremonies in non-religious buildings. For protestants, who historically have fewer traditional churches, this put them directly in the firing line of the government.
Ten years on, how are the conditions of religious freedoms in Minsk under president Lukashenko, self-confessed 'orthodox atheist'?
With its buttery façade and bright red roof, the cathedral of St.Peter and St. Paul (or the 'yellow church') projects an awkward peace amongst the rush of the nearby flyover and soaring grey apartment blocks commonly referred to in Minsk as 'ant hills'. Many in this city of over 1.8 million souls consider it an island of calm - its history is anything but. Constructed in 1611 thus making it the capital's oldest church, it lasted barely a century before it was ransacked by the Cossacks and an extensive restoration was undertaken in 1871.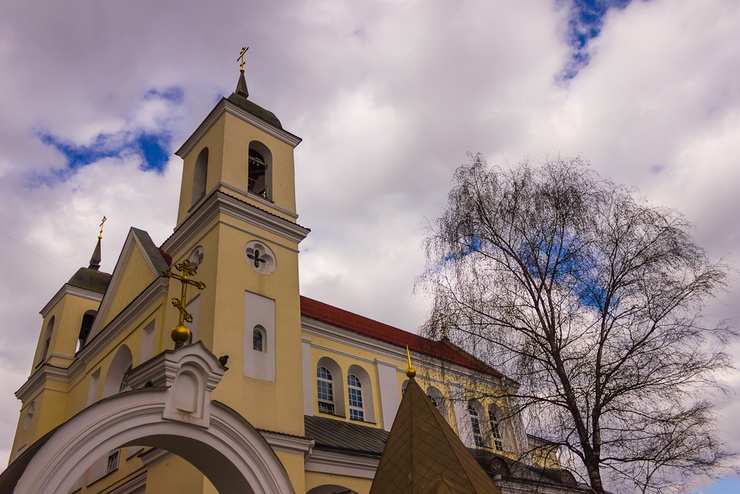 Nowadays, at Friday evening mass, the priest strides the length and breadth of the church floor swinging incense around the stood masses. In the 1920s, a different aroma emanated from the altar after the soviets closed the church and turned it into a fish storage. Other practical uses of churches during this part of Minsk's history include gymnasiums, cinemas, markets and, in one instance, a prison. But this was decades ago. Presently the orthodox church enjoys considerably warmer ties with the ruling regime.
New life
The new life protestant church avoided the soviet's fishy tactics but their current setup does have a certain agricultural flavour. In 2002, members bought a 'spacious, modern barn-like structure' on the outskirts of Minsk with the hope of converting it into a place of worship suitable for their 1, 500 plus followers. Never missing an opportunity to impede the peaceful assembly of their citizens, the government contended that the property was no less than a cow shed and must be used as such (disregarding the fact that, as the property was now in a residential area, this would be itself illegal). For the last decade, the authorities have issued countless condemnations, fines reaching into hundreds of thousands of dollars and jail sentences, generally ensnaring the church in a revolving door of trumped up legal bullying and obfuscation.


As legal counsel, Sergey Lukanin has represented the church in its 33 legal cases to date (all of which the church has lost). Under such intense pressure, one could forgive the new lifers for caving into power but they have relentlessly resisted government attempts to close and bankrupt them. Their media campaign attracted the support of foreign governments. Some members even took part in a hunger strike after the church risked seizure by the state. 'The government has been less vocal in their criticism of us, perhaps due to the increased media attention,' says Sergey Lukanin. 'We have been kindly helped by our followers and supporters both in Belarus and around the world. On the 24th day of the hunger strike, ten different cars carrying the ambassadors from ten different countries arrived outside the church to show their solidarity. After this, the government agreed to suspend their efforts to move us for three years. Of course, three years later, they reinstated the charges.'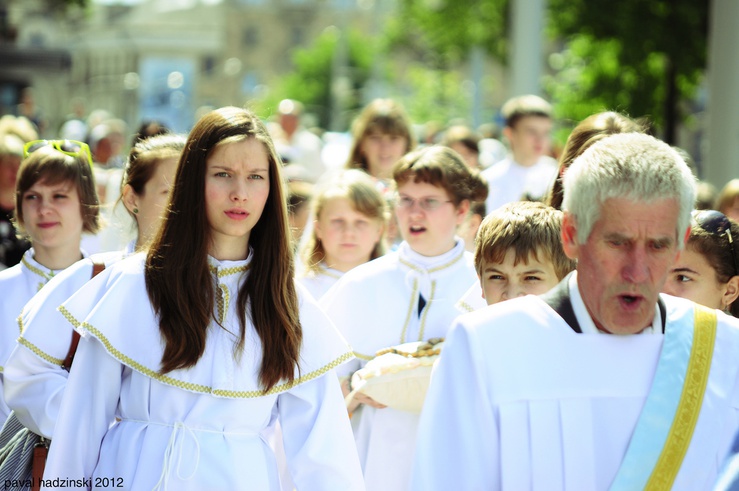 Protestantism has also been subjected to an institutionalised discrimination with some academics and police removed from their positions due to their beliefs. 'In some school textbooks you can see orthodox and catholicism named as a 'religion', while protestantism is referred to as a 'sect',' adds Lukanin. Our taxi driver's collection of orthodox symbols, saints and cuddly toys hung on the rear-view mirror bounce uncontrollably. At Sunday morning mass at the 'cow shed' new life church, elated followers with outstretched arms sing and sway to the electric guitars and saxophones. It is not immediately possible to detect any particular action that would constitute a threat to the government here, but then only recently president Alexander Lukashenko sacked his generals for leaving Belarus defenceless under open skies after an aerial bombardment of teddy bears. The word 'threat' has been redefined.
Religious unity in hunger strike
One of those present at the 2006 hunger strike at the new life church was philosopher and political commentator Uladzimir Matskevich. 'The goal was not just to save the church but to raise awareness of declining religious freedom in Belarus,' he explains. 'We ate nothing and drank only water for 23 days. To ensure against any allegations of cheating, a doctor was constantly present to monitor our health.' Uladzimir looks to be in his mid to late sixties. How did he cope? He smiles and points upwards. 'Some days were very painful, but the atmosphere of shared suffering and hope gave us strength. Many people came to visit and show their support, including members of the catholic and orthodox churches. Such unity hardly ever happens in Belarus! In the UK, the queen is the head of the anglican church but that doesn't mean that other faiths are not allowed to develop – in Belarus this is simply impossible. The orthodox church and the government are far too strongly linked. Some call it a symbiosis, I call it a symphony. The key to progress lies in the division of this relationship.'
'The KGB monitor all churches in Belarus. One time we caught an agent in our church – he was very easy to spot'
The Belarusian authorities sometimes employ more grave tactics. Christian activist Andrei Kim recounts one meeting in February at the home of Antoni Bokun, pastor of John the Baptist pentecostal church. 'A team of riot police broke through the windows wearing balaclavas and wielding batons and ordered everyone, including children, against the wall,' he recalls. The police had been responding to a rumour of a 'secret drug laboratory' being run from the pastor's house: no official explanation was given. Another one of Andrei's pastors, Jaroslaw Lukasik, was deported in 2007 under the grounds of 'activities aimed at harming the national security of the Republic of Belarus in the sphere of interconfessional relations.' Andrei Kim continues: 'Protestantism is a small movement in Belarus, but we remain completely independent from the state. This scares the authorities. After the 2010 elections, many of my catholic and orthodox friends were depressed because some of their pastors had not condemned the rigged vote and jailing of the opposition. Our pastors publicly criticised these events. This is a dangerous thing to do as the KGB monitor all churches in Belarus. One time we caught an agent in our church – he was very easy to spot.' As a former political prisoner, Andrei had a lot of time to read English literature in jail, which has clearly influenced his views. 'In Belarus, all churches are equal, but some are more equal than others.'

This article came about with the support of the Lithuanian ministry of foreign affairs, in the framework of the 'Made in Belarus' project
Images: courtesy of (cc) Paval Hadzinski/ flickr/hadzinski.livejournal.com - soldiers, St Peter and Paul, girl at procession of Christ in Minsk/ hunger strike and former cow shed images courtesy of New Life church