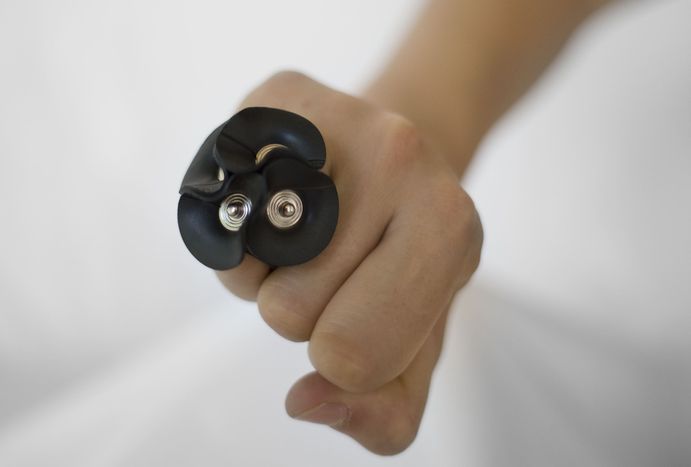 Recycle, reuse, design: eco-creativity in Rome
Published on
Translation by:
Lucy Knight
Between designers, actors, musicians, cartoonists and environmentalists pure and simple, a look at the hidden side of Rome, where creativity and art combine to save the environment
Inner tubes, seatbelts, straws, buttons, zips, scraps of material. As I enter the brightly coloured workshop I am overcome by the adaptability of these objects, transformed into bags, items of clothing and a variety of accessories. Roberta is sitting behind a small counter, answering the phone and struggling with a slow computer. She is the coordinator of Occhio del Riciclone (a play on words in Italian: 'Eye of the Re-cyclone' - ed). 'It is a non-profit organisation set up in 2004 which works on cultural, research and training projects,' she explains. 'It is also a cooperative which has its own workshops for textiles, craftwork, furniture and design.'
It's a perfect marriage of reusing, recycling and creativity. 'The materials are mainly salvaged in Rome,' Roberta continues, 'partly to lower costs, and partly because of the close relationship we have with suppliers.' There are around eighteen people working here, divided between the shop, workshops and research centre. The average age is 30, the vast majority are women and they come from a wide range of professional backgrounds. Francesca is one of three designers at Occhio del Riciclone, and she tells me about the creative process. 'There are three of us, and we each develop our own ideas based on the materials we have in the workshop. We then have a meeting, when we choose the most interesting pieces, the ones which will lend a unique twist to the collection. Of course, being a cooperative everyone is involved, and we also listen to the opinions of our other colleagues.' The lines are limited edition and everything is handmade, something which always makes a difference to the final price. 'There has been positive feedback from people,' Roberta explains, 'but there is often a lack of comprehension when it comes to the pricing. Consumer awareness is increasing, but unfortunately not as fast as we need.' There are still many challenges ahead, particularly in a place such as Italy, where there is a lack of regulations on recycling and reusing waste. But this project demonstrates that 'refuse' does not necessarily refuse creativity.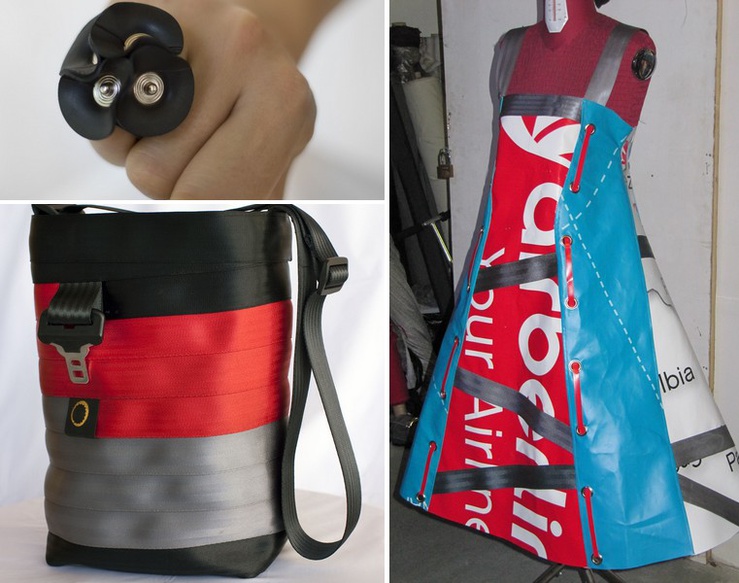 Roman players
If anything, it is the artists themselves who are refusing refuse, according to Tanny and Alida. The pair are performing at the Casetta Rossa in the Garbatella quarter of Rome one freezing Rome night: they are two theatre actors with a cause. Their piece is set to the gentle sounds of the flute, played by Alessandro. Rifiuto i rifiuti ('I refuse refuse') is the title of their performance. 'The title is fairly clear,' smiles Alida, a 40-year-old from Lombardy. 'We need to begin refusing refuse at the source. If we start to change packaging policies, before even thinking about separate waste collections, this would be a way of saying: 'I refuse refuse!'' The text of the piece is taken from various sources, a varied post-modern collage. It goes from rap to reusing and recycling other theatrical texts, from internet cut-and-paste to moments inspired by Biutiful Cauntri, a 2008 documentary on the waste disposal problem in Campania in southern Italy. The result is an entertaining yet melancholy exchange between the two actors, with the underlying mysterious melodies of the flute. Tanny, an extravagant character of Argentinean origin, explains why they chose an environmental theme. 'Art is vital for the environment, and I couldn't do anything else. Every day, environmentalism makes me feel alive. The situation is very challenging and I need to be more assertive, to shout out, to know I am doing something for the future!'
'Start to change packaging policies, before even thinking about separate waste collections'
All three agree on one thing. In Rome it is hard to find space for these issues, but there is no lack of initiatives. Now more than ever there are initiatives which combine art and political duty. Alessandro, reticent until now, speaks. 'The fact that this statement is being made through art demonstrates the search for new possibilities, a way forward that we haven't yet found.' Basically, it's a way of their own, a way of showing that there is hope and we need to chase it. I leave the players to their dinner, three perfect characters for a fantastic patchwork story. I have a date with another art form...
Environmentalism but not as you know it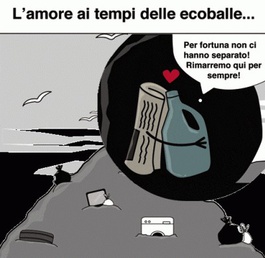 Michela and Francesco, both Roman born and bred, are among the founders of the monthly environmental publication La Foglia News, and also die-hards of the local green scene. In a noisy bar in the San Lorenzo district they tell me about their latest project, a cartoon and drawing competition with a name that says it all: 'EcoComics - rethinking green: facing new challenges with humour' ('EcoComics - ripensare l'ecologia: le nuove sfide si affrontano con ironia'). 'EcoComics is aiming to give this weighty issue a stylish makeover. Cartoons and comic strips are means of communication, they are significant genres in their own right,' Francesco says earnestly. 'Besides the passion and ambition of environmentalism, there is a nod to art.' This is confirmed by Michela: 'Art in general is pleasing, but talking about art alone would make no sense. EcoComics intends to bring to light work which has been tucked away, and find a positive way to talk about ecology, a lighter way, if you like.' Around eighty pieces have been received and they show how many ways there are to express 'green.' It seems those in their twenties see environmentalism in a more negative way, as something almost tragic, while older contributors see it a different light, more positively and less critically.
'Romans are lazy, dozy and a little idle'
They explain, amused, that the majority of participants come from the north of Italy, which is why the Romans merit this label. Then they daydream about the competition's final event. 'The romantic idea is to have a travelling exhibition by bicycle, with stops in various piazzas in Rome. We want to take the exhibition out of ordinary places, in order to give it a breath of fresh air and include the element of surprise: works of art forming part of the normal urban landscape.' We end with a thought about Rome and its environmental underground. 'In Rome, there is everything and its opposite,' they tell me. 'Unfortunately it lacks continuity, there is no collaboration. But we haven't done too badly!' they conclude with smiles. This is true, I think, especially on a creative level: it is a movement which, even though hidden, fragmented and barely cohesive, is lively and has great potential. As long as the proverbial laziness can be overcome!
This article is part of Green Europe on the ground, a series of reports on sustainable development written by cafebabel.com
Images: main, bag © courtesy of Occhio del riciclone; logo courtesy of © EcoComics; video by EcoComics/ Youtube
Translated from Riuso, rifiuto, disegno: creatività ecologica alla romana