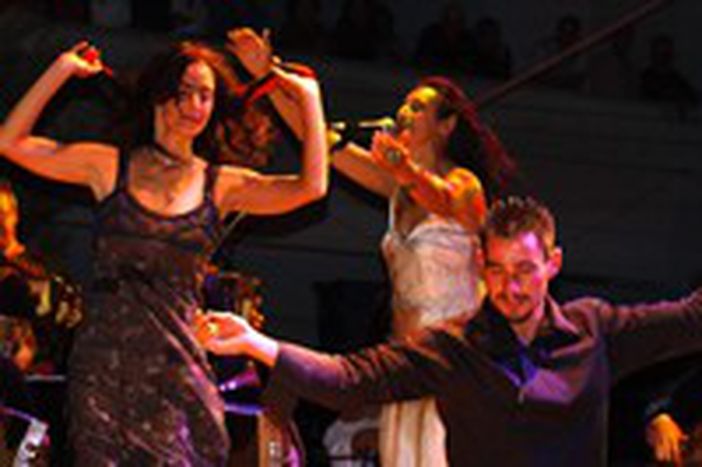 Ravers, revellers and tarantulas celebrate Taranta night
Published on
Translation by:
kate cruise
On warm August nights, in village squares across the peninsula of Apulia known as Salento, traditional music of the region called taranta is enjoying a modern revival. As the wine flows, the locals celebrate with music and dancing.
Once thought to be a fleeting fancy, the music from Melpignano, Salento, Italy is enjoying great success. Numerous fans flock to join the crowds of revellers. Some of them are quizzical about taranta's popularity, others are fascinated by the music's links to the Miracle of Saint Paul of Galatina and the peasant rituals which were carried out in his honour.
An ad hoc festival called Taranta Night has been celebrated for many years now in the heart of Salento. This year the event will take place between the 11th and the 26th of August for the ninth year running. The festival is the biggest music festival tribute to pizzica music and to its fusion with world music, rock, jazz and classical music.
Pizzica ('bite' in Italian) began as a healing ritual for the imaginary bite from a tarantula in the Apulian countryside. People believed that the sweat produced by dancing frantically to this fast-paced music would release the venom from the body. Traditionally, poisoned women would dance incessantly to the frenzied beats of the tambourine, until they were completely freed from the spell.
Pizzica receives a makeover for the 3rd millennia
The first few days of the festival are dedicated to the pure tradition of pizzica, with performances from the most esteemed folk music groups of the region. Some of them are true icons, older performers who have been nick-named the Mediterranean's Buena Vista Social Club. Pino Zimba and the tambourine players of Torre Paduli boast an impressive ten years of experience, while members of the group Uccio Aloisi are now in their seventies.
In 2004 the group Taranta Night joined an ensemble to become the Taranta Night Orchestra. Their music was enriched by the sounds produced by the various sections of the ensemble previously absent in their music. A concert maestro conducted the final concert of the festival and will work with the Taranta Night Orchestra to produce a traditional yet original display of music from Salento.
Bitten by the Apulian bug, some important figures on the Italian music scene produce unprecedented musical creations. The Symphonic Orchestra of Lecce collaborated with the Taranta Night Orchestra and Stewart Copeland, former drummer from The Police surprisingly joined a traditional taranta folk group. Copeland considers himself an Apulian by adoption and 'was given the keys to the city'.
Finally, Jow Zawinul, former musician of the band Weather Report, has also jumped on the taranta bandwagon, and the Israeli singer Noa has incorporated grika, a dialect of Salento with Greek origins, into her own music.
Pop music betrays taranta roots
Opinions are divided over the new developments in the world of taranta and pizzica. Traditionalists believe these concerts reduce their music to a new type of rave music and dismiss its social and historical implications. Pizzica is not only a story about a poisonous spider, but was the only form of release and expression for peasant women who partook in the dance. They lived in a highly regimented society and this was their chance to free themselves briefly from daily oppressions. So the question is: should we resurrect pizzica? Giuseppe Gala, a renowned ethno-musicologist and author of numerous online publications states: "Today pizzica is not only a dance but an emblem and poignant reminder of the past. Its revival has affected fashion, tourism, show business, literature and the music market. But its newfound popularity seems to have occurred at the expense of its traditional roots. The New Pizzica heard in folk concerts of today was invented without much consideration for the music's origins."
Pizzica, an international passion
The frenzied rhythms of the peasant-originated dance cross Apulia's borders. Pizzica and taranta concerts are popping up around Europe. On the 1st of May this year Taranta Night went as far as Beijing. In all of the biggest European capitals there are live pizzica or taranta concerts. Europeans also enjoy being bitten by this musical spider and losing themselves to the rhythms of the South. Guillaume Rabasse, a Frenchman from Normandy, certainly agrees. He was first introduced to pizzica in Italy and immediately fell in love with it: "For me, coming from Northern Europe, it was like being introduced to a new world." From then onwards he always made time for a Salento pit-stop: "In August 2004 I spent a few days in Salento. I was astounded by the various festivals and concerts which took place in so many tiny villages, where young people and the not-so-young would celebrate life by eating, drinking, dancing and strumming instruments for hours. Taranta Night was brilliant – the combination of highly talented musicians and untiring tambourine players set against a backdrop of the Church of Melpignano underneath a star-filled sky was truly unforgettable. When I think of Salento I see it as somewhere where everyone knows how to play a musical instrument and no opportunity is missed for a community jamming session. For me this is proof, and a perfect illustration of, the wonderful, sociable nature of the people of Salento."
Translated from Se la tarantola pizzica il Salento (e l'Europa)