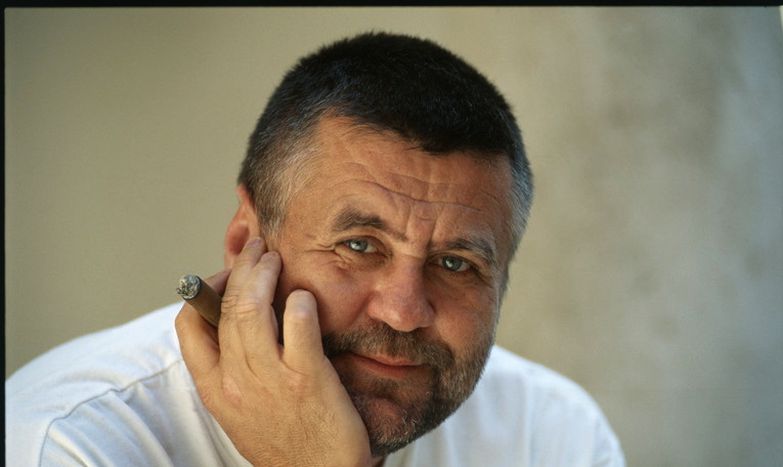 Rajko Grliç: 'Ageing is a pleasing way of reminding ourselves that we are alive'
Published on
The US-based director, 65, is a one-time Cannes Golden Palm nominee who has set most of his eleven films in his native Croatia, and who says he laughs at his destiny. Add a bit of derision and gravity to the mix, and we're par for the course
Rajko Grliç is the guest of honour at the 35th edition of the rencontres Henri Langlois film festival in Poitiers between 30 November and 9 December 2012, where we meet today. The Croatian director's severe black coat falls to his ankles; but there is a happy chap behind that round face and cheerful look. The contrast comes as more of a surprise considering the dramatic and ironic mix he has dished up in each of his eleven films in his career so far. Take the character of the insubordinate soldier, the unfaithful, drunk lieutenant who is trying to get rid of his obscure STD in The Border Post (2006):
The film, which was also screened in Poitiers, sees Rajko Grliç giving a military story all the allure of a summer camp for depraved adolescents. The lightness makes the war look all the more absurd, and the drama all the more poignant. Rajko Grliç owes his random central European humour to his native Croatia. 'My mother lived through seven different political systems in her life; my father was a philosopher so he was always under police surveillance,' says the artist. 'We quickly learned to laugh at whatever life had to throw at us in our family.'
Addictive
Grliç places this taste of derision against a backdrop of adolescence. With his camera burning in his hand from the age of fourteen - a christmas gift from a slightly zany uncle - he shot his first film, The Brick, which is a story of young boys who hang around the city's parks and terrorise lovers on benches. If the male lover refused to buy the brick the children were offering him, they threatened to beat him. This absurd, comic and cruel little twist in the tale was to provide the flavour for Rajko's cinematic work of the future. 42 years and eleven films later, today he is in the middle of writing his twelfth – and last – film, at the ripe age of 66. 'It's my third last film,' he corrects, with a touch of self-derision rather than self-contemplation. He says he only watches his completed films once afterwards, alone in a black room, with the doors closed and the curtains drawn – and never watches them again.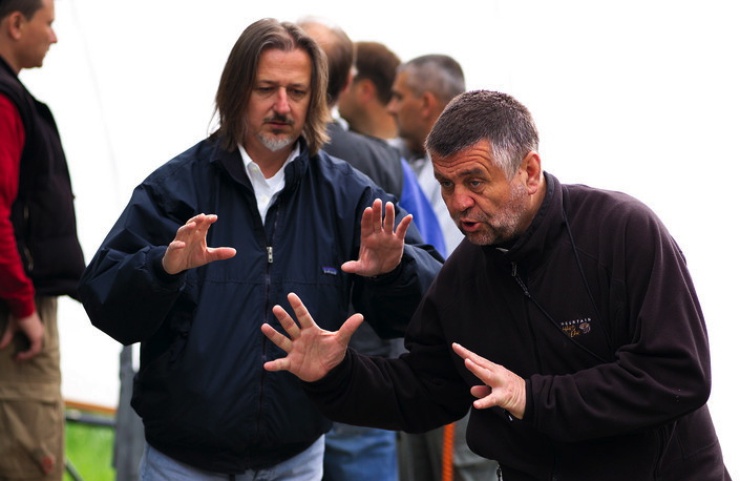 'I want to keep my impressions intact,' says the director. 'If I watched one of my films with someone else, I would try to view it through their eyes and it would distort my own opinion. It goes both ways: I leave enough space when I am making my films, so that the audience can make their own judgements.' In nineties-era Croatia, this freedom of space didn't exist, since propaganda became the seventh art. 'I packed my whole life in a suitcase when I was eighteen,' he smiles. He moved to Prague and graduated from the Czech capital's academy of performing arts (FAMU) in 1971 before returning to Zagreb to start shooting his first feature-length films and documentaries.
No interest in political films
When war broke out in the former Yugoslavia in the nineties, Rajko Grliç fled to the United States, but it didn't mean he did not leave his country behind; eight of his eleven films are set in Zagreb. 'I film in Croatia because it is what I know best,' he says. 'But taking a bit of distance helps balance the film out too.' This must be one of the reasons that Grliç has never filmed a war movie. 'The Border Post is just about waiting for war,' he adds. 'I was born in a small country where even going to buy the daily bread was a political act,' he explains. Even if he loathed 'engaged' directors, he made political films.
'I would have made different movies if I had been born in the US'
In 1971, Grliç made a one-hour television documentary called All Men Are Good Men In Bad Society; its message was clear but it ended up being censored. 'I would obviously have made different movies if I had been born in the US, a country where you can almost forget that politics exists,' he says. Rajko says he is more detached as a filmmaker today. 'Aside from the power of money, politics doesn't control anything any longer. I don't see the interest in making political films anymore.' With its various themes of adventures by night, leading a double life, eroticism and treason, Just Between Us made for anything but a light-hearted film when it was released in 2010, and yet Rajko Grliç is still fond of discussing rebellion. 'My characters now fight for their own systems – their marriages and families, rather than the political system.'
Grliç has always lived according to the rhythm of his films and the director admits that many of his friends have served as his inspirations. So as the director has aged, so have his characters with him. 'Sixty years is the age of disillusion,' he says. 'It's the age when we give up trying to change the world and become very individualistic again.' The disappointed and anguished characters of Just Between Us surprise the viewers with their unbridled sexuality. 'Ageing is a pleasing way of reminding ourselves that we are alive,' the director finishes. Never mind the years, Rajko Grliç will always be at ease with where destiny will take him next.
Images: main © Darije Petković; in-text courtesy of © Rajko Grlic official site/ videos: The Border Post (cc) ContentRepublic; Just Between Us (cc) W2BFrance/ youtube
Translated from Rajko Grliç: « faire des films politiques ne sert plus à rien »