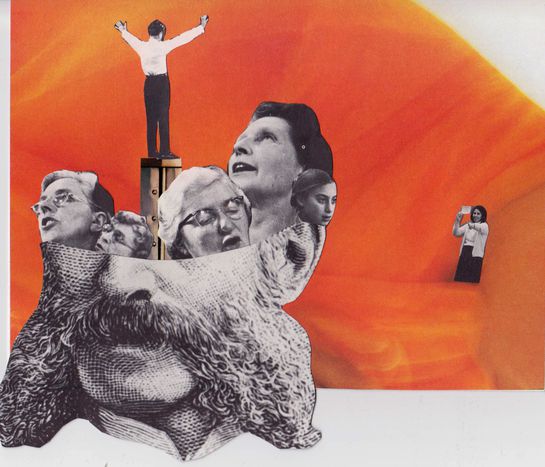 Radovan Ivsic, European surrealist
Published on
Translation by:
abla kandalaft
A master of surrealism, Radovan Ivsic has touched on poetry, drama and political activism. Stopping for a break in Brussels, the adopted Parisian reminisces about the highs and lows of his European life.
"Colours encircle me and carry me upwards." This sentence is Radovan Ivsic's and seems to have become his motto. A luminous yellow tie brightening his face hints at his eternal youth; this Franco-Croat poet has just taken part in a cultural event dedicated to Romania. Once his friends and admirers had reluctantly left, he invited me to join him at his table. He is wearing an austere black suit, harbours an audacious mid-length haircut and still stands tall, at the ripe age of 84.The poet and playwright, praised by Andre Breton and known as "the master" to some, belongs to an "endangered species", alongside his Romanian friend Eugene Ionesco, father of the absurd.
Decadent artist
Ivsic was born in Zagreb in 1921 and discovered Paris at the age of 16. In 1938, then a student in Grenoble, he travelled to Orange to attend the Choregies festival. There, a performance of a Sophoclean tragedy "enchants him so that he decides to dedicate himself solely to theatre". Once back in the then Yugoslavia, he attempts to set up a project but the Second World War quickly gets in the way. From 1941 to 1945, the nationalist neo-fascist Ustase regime runs Croatia as a Nazi puppet state. For the authorities, Ivsic is an "symbol of decadent art". As a result, his play Narcissus is forbidden from 1942 and King Gordogane (written in 1943) is only performed ten years later.
His luck remains the same under Tito's Federal Socialist Republic. According to him "the fascists may have officially banned my work but the communists proved more subtle as they managed to forbid without forbidding". To avoid expressing himself directly, Ivsic instead turns to the translation of French literary classics into Croatian before leaving for Paris for good in 1954. "I left Tito's Yugoslavia with no regrets, as by then he had adopted the Stalinist system or social realism, call it what you like … a thousand words can describe the same horror".
Paris, 1950
Once established in the French capital, Ivsic enjoys "the great opportunity that is a chance meeting with the great surrealist poet Benjamin Peret". Andre Breton then falls for King Gordogane and invites him to join this artistic movement. Apart from Peret and Breton, Ivsic meets Czech painter Toyen and Spanish painter Miro. In 1950s Paris, Le Musset café becomes home to daily sessions of the Surrealist group. This lasts until 1969 as the movement comes to an end, or should we say is "suspended". When asked whether he is comfortable as the last great surrealist, he replies, embittered and melancholic that he "cannot call himself a surrealist when everyone keeps claiming the title since the movement's disappearance."
Our guest stands firm as a European even though he expresses some worry: "I do not fear the EU, although one must not forget that Europe has generated many catastrophes". He reminds us that Europeans themselves have exterminated, stolen, colonised and have invented the atomic bomb. He is sadly only too aware of the EU's attitude regarding the war in Croatia and Bosnia. "How can one not condemn a Europe that stands back and watches the massacres unfold in Vukovar and Srebrenica… ?", Ivsic asks. And what about Croatia's present situation on the margins of Europe? "Croats are Europeans. I find it hard to understand why they aren't yet integrated in the EU. It is an injustice!" The myth of a pacifying Europe has clearly lost some of its aura in the eyes of the poet.
No servitude
Ivsic refuses to narrow down his worldview to the confines of Europe. Yugoslav by origin, Franco-Croat today, he speaks Italian, German, English and Russian, among other languages. "A small people must learn languages", he insists. When it comes to his activism, although he "avoids politicians" he admits that most of his work is profoundly political. King Gordogane, for example, was written during the German occupation and brings up various issues such as power and voluntary servitude. Rejecting all honours and other literary distinctions, he even confides that "I found it undignified of Ionesco to sit at the Academie francaise. From that moment onwards, our paths ceased to cross".
Overall, it is Man's place in the modern universe that interests Ivsic. "What is currently happening in Iraq, ecology, the atomic bomb … these are the real issues. One must resist such a world." His activism is still very much alive. "In Croatia, life is very hard with poor welfare and retirement provision, like many Eastern countries in which the gap between the rich and the poor is constantly widening. Not to mention China…". Both worried and reassuring, Radovan Ivsic still wishes to believe in the power of saying no and reminds us that "freedom of speech is essential".
Translated from Radovan Ivsic, Européen surréaliste