Quiet Saturday
Published on
Five years ago, a Russian student visiting Vilnius said, "The centre of Vilnius is quieter than a Russian cemetery". It's true, but today, walking in the Sereikiskiu park, I really like it this way :) Especially because of the chance to see some beautiful birds jumping around.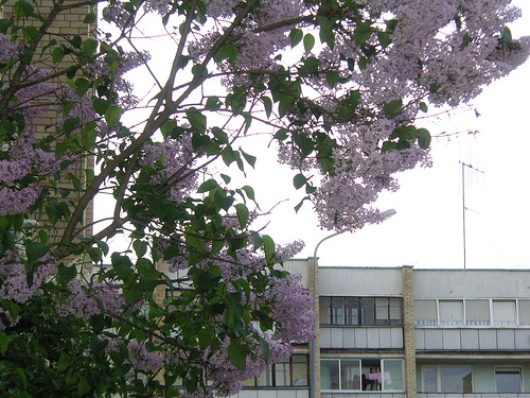 Spring is the best season to come back to Lithuania (it's the third time I'm "coming back" after spending time somewhere else), when every road or block is sprinkled with lilacs and decorated with blossoming chestnut trees.
Believe it or not, there were almost no political posters, although the presidential election is tomorrow. Analysts say that the current election campaign was dull, with most of the candidates thinking that everyone already knows everything about them. The most popular candidate is the current EC Commissioner Dalia Grybauskaite. Many people like her, and probably even more would choose her as a lesser evil. The second most popular candidate is Algirdas Butkevicius, a member of the Social Democratic party, which actually represents not social democratic values, but bureaucratic oligarchy, yet some of its members are becoming confident enough to express more leftist viewpoints. As usual, not much choice for us voters. I have already voted, as I'm not registered in Vilnius and was not planning to go to my home town just for the election. It's possible to vote in municipal offices. Most people go to the Vilnius city municipality, but it's always too crowded. The Vilnius region municipality is a much better choice. By the way, its website is in Lithuanian and Polish. Today is the day for the Eurovision craze. Lithuania is in the finals.